The minister of the Ministry of Internal Affairs Arsen Avakov denies that the successor scandalous the deputy head of the Ministry of Internal Affairs of Chebotar is his nephew.
About it he wrote on the page in Facebook.
We will remind, earlier People's Deputy from BPP Olga Chervakova declared that to the place of the infamous ex-the Deputy Interior Minister Sergey Chebotar Alexey Takhtay who is his nephew is appointed.
Avakov already urged Chervakova to take away the words back.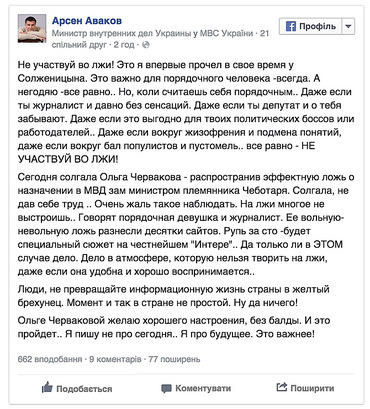 Earlier it was reported that on May 14 The cabinet dismissed Sergey Chebotar from a position of the deputy minister of internal affairs. Government appointed Avakov Alexey's deputy of Takhtaya. Earlier the Ottoman headed Department of financial security and accounting in the Ministry of Internal Affairs.
We will remind, Chebotar resigned and it was dismissed after scandal : at Sergey Chebotar's house in the village Foresters attacked a film crew of ZIK TV channel. According to journalists, attacking were Chebotr's son-in-law Oleg Polishchuk and his business - a patner Sergey Gavrilko. However, according to the people's deputy Serey Sobolev, after dismissals Sergey Chebotar didn't leave anywhere, and became the adviser to the minister - sits in the same office and supervises the same questions, as well as before.
It is known that many accuse the deputy minister of internal affairs of Ukraine Sergey Chebotar of corruption and repeatedly demanded from Avakov to dismiss him. In particular, the People's Deputy Nikolay Tomenko addressed in The Prosecutor General's Office that that checked Chebotar on participation in sale of positions. At the same time, Avakov declared that isn't going to dismiss Chebotar suspected of corruption.
Also on the eve of Avakov's appointment as the Minister of Internal Affairs for the second time the head of fraction «Blok Petro Poroshenko» Yury Lutsenko demanded from it to dismiss Chebotar from the deputy minister's position.
Besides one more people's deputy from BPP Sergey Kaplin declared that that in office of the deputy minister of the Ministry of Internal Affairs Sergey Chebotar found «black accounts department» .
On May 13 in the Verkhovna Rada group of People's Deputies I registered the draft of the resolution on dismissal of the Interior Minister Arsen Avakov from - for scandal with Chebotar.