Today, on May 29, in general education educational institutionsNikolaev areathe holiday of the Last call took place.
On this holiday were present the head of the regional state administrationAlexey Garkushaand his deputies, and also chiefs of managements of the regional state administration, heads of regional executive authorities and local government.
The governor of the Nikolaev area personally congratulated today graduates of Balovnensky school of the Novoodesky area. We will remind that Alexey Garkusha himself graduated from this school 40 years ago.
He wished to graduates to hand over successfully the state total certification, and to pupils of translated classes - good summer holiday.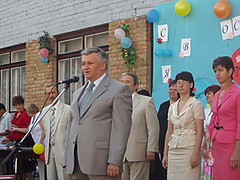 To native school Alexey Nikolaevich presented the combined technical tool for copying and replication of documents.
Deputy governorsVladimir LustaandDmitry Oboronkoalso visited a holiday of the Last call in Bereznegovatsky and October areas, reports a press - service of the Nikolaev regional state administration.
It should be noted that this academic year from schools of Nikolayevshchina 10 050 pupils 9-x classes and 9905 pupils 11-x classes are let out.