Today the conflict which has arisen in the flower market down the street by Spasskoy approached to a final stage, - the builder, the city authorities and tsvetochnik sat down at a negotiating table. But in Nikolaev the second part similar "the marlezonsky ballet" - the similar conflict of builders and tsvetochnik on Victory Square becomes ripe.

The flower market on Victory Square, of course, not ровня to that at the corner of Spassky and Soviet, - the youth, loving couples or tourists here doesn't come daily to walk, it not business - the center and even not working quarter. It is actually dormitory area. Therefore also profit of tsvetochnik here the small.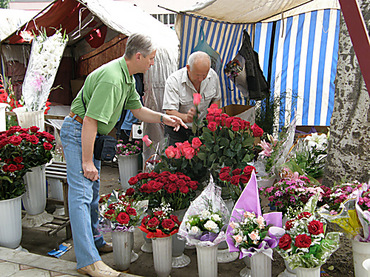 -In a month of "pure" at most 1 700 UAH we can gain, - the florist Alla shares. - We buy a grass, packing in a makeweight, we don't include in the cost of flowers. To gain it is unreal more, people began to buy less flowers in connection with crisis. For March 8 all of us burned through.To earn the next holiday when we hope, - on September 1.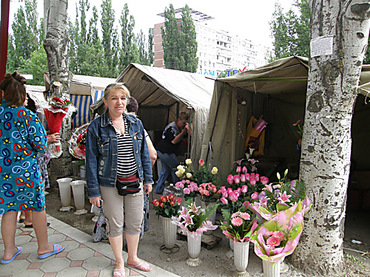 Tents of tsvetochnik stand on the naked earth, behind the earth is dug up, everywhere a dust and dirt. But directly before tents the white new building glints in the sun - the car brightly. This is the builderAlik MamedovI decided to improve the flower market. But while it isn't necessary to speak about nobility of the builder. And documents, actually, on building are issued on quite Ukrainian surname -Tereshchenko. Though with businessmen, according to they, communicates onlyAlik Mamedov.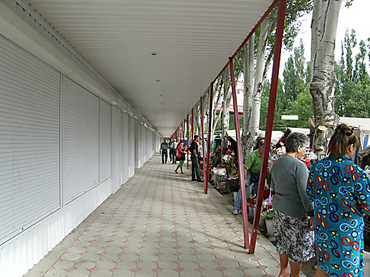 -He promised us that will provide us workplaces in this pavilyonchik at the lowest prices of rent in the city,- the florist Alla shares, - and now reported that rent cost - 250 UAH for square meter. Including all expenses, we will be compelled to pay only for rent about 2 000 UAH, and we so much at all don't earn! And on what to buy flowers, on what to live? Everywhere in the city rent - 100 UAH, what it for the prices? ! Now we pay only 130 UAH of a uniform tax.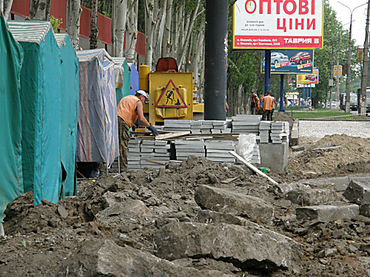 The builder at all doesn't allow businessmen to sell now flowers on earlier taken away places. Tsvetochniki already moved on a foot path, but for a while so city authorities obliged the builder to improve a foot path on which now too it is impossible to trade. Tsvetochniki hold the ground, and aren't going to leave anywhere.Today Alik Mamedov promised to arrive with power divisions of militia and to chuck out tsvetochnik from actually city earth.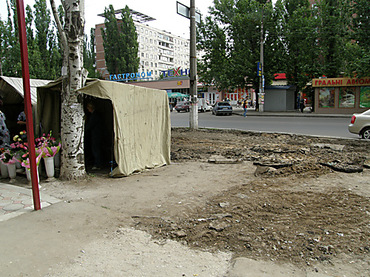 Businessmen of small business already requested protection,having written the application to the secretary of the City Council Vladimir Korenyuginu, to the deputy mayor of Nikolaev Alexander Zhenzherukhe, the Chairman of representation of Committee of Ukraine on regulatory policy and business in the Nikolaev area Valery Vetrov, and, of course, the mayor Vladimir Chaika. Besides, addressed in labor union and in BYuT commission concerning business.
As commented to the correspondent "Crime. There is no Alexander Zhenzherukha" this situation"in a situation with the flower market on Victory Square it is obviously known that the builder isn't right. It began building without preliminary coordination, provided with places of any people, and that there stood to it didn't provide. We there will go today to deal on this matter with representatives of department of trade, department of business, management on protection of the rights of consumers, regulatory committee and we will take deputies from the commission. Also we will talk to the builder. We will try not to allow that situation which occurred in the flower market on Spasskaya".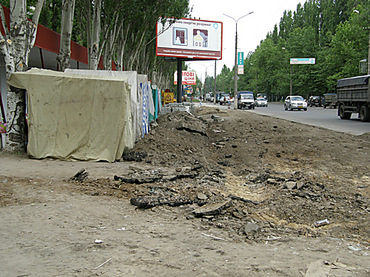 Alexander Zhorzhevich's words sound convincingly, but not really hopefully. To argue, roughly speaking, to tents made of cloth with strongly become stronger pavilion - business ungrateful. All that tsvetochnik can make - again to hold up the heads under logs dumped by the builder for a fence as it was made by tsvetochnik on Spasskaya. It is possible and is necessary to wait for the help and support of the city authorities, resolute actions of labor union, and as a result - cheap rent. But as they say, giving is fresh and is trusted hardly.