Today's meeting in the Executive Committee of the City Soviet of People's Deputies became deification of the conflict in the flower market on Spasskaya.Tsvetochnik, representatives of the builder sat down at a negotiating table under leadership of the deputy mayor Nikolaev Alexander of Zhenzherukhi - Kredo firms, representatives of other builder who offered the services in construction of temporary pavilion, - Glonza firms, lawyers and the city authorities.
We will remind that 14 sellers who once had workplaces in the flower market on Sovetskaya Street, demanded to return them workplaces in the market. On a place of trade the pavilion in which it is possible to be engaged in trade activity is now constructed. But people don't accept the high cost of rent of a trade place. They already held up the heads under unloading of logs from the dump truck, protecting the workplaces, and today someone from the desperate representatives of one from the parties called the secretary of the City Council Vladimir Korenyugin with threat to arrange an arson in a conflict zone at night. Directly as at Vysotsky: "We about explosions, about fires composed the TASS note. But hospital attendants came tearing along and recorded us".
Still yesterday tsvetochnik prepared the offers to Kredo firm:together to construct flower pavilion (individual share in projecting and construction of a small architectural form - 50 on 50), and businessmen will pay for it to "Credo" rent in that size which will suit both parties. Businessmen insist on that such contract surely was long-term.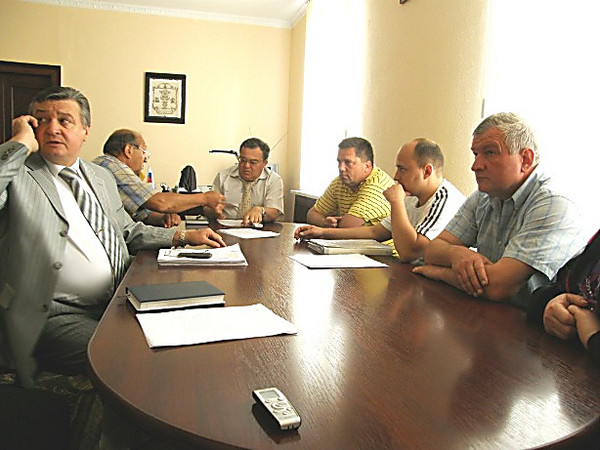 Nevertheless, representatives of Kredo firm at meeting behaved violently and felt like full owners. Especially, as Alexander Anatoliyevich, the head of Kredo firm shared with present, he "had legal proceedings already time 150", and therefore, probably, civil strifes - its skate.
- The Executive Committee of the City Soviet of People's Deputies started appealing to us to place the flower market in our territory while construction will be conducted two years ago.Constantly addressed with such requests, with Chaika I am time five talked,-Alexander Anatoliyevich, the representative of Kredo firm told.- We have the standard contract approved on vote by deputies of the City Council. And we, according to it, can conduct further construction.But we made concessions to requests of the Executive Committee of the City Soviet of People's Deputies, and very much we regret that postponed construction for two years. We have all necessary documents, let's act on a law letter.
So, as they say, late, old man to drink "Borjomi". It was necessary to look who the earth was given …
Participation of Glonza firm which offered more favorable conditions for tsvetochnik and more long-term rent, from the very beginning of conversation was stopped by representatives of "Credo" who flatly refused to agree with them about participation questions.
"Credo" I suggested to build the temporary building which will be leased to tsvetochnik at the same prices - 1200 - 1500 UAH - and only for 1-2 years while tsvetochnik won't choose to themselves other place within a month and won't equip there to itself a place.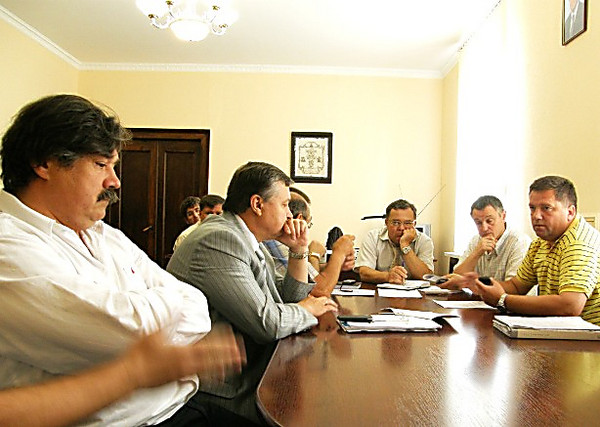 Tsvetochniki too started worrying - you will start building "temporary barracks", we will pass for this month into pavilion (probably, to a seldom visited second floor), and you to us won't allow to return then back, and from there expel.
To the offer of tsvetochnik to take individual part of "Credo" too reacted sharply - a pier, we know you, in two years precisely from there you won't throw out you, we won't sign any contracts on joint property. Also will be, as in the fairy tale: "There was at chanterelle an izba ice, and at a hare bast" …
Nevertheless,tsvetochnik convinced that they won't apply for "temporary barracks". And "Credo" only on those conditions will agree to accept this interest-free "credit" for construction if the cost of rent is calculated at the same prices that "Credo" demands now.
The present decided to make "whipping boy" mister Alexander Pribytko - the owner of pavilion, it is that and accused of conflict emergence.And that, probably, because it wasn't present at this meeting.
- Pribytko here isn't present in order to avoid buffoonery, - Alexander Zhenzherukha stated.
It isn't known, what buffoonery would be in the presence of the owner of pavilion, but also without it it wasn't boring.Present on all voices argued, proving the truth, and lawyers competently noticed that with their support this "pleasure" can be prolonged years on five if now not to come to consensus.
Upon that also settled:for a negotiating table there are lawyers, the representative of "Credo" and the representative of tsvetochnik, and until the end of day have to sign the contract. "Credos" agreed to conclude the agreement for three years and to construct "temporary barracks", and tsvetochnik then will start looking for to themselves the new place which yet hasn't been occupied with the powers that be.Though not the fact, as from there won't move …