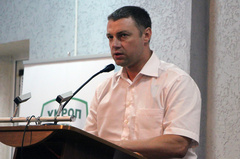 Activists of party «FENNEL» uses of its means the mass of information hope for support of the oligarch Igor Kolomoysky, in particular for election campaign.
About it during presentation of party «FENNEL» in Nikolaev the People's Deputy Vitaly Kupry declared.
According to Kupriya, the party is created from Kolomoysky's team, but the oligarch has no relation to it and any help doesn't provide.
- I got acquainted with Kolomoysky only after I was elected the deputy, and saw it everything two times. Korban, Filatov–these are self-sufficient, powerful leaders with whom we united and we ask to unite because all the same there has to be a team of 10-15 people which at the state level will punch it everything. Parasyuk–it not team of Kolomoysky, Igor Lutsenko–not team of Kolomoysky. From these 15 years 3-4 persons from Kolomoysky's team, and the others–these are people from other areas which united with that patriotic values divide, - Kupry told.
At the same time, the people's deputy declared that would like that Kolomoysky made a declaration in support of party, and TV channel «1+1» and news agency «UNIAN» , with which the oligarch owns, to use for the central election campaign.
- I think, we have to use all resources, differently we simply won't receive a certain result. And the result is necessary to all. And the general central election campaign very much helps on places. Here now billbordny campaign began, her Gennady Korban financed. They have a state, these are people in big business long ago, they didn't parasitize on the state streams, they had no relation to the state money, - he added.
At the same time, on a question if Kolomoysky supports party of the people's deputy Homutynnik «Revival» , Kupry declared that the party can go to elections without Kolomoysky's participation.
- At present party self-sufficient without Kolomoysky's participation. And we are able to do it without Kolomoysky's participation. If we aren't objected that we on TV channel 1+1 will act, it will be enough, - the people's deputy told.
Besides, Kupry declared that wants that local elections were held on a local initiative and with local financing from businessmen.
- It not such big money that businessmen couldn't collect them. We don't see oligarchical financing in party, - Kupry told.
As it was reported earlier, Igor Kolomoysky, besides creation and the direction on local elections of own party «Fennel» I intend to support Vitaly Homutynnik's party «Revival».