Sharp change in mood of local government and the businessmanAlik Mamedovobserved todaysellers of flowers from Victory Square. Last Friday (on June 5) on the market, according to tsvetochnik, representatives of the Executive Committee of the City Soviet of People's Deputies glanced: head of department of work of the markets and complexes of trade pavilionsYury Pererodovand head of department of support of business activityAndrey Yakovlevwith "suite".
>
- I didn't manage to thank at all them that found time and arrived on the market to understand a question asthey started shouting at me, - the seller of flowers A speaks. -They said that Alik Mamedov has the right to take so much for rent, how many will want, and we have no right to vote. They shouted: "Doesn't approach - good-bye". And when we told that on June 10 us invited to the commission in the Executive Committee of the City Soviet of People's Deputies, they became silent at once - were frightened.
As we already reported, the businessmanAlik MamedovI rented the earth under the flower market, I constructed on it trade pavilion and I requested from tsvetochnik a payment for rent at first of 250 hryvnias for m ², then I thought and I requested 125 hryvnias for m ² in a booth and 80 hryvnias for m ² - for a place on the sidewalk. Tsvetochniki complain that they so much at all наторговывают and can't pay such high payment.
Today at 11.00 to the seller of flowersTo Alla BovdyshI calledAndrey Yakovlevalso I invited to reception to the deputy mayorTo Alexander Zhenzherukhe, which had to take place in three hours.
Tsvetochniki send and sat down at a negotiating table together with Alik Mamedov, Alexander Zhenzherukhoy, Yury Pererodov and Andrey Yakovlev. Two last officials didn't put in a ward.
During discussion it became clear that the trade pavilion isn't completed yet therefore to speak about rent cost early.Alik Mamedov insisted that he is ready to provide minimum price for rent (though before it I offered tsvetochnik one of the highest - 250 hryvnias). But for a start, as Alesandr Zhenzherukha emphasized, it is necessary to carry out calculations - how many money was spent for pavilion construction - and at determination of cost of rent to make a start from this sum.
And as - that so left during conversation thatnot the owner of a booth requested it a high price, and dealers made ahead of time noise.
- I you let in the winter, and GASKO fined me, - told during discussion Alik Mamedov. - I though from you took kopek?
at the left - Alexander Zhenzherukha, on the right - Alik Mamedov
As a whole conversation was had on friendly tones. And after discussion Alik Mamedov approached to tsvetochnik and suggested to discuss, whether he can provide trade places to those sellers what will want.
- It you solve, we can't concern this question, - tsvetochnik told.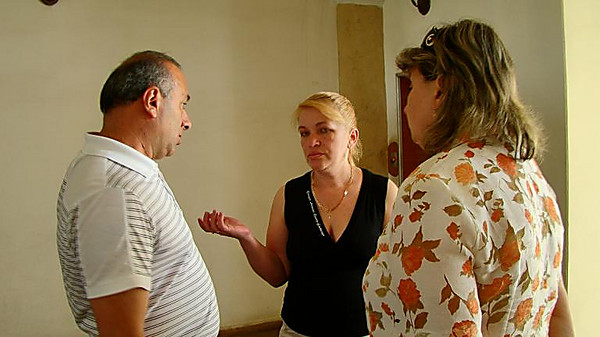 By the way, according to Alexander Zhenzherukhi, tsvetochnik who many years traded on Victory Square, have the privilege to a place in new pavilion.
Later to the correspondent "Crime. There are no tsvetochnik" told thatsuch culture of communication, understanding and manner earlier neither for Alik Mamedov, nor for authorities they didn't notice.
When time for meeting of the commission on a question of the flower market came, Alexander Zhenzherukha and the deputy of the City Council from BYuT Alexander Kurchenko (who invited tsvetochnik to the commission) decided that there is no reason to consider this question. After all already and so decided that the cost of a rent can't be now stipulated. To that,tomorrow Alexander Zhenzherukha promised to arrive itself on Victory Square, to look at working conditions of tsvetochnikand to define where dealers if the place for trade isn't taken away now can work, as well as permission to trade isn't prolonged.
Tsvetochniki understand that Alik Mamedov invested money in construction of pavilion and wants them to compensate, but, at the same time, realize that consumer ability of people fell. Dealers say that simply won't be able to sell so many flowers to pay rent, not to mention purchase of new flowers and own salary.