Yesterday, on June 10, 100 yearswere executedTo Marfa Ipatiyevna Kovalenko, which lives in Sokolovk's village of the Bereznegovatsky region of the Nikolaev area. About it reports a press - regional state administration service.
Chief of head department of work and social protection of the population of the regional state administrationOlga Sivoplyas, arrived specially to congratulate the long-liver, I handed over юбилярше the memorable address from the President of UkraineVictor Yushchenko,and also I transferred greetings from the governor Alexey Garkusha. The head of the Bereznegovatsky district state administration and the chairman of regional council came to congratulate the birthday woman also.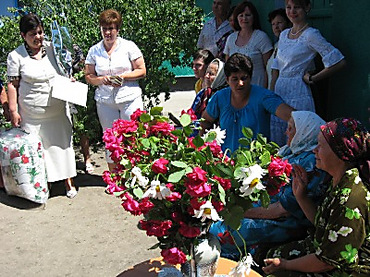 Marfa KovalenkoI was born in Novopavlovk's village of the Kherson area in a large family from 8 children. In 1917 her parents died of typhus, and the uncle was engaged in education of children. Marfa Ipatiyevna didn't go to school, it worked all life in collective farm.
Today inNikolaev arealives 32 persons to whom 100 and more years (from them 4 - men, 28 - women) were executed. This year 103,1 thousand UAH are allocated for payments of grants to long-livers from the budget