At yesterday's plenary session of regular session of the Nikolaev city council, before deputies the question of acceptance in municipal property of separate objects which are located in the territory of the city of Nikolaev was raised.
It was offered to in total deputies to accept seven objects in city municipal property. Six objects among which and the children's improving center "Kommunarovets" located in the Nikolaev area also is on balance of GP "Shipbuilding Plant of 61 Communards", were accepted unconditionally, and here by the seventh - the ladder connecting Flotsky Boulevard and Naberezhny Square, refused to accept.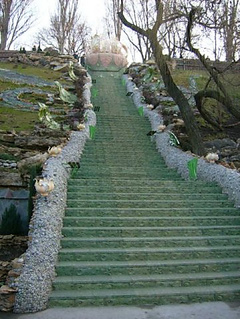 Most acceptance of this object in municipal property was opposed by the deputy of fraction of the Block of Natalya Vitrenko - Svetlana Shtopenko.
"It that turns out? They were bothered, so by the disgrace, and they decided to give it to the city? To us it - what for? Sami constructed - let and serve! ", - the deputy declared. Report "News of N"
Reference: in the draft decision of session it was specified that on acceptance of this object in municipal property state of emergency Bogomaz N. P. Ntalya Bogomaz - Oleg Bogomaz's wife, the known Nikolaev businessman, the president of club of boxing "Nikolaev", the president of the Nikolaev regional federation of boxing and vice-the president of Federation of boxing of Ukraine appeared the applicant.
Than so Svetlana Shtopenko this ladder - not clearly wasn't pleasant.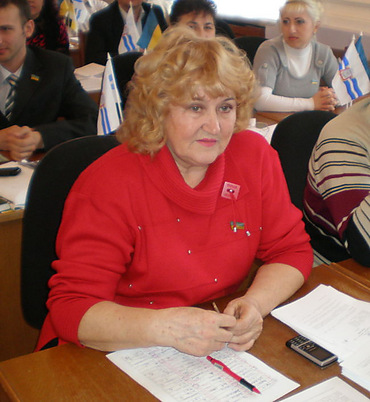 Svetlana Shtopenko(Photo of "News of N")
It should be noted that the City Council gave the permission for construction of this object. The project of a construction was agreed in city architecture … This ladder - a short way which connects Naberezhny Square and Flotsky Boulevard and allows quickly will go down on Ingul's coast.
After session, making comments on the position, Svetlana Shtopenko noted that it has nothing to be afraid:"I don't lobby any questions with anybody any obligations it isn't connected, I live on pension in 581 hryvnias and simply I fulfill the duty - I fight for justice. And knowing a situation with this ugly ladder, I put a question point-blank, and deputies supported me".
Why - that, dear deputy who lives "on pension", forgot to mention that at the same session received one thousand square meters of the earth in the Ship area under individual building. Whether the simple citizen will be able to afford it?
So that turns out - received the earth, and there "no matter what happens".