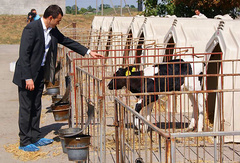 In a rating of governors following the results of activity for the first half of the year, the governor of the Nikolaev area appeared above the colleagues from the next Odessa and Kherson areas.
Reports the edition about it "Business capital", publishing results of the analysis based on data of Public service of statistics.
As writes the edition, Vadim Merikov directs the Nikolaev area since July of last year. In a rating for the first quarter 2015 it was 13 m, and following the results of a half-year rose on 11-ю a line (11,5 points). Odessa region appeared on the 13th place, and next Kherson - the third since the end.

"The worst results of area - the last place on dynamics of agriculture (however, in the third quarter the situation has to improve) and penultimate on dynamics of retail trade. Also Nikolayevshchina keeps in the four of regions with the greatest debt on a salary on one worker and in the five - with the greatest recession in the industry. At the same time the area takes the second place on dynamics of a services sector: growth in the actual prices for 83,1%. In a services sector of Nikolayevshchina the transport branch, including port economy is main", - notes the edition.
At the same time, It should be noted that, thanks to transport, the Nikolaev area was included into the five of the best on an average monthly salary - 3672 UAH (in June the average salary on transport in area reached 6063 UAH), and development of ports provided it the fifth place on dynamics of construction in a half-year and the second place - following the results of seven months (growth by 10,1%).
Also Nikolayevshchina was included into the three of regions with the lowest level of debt of local budgets to the organizations providing ZhKU and into the four - with the lowest mortality of children aged till one year.