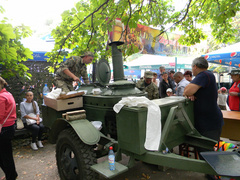 In the City Day of Nikolaev the deputy of city council Oleg Soltys in park Petrovsky arranged a gala concert which was followed by distribution to people of buckwheat.
Reported about it in a press - service of the Civil SUPPORT network.
Beforehand reported the announcement stuck at a stop of public transport about carrying out action that the deputy invites in park Petrovsky to celebrate the City Day. Carrying out the concert program, a field kitchen and ice cream was provided in the program.
As the observer of the Civil SUPPORT network reports, during celebration of citizens fed with buckwheat with carrots. For this purpose military were involved in a field kitchen. As organizers of a holiday reported, only they are able to cope with a field kitchen.
It is known that the deputy of the Nikolaev city council Oleg Soltys served in 79-й to separate airmobile crew recently.
Also we will note that the park Petrovsky is included into borders of the constituency from which the deputy was elected in 2010.
Now Soltys's actions don't allow to claim that part 4 of article 60 of the Law of Ukraine was broken «About local elections» , where it is noted that it is forbidden to carry out pre-election campaign which is followed by granting money to voters or gratuitously or on favorable terms securities, the credits, lottery tickets, goods, after all Oleg Soltys isn't the subject of electoral process.
Observers of the SUPPORT consider that after official registration of the candidate such actions, have to be stopped as it will be regarded as indirect bribery of voters.
We will remind that The SUPPORT fixes political activity of parties in Nikolayevshchina before official registration.