In Klagenfurt (Austria) within the World games which are taking place under patronage of UNESCO, the international youthful tournament on soccer took place. Thanks to financial support of GP NPKG "Zorya" - "Mashproyekt" (the director general Andrey Homenko) two teams of sports school of "Torpedo" participated in competitions.
In the senior age group (players 1995) for awards 17 collectives fought. The Nikolaev children beat contemporaries from the Austrian FC "Graz" with the score 3:0, owners - FC "Klagenfurt" - 2:0, and also team of Cologne (Germany). At the following stage Torpedo members won against the Hungarian "Balaton" - 2:0, the Latvian "Daugavpils" - 1:0, drew with Italians - 1:1 and took the second place in group. The match for bronze awards with contemporaries from Rome the winner in the main time didn't reveal - 1:1. In a penalty series Fortuna was favorable to young Italians.
Tournament among football players 1996-1997 gathered 27 teams which divided into seven subgroups. In the first meeting young Torpedo members crushed team from Munich - 8:0, then lost FC "Graz" - 0:3. The victory over Italians - 1:0 allowed them to leave from the second place in a quarterfinal where nikolayevets won against the German young men. The victorious ball into gate of rivals was hammered by Sasha Oleynik. In a semi-final our team was resisted by FC "Panevezhis". And again a victory - 1:0! This time the well-aimed blow was struck by Oleg Kozhushko.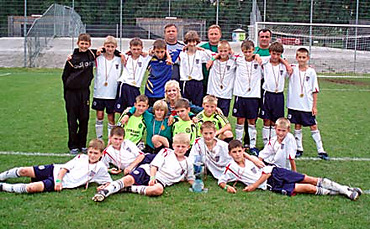 In the final the FC "Graz" competed again with our fellow countrymen. This time the main time of game came to the end - 1:1. The goal was scored by Andrey Pererva. The goalkeeper Vladislav Nikolaev reflected one blow in a series of after match penalties, and Torpedo members won - 7:6. The trainer Ivan Dzeba noted Volodya Homenko's who has hammered five balls good game, and also Vladislav Goncharov who has organized actions of partners in the line of half-backs.
As the director of sports school of "Torpedo" Vitaly Barsky, besides participation in tournament told, children got acquainted with sights of Klagenfurt located in the Alpine valley in the south of Austria.