Ex-the vice-chairman of SBU, the general - the lieutenant of a stock Alexander Skipalsky will run for presidency of Ukraine.
"I will run for presidency of Ukraine because estimating today's candidates who to us are imposed by the press, I don't see the candidate which could correct a situation in Ukraine", - Skipalsky told in Moscow.
He reported that counts on support of broad masses of voters who want an elementary order. By words Skipalsky, his purpose - to relieve of an arbitrariness of officials, to put to the place of oligarchs.
"Certainly, I believe that I will be supported by my colleagues on the officer and military case from among the Ministry of Defence, SBU and other power structures", - he told.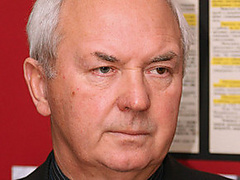 rospres.com
Skipalsky will participate in presidential elections
Skipalsky noted that for participation elections rather large sum - about 500 thousand UAH" is necessary ". "If to try and walk with a cap on friends, acquaintances, it will be possible to raise this money", - he added.
We will remind, yesterday in Moscow the leader It is national - democratic partyLyudmila SuprunI declared that will run for presidency of Ukraine.