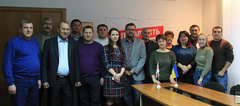 The deputies representing party «Blok Petro Poroshenko» in Nikolaevsk regional council, didn't decide on that whom they will nominate to the chairman's post. The corresponding decision will be made on Wednesday, December 2, that is a day before the first session of a regional council.
Reported about it in a press - service of the Nikolaev territorial organization of party.
As it is noted in the message, the meeting of BPP fraction in a regional council which lasted about 4 hours the other day took place. Deputies approved an administrative board and registration of fraction, and also considered a question of promotion of candidates for a position of the chairman of regional council. According to the head of a regional cell of party, the People's Deputy of Ukraine Andrey Vadatursky, during this meeting the straight talk in which each deputy stated the vision of a situation took place.
- In policy there are a lot of unofficial arrangements, there are many hearings. I as the head of a party cell, remained am happy with a straight talk. I against a kuluarnost, - noted the people's deputy.
Attendees considered five candidacies, among which Mikhail Talpa, Victoria Moskalenko, Ivan Kukhta, Fiodor Barn and Sergey Nakazenko. These people were defined and wanted to be overcome being presented from party as candidates for occupation of a post of the head of a regional council. Earlier it was reported, as itself In adaturskiya I considered such opportunity for myself, but today it doesn't appear in the list of applicants.
- Each of these candidates is worthy to be elected from party to a position of the chairman of regional council. Now, at the following meeting of fraction which will take place on Wednesday, December 2, we will decide on one candidate. I against appointments or teams from above. I believe that decentralization is the only exit of Ukraine from crisis. Therefore we have to delegate powers and an option to places. Therefore I for that decisions, even (still) false were accepted on places. Who will be approved by fraction on Wednesday, we also will represent that for election.And, of course, we will ask all political forces to support this person for effective work of a regional council, - Vadatursky considers. - I ask to leave all deputies the emotions and political ambitions outside the hall. Not to politize and so already intense situation, and to concentrate on the solution of questions at the professional level. I hope, people's deputies will be able to carry out constructive dialogue during session and to elect really worthy head. I want all to assure that BPP fraction in return will make for this purpose everything that is necessary.
We will remind, earlier it was reported that the first session of the Nikolaev regional council will take place on December 3, though initially it was planned to be carried out on December 10.