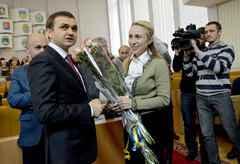 The head of the Nikolaev regional council on December 3 elected the representative to sessions «Blok Petro Poroshenko» Victoria Moskalenko.
The correspondent reports about it from the sessional hall «Crime. Is NOT PRESENT».
During consideration of a question of election of the head of a regional council the deputy from «Oppositional block» Maxim Nevenchanny proposed the candidature as self-promotion. Thus head of fraction Pyotr Palamaryuk declared that it not the decision of fraction in general.
In turn the deputy about «BPP «Solidarity» Fiodor Barn declared promotion as the candidate of political force Victoria Moskalenko and asked colleagues it to support. Head of a regional Communist Party organization of party «Fennel» Victor Storcheus declared that his political force will support Moskalenko's nomination. The similar statement was made also by the head of a regional Communist Party organization IN «Batk_vshchina» Mikhail Sokolov.
After promotion pledged the word to Moskalenko and Nevenchannom in whom both applicants briefly told about plans in case of election for a regional council post of the head, and answered questions of the colleagues.
As a result 40 deputies gave vote for Moskalenko, 13 supported Nevenchanny's nomination, and 5 more deputies voted against all.
It is known that in BPP considered at once some applicants on this post, however, all others, except Victoria Moskalenko withdrew the candidacy in its advantage.
Besides, earlier it was reported that Moskalenko is a creature of the chairman The Nikolaev regional state administration of Vadim Merikov, and the solution of a question on its election became possible actions of several people's deputies in Kiev.
As a result the deputies representing «Petro Poroshenko's block - «Solidarity» in Nikolaevsk regional council, decided to support as the candidate for a post of the head of a regional council of the chairman Zhovtnevy district state administration Victoria Moskalenko.
From sources in «Oppositional block» on the eve of session it became known that political force won't propose the candidate for a regional council post of the head, however wasn't excluded that are possible a swagger - poshes.
Reference:
Victoria Moskalenko was born on May 5, 1979. I graduated at the Kiev national economic university of Vadim Getman in the specialty «Business - administration». Also I graduated from the Nikolaev humanitarian institute of the Ukrainian state sea technical university in the specialty «Jurisprudence». I worked as the legal adviser in firms «Authority of KS» and «Themis - the South». From May to June, 2014–vice-chairman of Zhovtnevy regional council. Since June, 2014–chairman of Zhovtnevy regional public administration. In 2013-2014 Moskalenko was the lawyer of the Nikolaev Euromaidan, protected in court of the activists who opposed Yanukovych's regime.