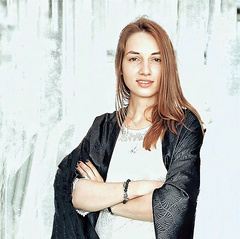 The 22-summer deputy from party «became the secretary of Kakhovsky city councilSelf-help» Lilia Drozdik. 20 deputies have voted for the candidate of the young girl.
As has noted on the page on a social network «Facebook» Drozdik, was succeeded to get to policy to her thanks to a community work day, but not the father, the deputy of the Kherson regional council from party «Oppositional block».
- No, my father has no relation to my, so-called «to political career» , which has begun with the community work day organized still by initiative group «Self-help». Then even the thought wasn't–about a deputatstvo I just didn't know, than useful to occupy myself in Kakhovka after training and have gone to clean to myself park, - Lilia Drozdik has noted, having added that she has graduated from law department, apart from it achievement.
At the same time she assures that her father, despite stay in «Oppositional block» , has the opinion and «doesn't run from party to party».
- At the same time, he warmly likes the native country and at the cellular level doesn't transfer Russia. It for those morons who attribute him all nonsense - was written by her.
The patriotism Lilia Drozdik called the fact that she has returned to live in small and such ​​ native Kakhovka, «having an opportunity to dump anywhere».
- It is important. I think, it is possible to call it patriotism, - Drozdik has noted.
As a result she assures that she didn't pursue a position of the secretary of Kakhovsky city council, and is sure that she will cope with this work.
- It will be difficult and is necessary to study, - she summarized.