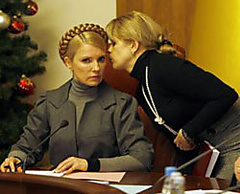 Yulia Timoshenko and her press - Marín Soroc's secretary
Press - the secretary the prime minister - the minister of Ukraine Marín SOROC disproves information on plans of the head of the Ukrainian government in August to visit with a business trip the Russian capital and an air show Max-2009.
I reported M about this UNIAN. Forty, making comments on the message of the Russian Kommersant edition.
"Yulia Vladimirovna receives many invitations to the international conferences and other actions. But she isn't going to visit soon Moscow", - told M. Forty.
Press - the secretary of the prime minister reported that until the end of August Yu. Tymoshenko plans to carry out regional business trips in Donetsk and Lugansk areas, and also to visit Lviv and Volhynia. "Yulia TYMOSHENKO spends all the time for stabilizing an economic situation in the country and to overcome consequences of world financial crisis. It has no time for show", - emphasized M. Forty.
As reported the UNIAN, today, the Russian newspaper "Kommersant" reported that the prime minister - the minister Yu. Tymoshenko intends to visit Moscow in August. According to the Russian edition, she plans to visit to Moscow this month under the pretext of visit of an air show MAX.
The newspaper assumed what exactly it speaks that Yu. Tymoshenko didn't begin to make comments on the sharp statement of the president of Russia Dmitry MEDVEDEV to Ukraine - unlike the majority of candidates for president of Ukraine.