The name which has made a noise in mass media"Harmony of Uraya" intrigued as it appeared, already three nikolayevets. However it only began. This organization has serious plans for the future. Also it is planned that you pay for introduction of these plans, dear reader, and also your acquaintances.
In the morning on August 15 on Lenin Square near the fountain the organization "Ladas of Uraya" which doesn't rank itself as any political force, collected signatures in support of the organization.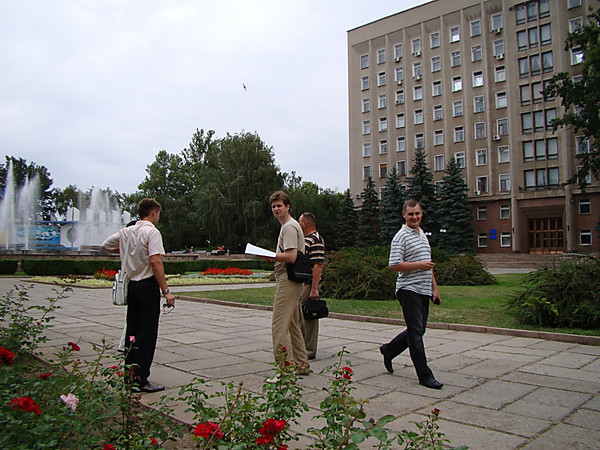 So looked petition on the area Of Lenin on August 15
It was planned that this day people who will come to undersign, will choose the organization head in Nikolaev and the secretary. Similar actions took place in 11 cities of Ukraine. As the petition coordinator in NikolaevtoldArsenty Kovalenko, it is necessary to collect around two - three thousand signatures that it was possible to give them to the Central Election Commission (CEC). In Nikolaev organizers agitated by means of phone, the Internet, personal meetings about 200 people. Counted that at least hundred people will come to the square and leaves the autograph. But it didn't happen. Only three persons responded to call of the organization.
But an essence not in it. According to the plan after the organization will be created, will pass one more petition - now for holding a referendum on which, according to organizers, it is necessary to take out five questions:
1. To deprive of People's Deputies of Ukraine of parliamentary immunity.
2. To stop practice of elections in the Verkhovna Rada according to the closed lists of candidates.
3. To deprive the Verkhovna Rada of the right to make changes to the Constitution, to change or cancel laws or the decisions made on the Referendum.
4. To change a barrier to passing to candidates for president: instead of monetary pledge - petition of citizens of Ukraine on the terms of petition for holding the All-Ukrainian Referendum.
5. To allocate the President of Ukraine with the right of an initiative for declaration of the All-Ukrainian Referendum.
Official purpose of action the very good. We think, all sane people would support the similar initiative. But there is a dirty trick.
On a site on job search we find vacancy the representative on petition (in Nikolaev this vacancy is already occupied). In working conditions it is told: "Petition will be paid according to action definition: All-Ukrainian Referendum on a popular initiative. Proceeding from this definition,if the people wish changes in own favor - act as the customer, therefore, the people and pay works in pursuance of the order: in a subscription list it is necessary to put 5 hryvnias to the signature.You remember a sensational question: "How many it is necessary to pay that the indecent power disappeared? ", the answer to it - 5 hryvnias. To four hryvnia from these five - your salary, one hryvnia - a covering of organizational expenses".
Arsenty KovalenkoI confirmed to us that written on the Internet - the truth. However organizers will take five hryvnias from the people only when petition for a referendum will begin. Then everyone "the national sponsor" will receive "the happy ticket" (it so officially is called), in which it will be specified that he paid five hryvnias of the organization "Ladas of Uraya". Today petition took place free of charge (as it was noticeable - on the square wasn't neither tents, nor something another that would draw attention of the people, people undersigned, behaving papers at).
What actions will be undertaken by the organization if today isn't able to collect necessary number of signatures for filing of application in the Central Election Commission, representatives on places yet don't know.
And here if plans are carried out, organizers will start collecting signatures for five hryvnias. As the necessary minimum for giving of an initiative of holding a referendum - three million signatures, in total "Ladas of Uraya" plans to collect from all Ukraine of at least 15 million hryvnias. From them, proceeding from working conditions of coordinators on places, 12 million will go to compensation of employees, and three million - officially - on a covering of organizational expenses.
It would seem, well who will give 5 hryvnias putting the signature on the next political action? You know and suckers at us suffice.If daily someone get in on a bubble scheme simply on the street why not to use long ago known to political strategists and it is simple "разводилам" methods of manipulation with consciousness, not to inspire in people, what 5 hryvnias - same a trifle in comparison with what benefit you will bring to people, and not to bring down the 3 million hryvnias? And it at least.