On these days off Jesus Christ's Church of sacred last days opened the doors for all comers. At an entrance on Artillery, 24 (crossing with Admiral Makarov St.) there were young people who everything smiled and invited to enter inside. In the premises of the organization of the woman with greeted everyone with a smile and everyone who came, I could visit excursion on all building of sect. On walls indoors there are no icons - there are only pictures and posters. And during a participle believers drink not wine, as in orthodox church, and water.
Idea of the world and of God at Mormons (quite so Jesus Christ's Church of sacred last days informally is called) very strongly differs from the doctrine of orthodox churches - orthodox and Catholic. And from the Bible they treat many episodes on - to the.
Therefore before to get acquainted with a sect position, we advise to study the Bible and a position of orthodox church to have possibility of a democratic choice and not to be misled.
In Nikolaev and its doctrine I told us it about Jesus Christ's Church of sacred last days chapterAlexey Dobrovolsky. We give our conversation with this person practically without changes.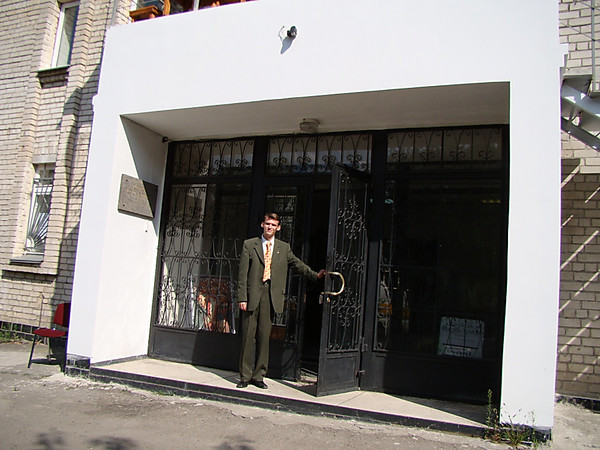 Alexey Dobrovolsky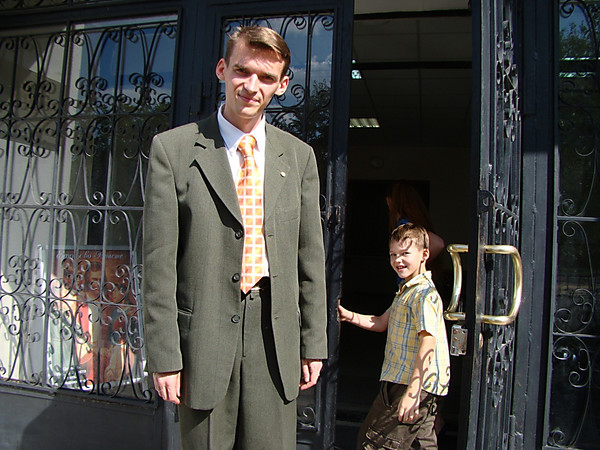 - How long there is Jesus Christ's Church in Nikolaev, how many has members and who these people?
- In Nikolaev the church is registered in 1998. In Ukraine as a whole it appeared, of course, earlier - in 90-x years right after adoption of law about religion. We believe in submission to laws of the government and judicial authorities. Therefore we don't go against the law. As soon as adopted the law, the church sent here missionaries. In Nikolaev, according to church, at that time there were ten people. But when missionaries arrived here, they found nobody.Then incidentally there was one meeting - the woman was christened in Sankt - Petersburg, and lived here. She saw missionaries and helped to register here a community. There was an organizational meeting, already there were ten interested people. Since then the arrival history in Nikolaev began.
At present we have 133 members of church. This quantity constantly changes because people can leave, come. The list of members of church is constantly updated. From total at us 13 children from zero till 12 years.
- You head church from the very beginning of its existence in Nikolaev?
- No. My position, as well as any here a position, is voluntary. Me called. I don't know when God will need to withdraw me. I am the spiritual head of this arrival about seven years.
- How there is a prizyvaniye and an otzyvaniye?
- We have higher heads. They pray for receiving revelation - what of brothers is worthy to direct this arrival. They pray together with advisers for any candidate, then reflect. If all of them three feel confidence that this candidate approaches, it is perceived as the answer from God, revelation. Then this person inform that the Lord calls him. Usually such callings as the head of arrival (at us it is called the president of arrival), demand a consent of the wife. We come to interview together. Both it, and me inform that this big burden. Also it is a voluntary. I, for example, was a teacher at school No. 60. And it was difficult for me to combine the first years both the work, and management of arrival. I was the class teacher. There children, here children. But soon I had a convenient opportunity to change work.
- With whom you now work, if not a secret?
- It not secret. I work in the Teacher's club as the teacher of English at an evening school. It releases the whole day. You understand, such questions as an illness of parishioners, a funeral is everything demands my participation. And the day off means much. The whole day is provided to a family and service here.
- At excursion said that the fund consists of voluntary contributions of members of church. What size of a contribution?
- On the maintenance of church we give a dessiatina from the income. Separately people can offer voluntarily any sum on humanitarian assistance.When members of church give money, they sign the receipt which means that they authorize me to make from their person a contribution on the bank account to churches. I don't accept money, I am only the transmitter. Money arrives in bank therefore we issue bank receipts in confirmation. General management of church - special council of bishops is engaged in distribution of fund. They know, how much is building rent in Nikolaev. From a dessiatina which is collected in Ukraine, they allocate funds that we here had light, water, all. I don't carry out this work.
- Whether you do charity work?
- Yes. For example, one of big projects is the help to the Nikolaev city shelter for citizens of advanced age and disabled people. The church began humanitarian activity here since 2000. From 2000 to 2009 half a million US dollars was spent. It, on - to mine, four million hryvnias. In the beginning it were containers with humanitarian assistance. These containers went through regional charity foundation of the social help to the needy. As the management of arrival was young (to me there was other brother), then it it wasn't known - how to help. That is, the church gave containers, them unloaded and as they were distributed … We hope that it is humanitarian fund honestly everything distributed, they reported. And later, when I became a head, I became interested in this opportunity - to help, and I already went itself on the organizations, learned needs. It already were the concrete, directed projects. Now we work with the city center of reintegration of homeless citizens.
- The orthodox church not really well perceives sects. Whether you try to find a common language and how you treat what the orthodox church doesn't perceive you?
- We follow Jesus Christ's policy. We respect all. We have creeds, and one of them declares: "We declare for ourselves the privilege to worship to the God-almighty according to a voice of our conscience, we provide to all people the same privilege. Let them worship as, where or for that it it is necessary". And one more creed: "We trust everything, we hope for everything. A lot of things transferred, and we hope that we will transfer everything. If there is something virtuous, fine, worthy respect and a praise, we aspire to all this". We believe that all religions bear to the world something good. Any church if the person really believes, that he professes, it is very fine.
We don't try neither to compete, nor to shine other faiths or religions in negative light. Certainly, to us gets much, as well as any new faith. But we try not to answer attacks. Open Days which take place, are intended to correct negative opinion on church at people. To show that we don't win adherents or violently we cross someone in our belief. We try to show by means of these actions that we are good-natured adjusted.
- How you pray?
- The main difference from other faiths that we pray directly to the Heavenly Father. We received modern revelation that God - our loving heavenly father. Earlier Catholicism, doctrines, the Middle Ages, these temples medieval - they tried to show the person a small insect, and God - a punishing right hand - it will crush and will crush. And the person from - for it prayed not directly to the Father Nebesnom, the Creator, and through defenders - through Virgin Mary, through sacred any. We understood that it was wrong, we pray directly. We begin a prayer with "Father Nebesny", we appeal, and at the end: "For the sake of Jesus Christ". Because so Jesus told: "You pray in the name My". We believe that the prayer of "Pater Noster" which is presented in the Bible, is a sample - for what to pray, that is the basic there is listed: you thank, you ask about needs and finish "For the sake of Jesus Christ". We take it as a sample, but literally we don't repeat it.
- You personally why chose Jesus Christ's Church of sacred last days, instead of orthodox church?
- I looked for long time, chose between different faiths. I was born in a family of atheists. The grandmother - the employee of KGB, all life pursued other faiths. And all the time in a family the atheism was propagandized. In the childhood I read stories about believers and laughed. Then, when the pluralism began, freedom of religion, there were many preachers, mother where - that got the Bible. It as the person educated, the teacher, studied it. Preachers of different faiths came, something told. I was frightened by the orthodox direction of the isolation. I was afraid, for example, that I will make something not so, not there I will become, I don't know how and where to find where to read - I don't know. This my personal opinion as person, it not position as head of church. At first I accepted one of the Protestant directions. Later I met missionaries. They told about the additional Holy Writ. I was intrigued.
- You means the book of the Mormon?
- Yes. We started reading with the spouse. The spouse was Greco - the Catholic, she observed everything. Its all the time confused that I am such atheist, we have no atheist marriage in the temple, anything. It was suddenly inspired. Thinks, maybe, though as - that to God will come. At first we from this book understood nothing. And then there was a question of a baptism of the child. I was against, spoke, it still small, it is still unclear. And I found the answer that it is necessary to christen children on achievement of age of responsibility by them in this book of the Mormon. Because it is precept to follow Christ.
- What is age?
- We consider that it after eight years. When the child can consciously sin. I even talked to one orthodox priest. He told and, really, this practice is vicious that people christen children to please traditions. And, speaks as we try to correct it. Parents, Godfathers have to assume consciously responsibility to bring up the child in belief while he won't understand, in what he entered. He speaks, often people pay a tradition tribute - christened that evil ghosts didn't disturb. That is, it is wrong. He says itself that people simply mixed with pagan beliefs that any amulet from evil ghosts is necessary. They mixed it with a baptism ceremony. Sense of a ceremony of a baptism - the promise to follow Jesus. He speaks, we now explain it to people.
- How you decided to christen the child?
- Certainly, it was крещен to please to traditions.
- In what church?
- In orthodox church of the Kiev Patriarchy, on Garden.
- Why?
- The wife insisted.
- It after all Catholic.
- You see, so … It Greco - the Catholic. You understand, at it in the homeland couldn't christen, weren't in time. And here christened … But she already then doubted necessity of it. And at that moment I already met missionaries.
- At what age you christened the child?
- In infantile, there was no year even. I there wasn't present. The wife christened simply to please to traditions that parents ceased to worry. Well and just at that time I already met missionaries, and I made the decision to be christened here because I believed that is true church. And I believed that there is a power from God to carry out this ceremony. When I was christened, the wife looked that anything bad didn't occur, I began to change for the better.Then it was christened.
- That is, she refused Catholicism and passed completely into this church?
- Yes. Well, it had long ago any doubts, she tried to ask questions, but its questions, probably, weren't welcomed. Eventually, it too accepted this belief, and we bring up the child, he is seven years old and we prepare him for a baptism. He looks forward the baptism the priesthood power. I as the father and the priest … well, the priesthood carrier, I will christen it. That is, we have such privilege that the worthy father can christen the son, even the husband can christen the wife if they are worthy.
- You maintain the relations with orthodox, Catholic priests, or priests of other faiths?
- I would like. But as far as I know, in other cities pass any interfaith forums, congresses. If at us in the city something occurred, I at interfaith level would meet. Most to come … I don't know as far as it is pertinent.
- And how "You knock, and to you will open"?
- Yes, it is possible. Doesn't want to cause on myself … you know how, I came here, from other church to spy. Perhaps I am not right. It is a lot of fears, you understand. The fear was to call you.
- ? ?
- Certainly, we are all people. This second action which at us takes place, but so on a substantial scale we yet weren't presented for the city. This year we even invited high-ranking officials from area, from the city. They told that know about church, about work, promised to come, but couldn't.
- You considered, how many people came today, to the Open Day?
- Today 50 people came.
- After the Open Day how many you plan, will increase members?
- At all. It is only informative action to correct public opinion.
- Whether in church you had to meet such concept, how "miracle"?
- Yes. I witnessed many miracles, and many members of church have such experience. But, you understand, for many of us miracle experience deeply spiritual and very personal. Therefore seldom who tells about this experience. And you would like that I shared something?
- If you want, share. If isn't present, I won't insist.
- In the history of my address there is a miracle experience which turned me into belief from the atheist and the atheist.Time I published it, probably, it can be shared.
I was in the ninth or eighth class, the non-believer. I passed final examination on сольфеджо at music school. The pupil I was useless, I didn't study him simply. I played on a blast furnace quite not bad, but I very badly understood the theory. And teachers told: "Well, Dobrovolsky, at final examination you learn where crayfish winter". I never wrote a musical dictation. You know, the teacher played on the tool, and it is necessary to write down notes that you heard. I couldn't reproduce more than 20 percent of notes. I always went to classes, didn't pass, but I didn't understand it.
When I came to examination, I suddenly realized fear. I think how to tell mother that I studied six years, and as a result of me with the two will let out. To me it was very terrible, and I understood that anybody won't help me. I, being nervous, I left an office. The only place where I could retire, it there was a toilet. I was closed there. And I suddenly thought that I heard much about God, about how to him pray. I heard something like "Otche, иже еси on don't enrage", something like that.
And I decided to try. Then for the first time in life, in a toilet, I closed eyes and told: "My God, if You exist, now to me any more from whom to ask the help, help me". Probably, I was so sincere in it that it really helped. I returned to a class, sat down at a table. And I sat separately, anybody with me didn't want to sit down, because the poor student.
And here she started playing. At me before eyes was … I don't know how I saw it. I don't say that it was the gologrammny image. No, it was where - that in the head as though in fog - I saw a musical camp, and on it notes. I simply copied that I see at myself in the head, in the music book. Silently not to frighten off this vision, I simply copied it. And here she lost the first time. I didn't need to listen to music, I after all understood nothing it. And I simply copied this piece which at me appeared in memory, and put a pencil. And the teacher speaks: "Well, Dobrovolsky already consulted, the fine fellow, didn't try at all". It approaches to me, takes a leaf, and speaks: "What did you take for a ride to us six years? Ah you, unscrupulous". Then second question. They pull me to a piano, it is necessary to learn a triad. I it don't understand anything, I am afraid to tell them, I speak: "Aunties, darlings, I know nothing, I don't know how I wrote". She says: "Yes throw, you know everything". And it presses a triad. I'm saying: "Third, octave".To me delivered the three. I handed over, gained the diploma. Since then I knew that God is. Because He answered a prayer. And then I started looking for.
- And when you came already to Jesus Christ's Church of sacred last years, there was something similar?
- Yes, here in general began simply a stream. Were wonderful recovery. We believe that we have a priesthood power thanks to which we can give blessings if the person trusts in it. It is that power which Jesus cured people. In 2004 when I was the teacher of school, I won the international competition on the best teaching of English in Ukraine. I passed in the final, and me as the finalist chose to be the representative in America on the international symposium of teachers.
I happy, to a departure remain ten days. And suddenly I have temperature forty, and on a forehead a spot, then one more and one more. Called the doctor. It came, and from a threshold speaks: "Oh, chicken pox. Smear with brilliant green, in 12 days you will come to reception". We shocked, before flying away there were ten days. I speak to the wife, call elders, priesthood carriers, let they will come and will give blessing. They came, assigned hands to the head. On a ceremony at first there is a pomazyvaniye oil, then unction closing, then blessing words. And if the person is really adjusted on giving blessing from God, the Spirit prompts to it what to speak. We believe that he tells it not from itself(himself). And here one of carriers of priesthood speaks: "You will recover, and you will go where it is necessary for you, everything will be as it should be". You know, I didn't trust in that moment. I passed day, the state worsened. Me on the fast brought to hospital. Told that catastrophic situation that I by the morning will die if not to get medicine. The wife raised money from all the district, got medicine, started dripping. The doctor speaks: "Well, about America you can forget". I think, well what to do, forget, so to forget. But then there were miracles. Suddenly rash ceased to develop.
- How began to enter medicine?
- Yes. But the doctor told: "Even with the medicine, what America? You struck 80 percent of an internal, the brain is affected with this vysypaniye". At my age, then I was 23 years old, chicken pox is very hard had. But when the doctor came to the second round, told: "You look, how quickly. We had no such cases". And to the American measures for the fifth day after the termination of a vysypaniye of people not infectious.That night when I should have gone by train to Kiev, quarantine after the last vysypaniye ended. And I went.
- But when to you send elders, you didn't believe at once in healing. Why you then think, what this healing happened on belief?
- It was the priesthood power. I believe that it was healing by the priesthood power. The belief, maybe, came later. That is, to me there was enough belief that I asked them to bless me. I thought, time God gives such difficulties, I will reconcile to everything.
- How Jesus Christ's Church of sacred last days treats future predicting, fortune-telling?
- Negatively, as, probably, and any other church. Because in the Old Testament it is written, to fortunetellers you don't go, to predictors of the future and astrologers.
- What do you think of communication with the dead?
- Too this experience is described in the Old Testament as negative. Communication with spirits of the dead is an obscurantism. We believe that spirits of the dead after death go back to that God who created them. There is a place where righteous persons have a rest, - that usually is called as paradise. This place in which they expect court. Not righteous persons are in a place which usually is called as a hell, but it is a temporary dungeon in which they are that to them could preach still. Perhaps they can already change, confess there, being already in an inner world. And they there, believe, are occupied. We so consider. And therefore anybody can't cause them. But there are certain evil ghosts who were dumped here, on the earth, together with a Satan. When Lucifer didn't accept the plan of the Heavenly Father and told that wants to take away a freedom of choice from people. We believe that, getting here, on the earth, we have to pass test, find church, adequately live, conclude precepts good luck. At the end we get to it again, we wait for court and then we revive everything and we inherit a glory kingdom and so on. The Satan wanted on - to another. He told: "Give me the power, I will bring all of them, all as one, a system, nobody will be tempted, all will pass experience on the earth, will find a body, will die, unanimously. But for it You will give me the glory". It in Isaiah is still written. On what the Father told: "no". Then Jesus told: "Here I, send Me". The father chose Jesus. And Lucifer rebelled, lifted spirits. They argued, proved the, and the Heavenly Father told: "Time you don't support Me, I am compelled to deprive of you the body privilege.You will be banished on the earth and never receive bodies". Further the earth was created, and they were banished on the earth, and in punishment never received a body. Jesus Christ when he was here communicated with them. You remember how the legion of spirits entered into herd of pigs? They asked from it though any body: "Give us though for an instant to feel this pleasure - to have a body".
- That is, to have a body is a pleasure?
- Yes. It to what we teach.
- Some perceive a body somehow that holds down soul and doesn't allow it to return to God.
- Well, as though yes. The body which we receive here is, it is possible to tell, trial option. It wants to eat, it is tired, it is subject to diseases. The body which at the Heavenly Father, we trust, is completely similar to ours. But it is perfect. In it there is no blood, after all from - for blood we die. Blood is life.
- God has a body?
- Yes, we believe that it has a tangible body from a flesh and bones.
- And how the doctrine what God is everywhere and in everything?
- We believe in God - the Father, his Son - Jesus Christ and the Holy Spirit. The Holy Spirit - the third member of a deity who has at present no body. It is connected with that function which it carries out. That is, It has to be everywhere. If it had a body, it couldn't carry out this function. It, as sun: is in one place, but its influence can extend. We trust in it. That distinguishes this faith from many others, it that we, according to Joseph Smith's first vision, are sure that God has a body.
- But the orthodox church doesn't recognize such position.
- Yes. They use the Nikeysky creed. We don't recognize Nikeysky creed. Though we believe in triune God, but we recognize them as three individuals. They are uniform in the purpose, but they are various: The father Nebesny as the head, Jesus Christ carries out a role of the envoy, the Holy Spirit carries out a role of the witness. When Jesus Christ was christened, the Heavenly Father declared it: "Here, there is a Son my beloved, in It there is my goodwill". And the Heavenly Spirit confirmed it, having been in the form of a pigeon.
- If God has a body, on your belief, whether He thus has soul, as well as we?
- Surely. His body is a soul and cover combination. We believe that at first we were as spirits are as a hand without glove. Having fallen to the earth, we put on a glove.And having lived here, the glove wore out, we left it in the earth, and back spirit what was, only already with knowledge which it can receive in a body, returned back. Further he waits for court. And God will return it his body. That is, we will find the same a section of eyes, for example, type of hair if it is pleasant to us, I so think. Certainly, humpbacked and lame will be corrected. It will be more - less perfect body. But all of us will be different.
The body is to what we aspired right at the beginning. He created us, as spirits. And we lived with It and rejoiced. We told: What's next? " He told: "If you want further, you need a body, as at Me. You don't know that such hunger, you don't know taste of food, you don't know that such, for example, such pleasures which we have in a body. You want it? " We told: "Yes, certainly". He told: "Then I have a plan for you. I will send you to the earth. But in order that it was honest, I have to move away from you. You will be. Agree to it? " We told: "Yes, certainly". All of us supported him. Because those who didn't support, they never received a body. We came here. And, probably, once I promised you you to find.
- God sent Adam and Eve to the earth to punishment. They sined - broke its ban. And He expelled them on the earth, instead of gave new opportunities to receive pleasures as you speak.
- We too look at it completely on - to another. As was. Adam and Eve were the first people on the earth. Having got on the earth, they communicated good luck, lived in ideal conditions. But God never takes away from us a freedom of choice. Adam and Eve had to make it voluntarily. That is, when they were in an edemsky garden, they were in an innocent state, they to each other weren't drawn. They enjoyed life: if, saw, slept. It seemed to them, it is enough of it. But God gave a precept to propagate and breed. And Adam, probably, scratched the head in thoughtfulness that it means. And why Eve so looks, and it so, and for what these bodies at them? But thanks to Eve, thanks to that it … Lucifer who tempted it was farther. He told: "And you unless don't know for what you here are? " She told: "Well as to live". He told: "Isn't present. You in general in an innocent state. And here eat this fruit". She says: "So the Lord told isn't because death we will die". He says: "Well, but you will be clever". And it bit off. And then on suddenly everything I realized and I understood that it became now mortal.
Because, being in an edemsky garden, it was immortal. And it then went to Adam and speaks as we treat: "Adam, look, I ate this apple. Now I mortal. I simply warn you, I understood everything, for what we here and why I such. If you want to be with me, you too can bite off. If isn't present - I will understand you". And then Adam understood that he has to be with it because it is given it in the wife. And it bit off this fruit, and too became mortal. Then the Lord was. If attentively to read it, not in the light of that It punishes them - it simply presents them with a fait accompli that now happens. He says: "Now you became mortal. You will die death on the same day". But day for the Lord is a concept extensible. We know that our one thousand years is for it as one day. Adam lived about 900 years, he died for God on the same day. But it took pleasure in life according to the full program, having given posterity.
Adam understood that he became mortal, he understood that it made it at own will. God didn't force it. Further God told: "You made the choice. You became mortal, and the earth too has to find mortality". That is, before all animals didn't die. After that there were predators and victims, plants started dying in the fall, in the spring - to be restored to life. Adam had to work, by the sweat of the brow get bread, and Eve owing to the mortality - to give birth to children. Because before it had everything, but she didn't know how to apply it. It that is told in Life.
That is, they made a conscious choice, having tasted apple. In fact, we even are glad that Eve had courage to make it. Because, don't make it it, it wouldn't have children, and there would be no us.
- What do you think of conversations about aliens ?
- We believe that God told: "I have many worlds, besides". The person never flew further our solar system. We believe that there is someone. We don't know, who it. And we suspect that God has a plan while not to tell it to us. The official church version isn't present. The only thing that I can officially tell, it that I am sure that He is a creator of many worlds. And there, for certain, there is a life. Probably, those beings are more developed, and some of them can reach other systems, including ours, and to see that here occurs. Probably, our imperfect sight distorts ideas of them. That is, we see them in the form of any extended persons, humanoids.Probably, it owing to our their defective perception. We assume that they really exist.
- There is a version that aliens are demons and demons who came to tempt us.
- Probably.
- But you treat it on - to another.
- Yes, but we is no strong this question are concerned. We know that the Lord told that there are many secrets (it in the book of the Mormon is written), which at present to us aren't not revealed. "You wait for my second coming, and then will be one thousand years when I will explain and tell you that, as, why". Probably, your version too makes sense. Because now it only brings turmoil - many don't believe in God, but believe in aliens.
- You remembered an episode from the Bible when evil ghosts were installed in herd of pigs. Whether among us evil ghosts fly presently? Whether they are installed in somebody?
- Yes, we believe that evil ghosts exist. There are approximate calculations, how many for all existence of the earth on it was billion people. We know that one third of all spirits was sawn-off and sent here as evil ghosts. That is, one third of total of people on the earth now is here.
- ? ?
- If, for example, on the earth there were six billions people - that is, six billions spirits became people. From these six billions we will take a third.
- You mean, what spirits become people?
- Only good, bad - No. We believe that this person influences from one to five - six evil ghosts.
- Angels too become people?
- Angels - is what already were people. There are two types of angels: angels who visited the earth, had a body, died and revived in the first revival with Jesus Christ. You know when Jesus revived, there is one line in the Bible: "Also many righteous persons revived". They revived as it was promised to them, found the super - bodies and went on the sky, speaking in images. Actually - on any planet where there lives God. And there they became those whom we call angels. Including among them there was an angel Morony who brought "gold sheets" to Joseph Smith. Including an angel was Moisey who was taken away by God, without having tested death.
- As far as I understood, on your belief, God and good spirits live on a planet?
- Yes.
- Physical?
- Yes. We don't know data on it. We know only the name of the star next to it is Kolob.
- How evil ghosts who went on the earth, influence people?
- They tempt them. They can throw up thoughts. They can be installed - that is, you suddenly feel any evil influence, desire something to make. The person consists of two parts: just and guilty. Because we inherited guilty part from fallen Adam, just - from the Heavenly Father. We believe that constantly have to choose the just. We, as computer: on a default "Satan" is established. If we don't rearrange a tick, we arrive as the Satan wants. We always have to make a choice consciously.
- How to distinguish, what you are influenced by an evil ghost? And when the evil ghost is installed in the person, whether considerably it is another?
- Another, probably, isn't present. If the person spiritual, he can notice changes that the person acts under the influence of evil force. Not to get under influence of evil force, it is necessary to know how it is necessary to arrive correctly.
- You personally faced sometime manifestations of evil ghosts?
- If you mean behavior when the person rushes about, the furniture throws, isn't present. Also we believe that the person who has a body, he has the power over beings who have no body.
- How?
- As we have a body, we can order them: "Izydi". Depart from me, a Satan as Moisey tempted in the desert told. We believe that the Satan as the dog, lies under a door. If we open a door and we will allow it to enter, it will enter. If we tell: "Leave away", it never will force us.
- More precisely, how exactly it should be told?
- Here not in words business. It is just necessary to make the decision to arrive so. How to give up smoking or to throw it to drink. We believe that the most important is to make the decision. The person has to promise to himself and God that it won't be.
- That is, for this purpose it isn't obligatory to tell words?
- Yes. Here action, generally more important. It is more important to refuse to go to any doubtful party or to drink. After a baptism we, rukopolagy, grant to people the Holy Spirit - we speak: "Accept Spirit Sacred as your workmate and fellow traveler". And, if the person is worthy, the Spirit Sacred stays with it. This is the third member of a deity, He influences the person and helps to make a good choice.If the person feels a breakdown, offense, fear, it means, the Holy Spirit moved away from it. It is necessary to make something that to return it.
- I didn't notice at you on walls of icons or Virgin Mary, Jesus's statues. You don't accept such symbols?
- We perceive icons and any images as images. We have Jesus Christ's image, but it only for appearance. We don't worship to them, as to wonder-working faces.
- What do you think of mirotochashchy icons? Whether you accept them as a miracle?
- No. We don't want to offend feeling of believers therefore we don't make about it neither with denials, nor comments. We don't know the nature of it.
- Your women are obliged to carry kerchiefs and skirts?
- Strict rules aren't present, but on Sunday meetings of women encourage to come in skirts only because the skirt emphasizes a feminine. Here we are in the fashion rather.
- In Nikolaev there is no temple of Church of Jesus Christ of sacred last days?
- No. The temple only is under construction in Kiev. There everyone can't enter. There the person who has the recommendation from the head of arrival can get only. This recommendation confirms its advantage. Strangers can visit only the center for visitors at an entrance.
- You call yourselves Mormons?
- Yes. This our informal name from - for books of the Mormon. The Mormon is a name of the last prophet who made chronicles, wrote on metal sheets and hid them. But at Mormons from Jesus Christ's Church of sacred last days more than 40 sects broke away. Some of them total to 100 adherents, some - thousands.
- You believe that God and all spirits have bodies. When Jesus came to the earth, that, according to your doctrine, his soul left a body. Where during its stay on the earth his body stayed?
- It before coming on the earth had no body. The terrestrial woman had to give it a body.
- And after a crucifixion, It, leaves, got a new body?
- Yes, It got the body, only the perfect. Here it experienced everything - all emotions which only it is possible, hunger, cold, beating, diseases, for certain. Perhaps it isn't told in the Bible, but It passed all this, that the nobility as to help us. That is, it had to get into our skin.
- How Jesus before arrival on the earth was without body even if at God, you speak, there is a body?
- It had a spiritual body. He talked to Moisey, he named itself(himself) Jehovah.
- You want to tell, what it was not God - the creator, and Jesus?
- Yes. The creator delegated it here. He spoke on behalf of the Father, even spoke from the first person. He was Jehovah, about it is told in the book of the Mormon. He told: "I am Jesus Christ, Jehovah of the Old Testament". Before It found a body, it was called Jehovah. When it came to the earth in a body, became Jesus. Before Jesus had a spiritual body. It can be seen only when you are prepared spiritually. For example, Moisey spoke with the Lord face to face - the Lord prepared it. Because the person can't see God unprepared - then he will simply die. But the prepared people who were appointed in advance as Moisey, Joseph Smith, they could see God and sustain this presence.
- How you consider, you are the prepared person?
- Yes. We believe that each of people who is appointed in a position of the head wordly or spiritual, all of them were chosen as God. We believe thatVladimir Dmitriyevich Chaikait was put to this position not incidentally. Therefore we try not to criticize it.
- Moisey as the prepared person, saw God and talked to it. You how the prepared person, you see God or his angels?
- No, I yet didn't see. I don't know as far as I am prepared. There are different stages of preparation. Perhaps I am prepared to direct this arrival only.