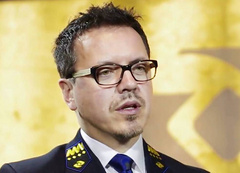 The government appointed the Pole Wojciech Balchun chairman of the board of the company «Укрзалізниця».
The relevant decision has been made unanimously at a meeting of Cabinet of Ministers on Wednesday.
We will remind, before Balchun I have won at an open competition on selection of the head of BONDS.
He has brought the Polish railroad PKP Cargo out of losses of 100 million zloties in profit of 500 million. I have carried out reform of the company, I have brought her to IPO and I have retired. In the last four years I headed the supervisory board of the Polish airline LOT. Balchun is also a leader fate - Chemia groups.
PUBLIC JOINT STOCK COMPANY «Укрзалізниця» unites six regional railroads and about 140 other structural enterprises. In management «Ukrzal_znits і» there are 21,6 thousand km of railway tracks, about 4 thousand locomotives and 123 thousand cars. About 60% of volume of cargo and 38% of passenger traffic in Ukraine fall to the share of BONDS. Commodity transportations of metal and ore have made 58% of the volume of a cargo transportation in 2014, construction materials - 15%, grain - 8%. «Укрзалізниця» is one of the largest employers in Ukraine, more than 300 thousand people work at the enterprise.