The local political beau monde waited for Vladimir Litvin's arrival, having built almost in a rank before Palace of culture of Shipbuilders.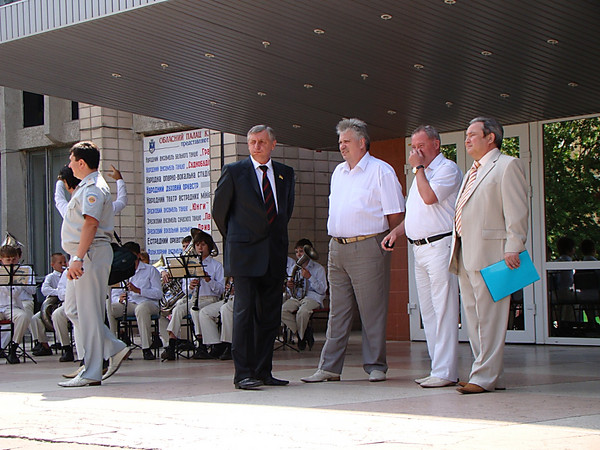 When the escort of the head of the Verkhovna Rada (only six cars including GAI cars) approached steps before ODK, the governor, the mayor, the head облрады rushed to meet it.
Litvin appeared in time just on conference of educators - as Vladimir Mikhaylovich itself admitted, to visit this action was idea of the head of area Alexey Garkusha.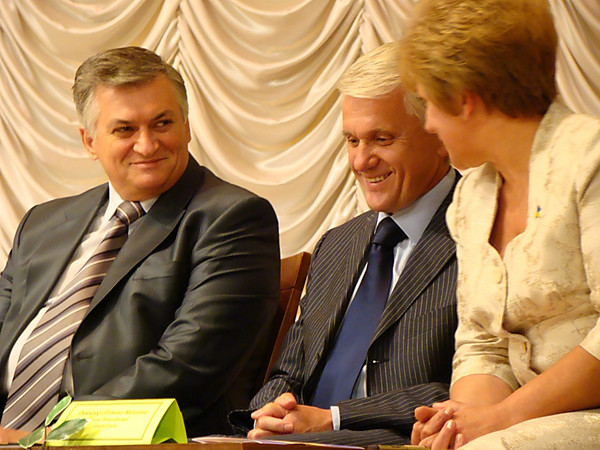 The politician from Kiev had to listen to quite long speech of the chief of regional department of education Valery Melnichenko who told how there are affairs in area, I bragged of achievements, and also I shared problems. Melnichenko told that expects the help from the head of BP in some questions, especially, as for shortage of school buses, a problem with free food for school students not only younger school, and also problems of rural schools. However, as it seemed to us, Valery Melnichenko in vain "went to bat" on a scene. Because when our correspondent asked Vladimir Litvin a question of, whether he will respond to Melnichenko's requests, the politician became puzzled a little. But then - I gathered and I told:
- I will appeal to deputies and to ask them to pay special attention to education. It concerns not only the Nikolaev area, but all education system as a whole. The education system has to be priority. Because now there is a process of degradation of the Ukrainian society. People become an inveterate drunkard, drug addiction, a catastrophic situation with children and teenagers prospers.
Vladimir Litvin paid much attention to questions of big-time politics. He scarified an initiative of holding a referendum.
- To announce a referendum, it is necessary to make a lot of things at first. Besides, that it is necessary to collect not less than three million signatures, it is necessary also to have a certain level of trust of the population - at least 20 percent. If the referendum is proclaimed then the question of that to postpone it will be brought up.Because under a referendum at local level local poll won't be tied up. Problem not in a referendum, and in how to dispose of results of a referendum. We already had a referendum in 2000. Now the President thought up a new form - All-Ukrainian discussion. The conclusion is obvious is a pre-election course. After all want to bring up a question of a two-chamber parliament. But after all to support a two-chamber parliament much more difficult, than the Verkhovna Rada. 2010 will be lost year for Ukraine.
Generally, in Litvin's speech there were many pessimistic notes. It criticized government actions much, however specific proposals on change of a situation didn't put forward.
Independent testing of which the g - Melnichenko's N boasted, the speaker called experiment with children.
- I not delighted with testing, - he told. - For me talents are important. It is necessary to see eyes of the child, to feel, whether there is at him the mind, capable to develop. Mind is, more than ever, necessary today to us. How this experiment with testing conceived the status obligatory, I was against. I have such impression that innovations we will finish off high school soon, and then we will undertake the highest. We have to preserve an old education system.
Today Vladimir Litvin plans to visit still Ochakov (to Nikolaev it was in Elantsa), will go to Kherson in the evening. Further in plans - Simferopol, from where the last flight will depart to Kiev. The following on turn - Zhitomir and Donetsk.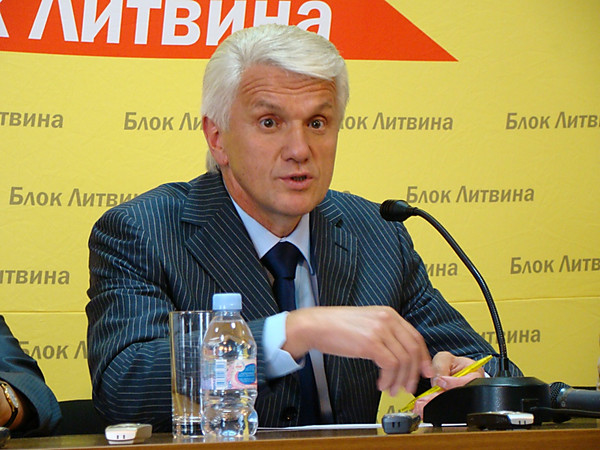 On the remote place and the cities of Ukraine Litvin doesn't connect "tours" (at least, officially) with pre-election campaign.
- People have many claims, - he explained. - Therefore I have to listen to them.