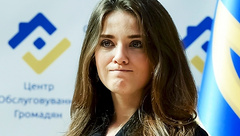 The head of GFS Roman Nasirov, using «Shaki» the mechanism, has forced heads of regional customs to be signed under a denunciation of the head of the Odessa customs of Yulia Marushevskaya.
About it Marushevskaya on the page on Facebook has written.
«I have three reprimands and to dismiss me as easy as shelling pears, but the chairman of GFS is afraid to undertake this responsibility. He has forced heads of regional customs to sign the document in which those ask my dismissal. Shameful behavior, especially for the manager of such level. Roman Nasirov has once again confirmed that he part of corruption system and teeth holds the chair» , - the head of the Odessa customs has written.
«Together with the head of internal security of GFS Yury Sheremet, they have started «shokinskiya» the release mechanism which has been used for replacement from David Sakvarelidze's prosecutor's office. I want to declare that I am not afraid of dismissal, and you Roman Nasirov?» - Marushevskaya summarized.
We will remind, the head of the Nikolaev Krill customs I have subscribed with colleagues under a denunciation To Nasirov on Marushevskaya.
We will note, earlierThe krill I declared that the Nikolaev customs concedes nothing Odessa, and even is ahead of her in something.
Earlier People's Deputy Sergey Leshchenko declared that the chief GFS Nikolaev customs Roman Kril is a person close to the People's Deputy Ukraine of Irina Suslova who has gone to parliament from "Samopomoshchi", and now entered into BPP fraction.
It is known that David Sakvarelidze has been dismissed by earlier similar way from the position. Heads of regional prosecutor's offices to the Prosecutor General Victor Shokin with collective letter, in which have expressed concern about attempts of the Deputy Prosecutor General Sakvarelidze to discredit bodies of prosecutor's office of Ukraine. Under this address also the prosecutor of the Nikolaev area Vyacheslav Krivovyaz has subscribed. According to David Sakvarelidze, The State Office of Public Prosecutor has dismissed 7 investigators and 4 prosecutors making threat for Shokin's system.