Nikolaev mayorVladimir ChaikaI disproved information that transferred date of session from - that documents aren't finished. "Session is ready", - the mayor today, on August 27, on declaredconferences of pedagogical workers of the city, having complained that in the Internet extended unreliable information.
We will remind that in some Nikolaev the Internet - editions there was information that the mayor signed the order about transfer of convocation of the regular thirty sixth session of the Nikolaev city council of the V convocation due to the need of completion of documents which are submitted for consideration of session of the City Council.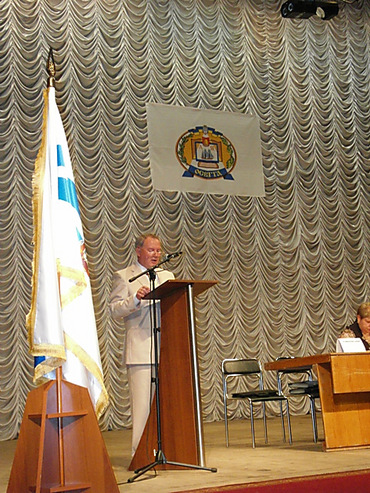 Vladimir ChaikaI reported that really session of city council postponed to the next Thursday, it will take place on September 3 at ten o'clock in a sessional hall of city council. But, according to the mayor, change of date of carrying out session was influenced absolutely by other reasons.
According to the mayor, to him for participation in work of conference one hour (from 9.00 till 10.00) was allocated only. But such "deal" of the mayor didn't arrange and he decided to transfer City Council session to have opportunity to be present at conference up to the end.
"It is my debt to be present here(at conference of pedagogical workers -bus). And I here will be present so much, how many it will be necessary", - V. Chaika declared.