In the square of "Council of Europe", on crossing of streets Garden and Potemkinsky the cities of Nikolaev, today, on August 8, were established two statues of the lions brought from the city of Yalta. According to the director of the department of housing and communal services Vladimir Novozhilov who fixedly watched process, statues are made of pink marble, and on the Crimean resort them brought from the Southern China.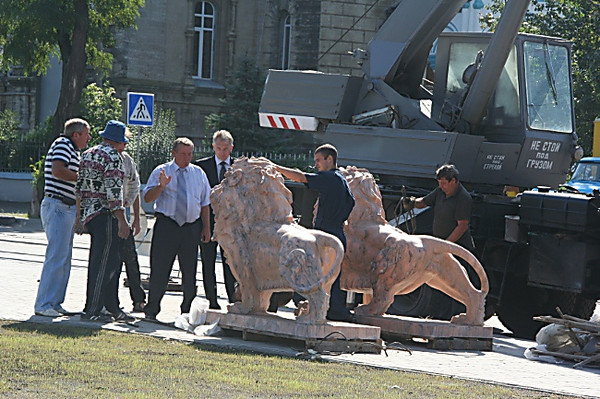 - In Yalta them wanted to establish in a zoo, but we intercepted them, - Vladimir Konstantinovich shared.
Concerning the cost of lions Vladimir Novozhilov decided to keep silent modestly, having noted that it is unimportant. Besides the director of the department of housing and communal services during work it was possible to observe and other heads. In particular, the deputy of city council Victor Burov despite "smart appearance" not only directed process, but also from time to time even helped workers.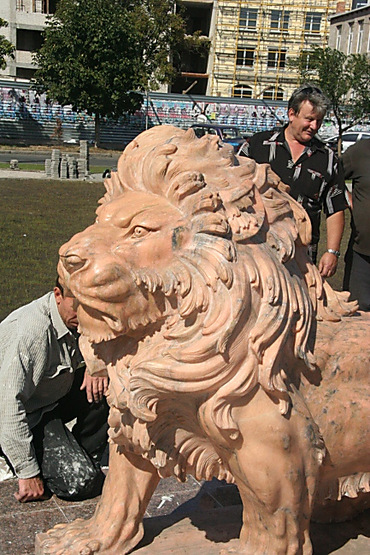 Before the crane lowered one of lions on the "pedestal", some from observing process threw under a coin statue (generally on 5 and 50 kopeks). Among them appeared both Vladimir Novozhilov, and Victor Burov.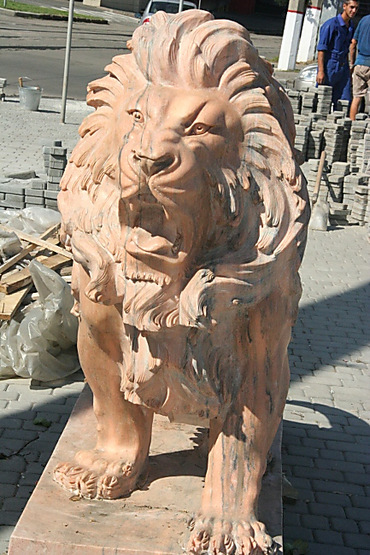 As for statues, one of lions will "welcome" citizens an animal grin, and here the second "is more peaceful". In this regard a "peaceful" lion established from the temple of the Kasperovsky icon of the Mother of God, and here the second set up on "pedestal" on other party of the square. According to Vladimir Novozhilov which was stated to them during the installation process, the growling lion was put on other party from the temple that it wasn't shown on church. And here, seemingly, now you won't envy shopping center "City Center" - day and night on it the terrible will growl is southern - the Chinese lion.