About 2-x thousands of representatives of labor unions, on September 9, held meeting on the Maidan Nezalezhnosti in Kiev, demanding from the government to improve social policy.
Gathered on the Maidan, держатли flags of the National forum of labor unions of Ukraine and National flags of Ukraine. Also they made numerous slogans, among which: "Don't justify a crime crisis", "Give our salaries", "Raise salaries, instead of the prices", etc.
Labor unions don't intend to agree to rise in prices for gas for the population. It during meeting on the Maidan Nezalezhnosti was declared by the leader of the National forum of labor unions of Ukraine Miroslav Yakibchuk.
"We didn't agree to rise in prices for gas on September 1, and on October 1 we won't give coordination", - M. Yakibchuk told.
The leader of labor unions explained it to that labor unions have no argument from the power and the government where this money will go.
The national forum of labor unions created a trade-union staff on control of payment of salaries and unemployment rate.
According to the chairman of NFP Miroslav Yakibchuk, the staff will be located opposite to the Cabinet building.
"And that the power heard us better, and we received information on return of debts on a salary quicker, the staff will be located directly opposite to the Cabinet of Ukraine", - he noted.
Also the leader of NFP demanded from Cabinet of Ministers, the Public tax administration and the Verkhovna Rada to liquidate debts on salaries, to realize the program of creation of new workplaces and to compensate a value added tax to all enterprises having on this right.
Were present on this action and representatives of the trade-union organizations from the Nikolaev area.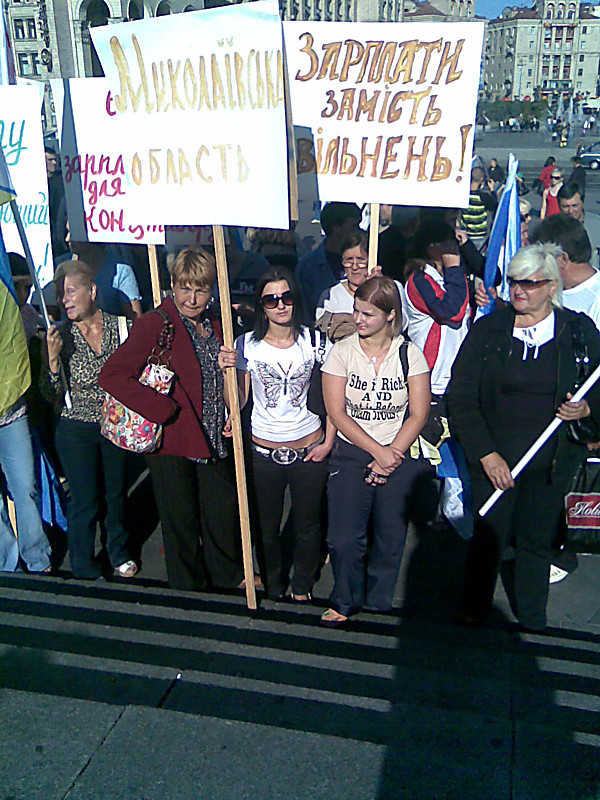 They arrived on the Independence Maidan with the requirements. In particular the trade-union cell of plant of 61 Communard tries to achieve about a year that the state solved the problems existing at the enterprise.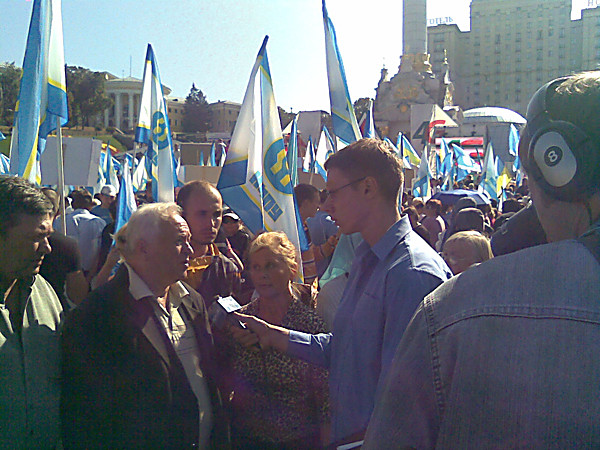 In particular, nikolayevets who were present on this protest action, noted that the National forum of labor unions and their leader Miroslav Yakibchuk, almost only who tries to help them.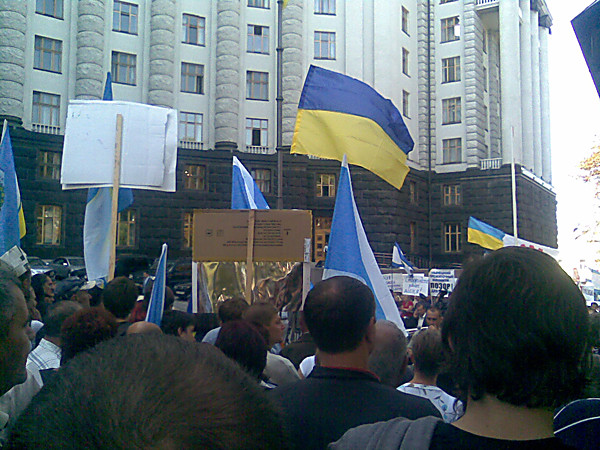 "This organization understands those problems which are at the enterprises. They as well as we try will reach ruling elite with a request: to help the simple people. If politicians who are now in power, didn't think how to them it will be pleasant to electorate and to place as much as possible the big - bards
, and worked, it would be possible to solve practically all problems", - one of nikolayevets who participated in an action declared.