Today with absolutely non-political visit to Nikolaev three arrived нардепа from BYuT: chairman of subcommittee of BP concerning observance of the anti-corruption legislation in local governments Roman Zabzalyuk, head of subcommittee of BP concerning local government Nikolay Trayduk and head of subcommittee concerning electoral laws and associations of citizens Sergey Podgorny.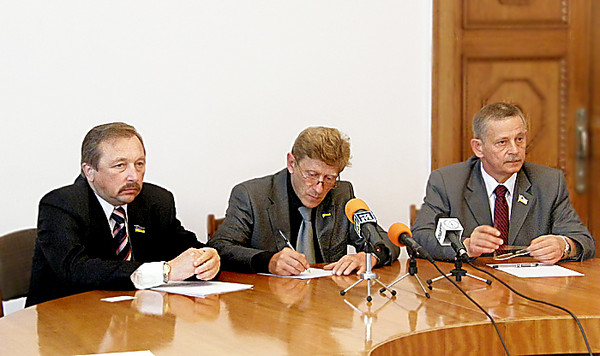 People's Deputies of Ukraine met representatives of Association of village and settlement councils. Many heads of councils complained that through regional and regional councils recommendations not to enter association because "the party is more expensive were made. Deputies studied region problems, having met representatives of the city and regional power.
Sergey Podgorny during visit also was convinced that Nikolayevshchina ceased to lag behind other areas in preparation for presidential election regarding creation of the State register of voters, and many mistakes are already found. The main thing that now voters fulfilled the civic duty and reported about inaccuracies that then didn't accuse of falsifications.
The relation of the head of the Nikolaev regional council Tatyana Demchenko who in three days knew about visit revolted deputies and consciously ignored arrival of the Kiev guests with whom it was possible to resolve any issues directly.
- Demchenko isn't able to meet representatives of committee (and any more for the first time), - Roman Zabzalyuk noticed. - Though burning issues in area is a problem of gasification of areas - state of emergency which happened in Arbuzinke enough; subventions from the budget; pricing in a network of medicines; question with the third maternity hospital …
After performances deputies quickly left in above-mentioned Arbuzinka where ripened the conflict between inhabitants, the gas-supplier and local government owing to what all settlement was disconnected from gas supply.There deputies were expected already by 300 people though the conflict situation was solved last week. And by the way, thanks to persistence of the governor …