During a meeting with the few representatives of the Nikolaev area in large quantities brought for mass admiration of the party leader of regions, Victor Yanukovych assured that he not "will cease to promise a lot of work and to promise to tell the truth".
But business - that that in all events on the square of regional Palace of culture wasn't on September 19 грана the truths. Everything was impregnated with deception and hypocrisy. And business at all in a harmonous rank from 300 young "admirers" of the leader of "regionals" with is white - blue symbolics. You will think, children on fifty hryvnias earned. Now they will fight against special eagerness for Isn't present, not for "the person from the screen". For the right to be entered in a holder of potential paid volunteers. Not for nothing it is spent in the afternoon.
Well, don't want to go in Nikolaev without money on "the person from Kiev". However, no, nevertheless people of 200 free volunteers were waited by some hours of a meeting with "lovely and kind". Why waited on the street, ask. But because. More than 30 buses big and slightly brought the smaller from the regional centers of "active" supporters of the former candidate for president and splashed out them some hours prior to performance in a hall on 1200 seats. However from a tribune the figure another - 1500 people in chairs sounded, and one thousand more couldn't get to a hall. Probably, wanted to brag to the Kiev guest that could organize national love according to the full program. Yes he, probably, behind closely close shoulders of pre-paid standard-bearers also didn't notice a window-dressing. Well it is fine, local Party members in respect of quantity captured and agitated deceive the chief, and also in the mass of true and faithful supporters is white - blue idea - and let. Their especially party affairs.
Oh, and in a hall - that is interesting as everything was. In the beginning our former governor Nikolay Kruglov very emotionally complained that people groan from the present Government and personal actions the Prime minister - the minister Yulia Timoshenko:
- It is necessary to make everything in order that any more I didn't work.
Certainly, it can't be pleasant to them when at them the stolen dachas select and don't give national money to wash away according to the offshore.But they are warmed up by dreams of future arrival to the power when they will be able to return everything on former positions. Yanukovych and declared:
- 2004 was last year of growth of economy.
Certainly, to young people that for the first time next year will be able to vote, still it is possible to talk similar nonsense. And here people are slightly more senior yet didn't forget, in what hole there was Ukraine at the beginning of III-го the millennia. But the lie said from a tribune, clothed in sweet promises of universal wellbeing, refueled cocktail of spiteful bark and hysterical howling. And it suited the brought mass of people from areas. Especially irritates Yanukovych that fact that for many years Yulia Tymoshenko Bloc uses recognition of Ukrainians, and constantly raising rating of his leader considers as anything other, as nonsense of voters:
- What it is necessary to make with these people and with the country that people understood who operates the state?
And it is possible, people and not such poor as the Prime minister - to the minister seems very being torn in the power being. Simply they it is better, than it would like, distinguish the truth and lie. Here therefore not enough people also came to a meeting with the former presidential candidate so. And after all Nikolaev once believed it, gave for it the votes. And then I was disappointed. Because saw Yanukovych's real face. And there - there is no respect for simple people. There is a uniform desire - money and the power! And - it is more.
According to its story, there was in the temple at it a vision: it closed eyes, and before it - a picture of destructions in Ukraine. And all - badly so. And then I opened - and all is remarkable. Both people cheerful, and cities well-groomed. Here he also wants very much that "the black page" its absence in the power was rather turned. That the sun and over its "hatynka" in Mezhigiryi began to shine.
Ah and last stroke. Very much the sharp increase in party members after elections pleased the candidate who has lost presidential race. If them brought together for the leader as well as standard-bearers, seemingly, present financiers of his campaign should be ruined more.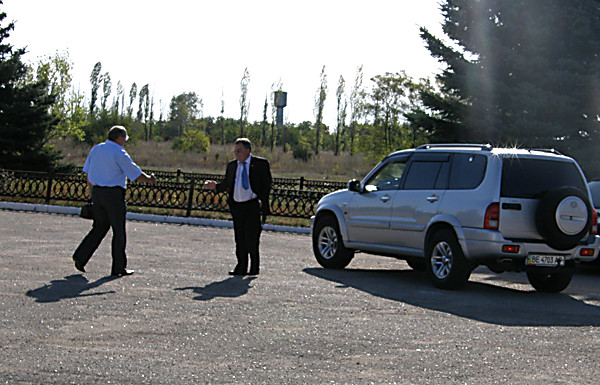 Rukovobitel fractions of "regionals" in Nikolaevsk city council P. Zibrov and секретать city council V. Korenyugin arrived to meet V.F. in the airport.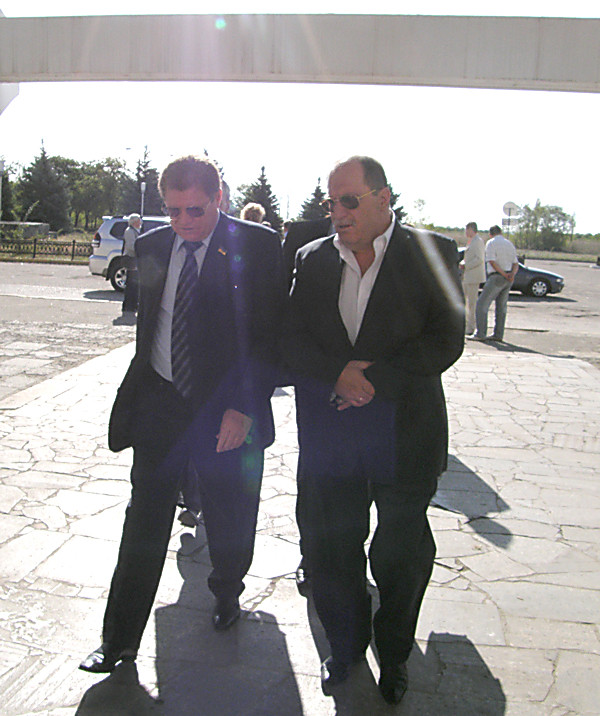 Together with N. Kruglov "to offer a hand" to the leader of opposition the confidant to Yatsenyuka A. Keyanwent also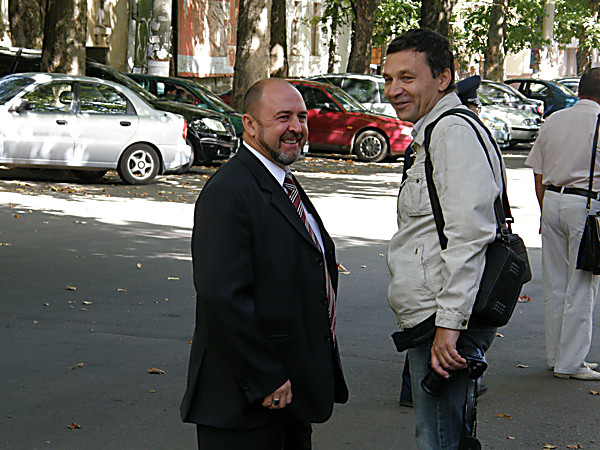 Waiting for the leader of opposition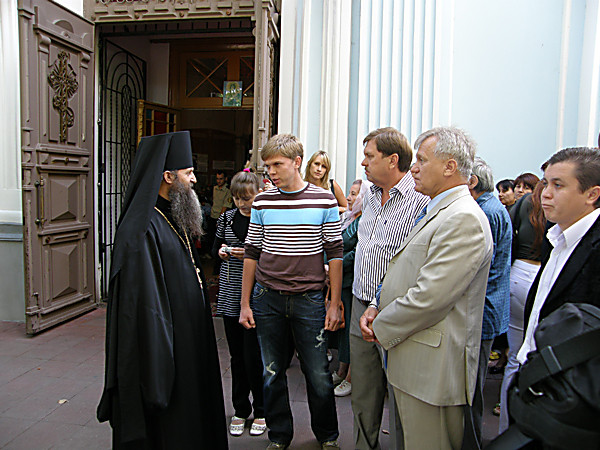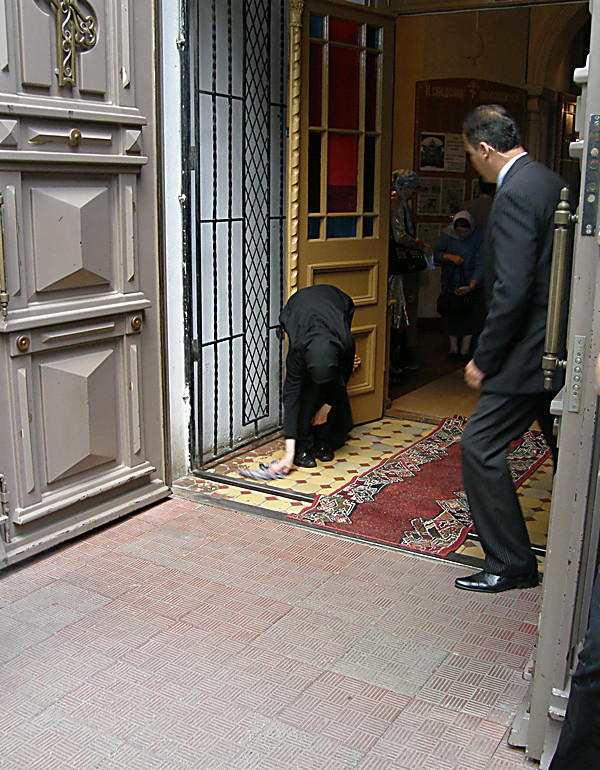 Here is how prepared for arrival of Century.Yanukovych in the Kafedralnyy cathedral of the Nativity of the Theotokos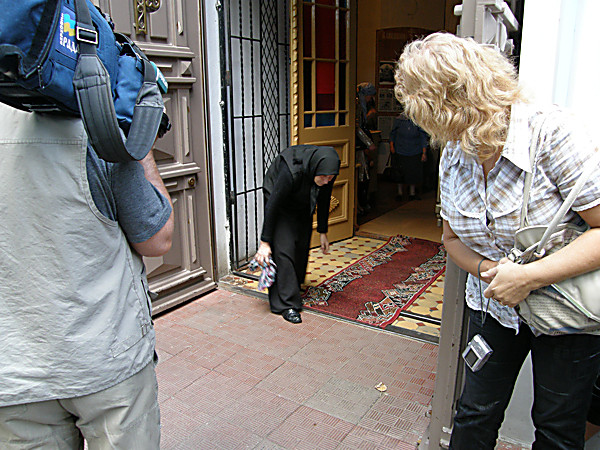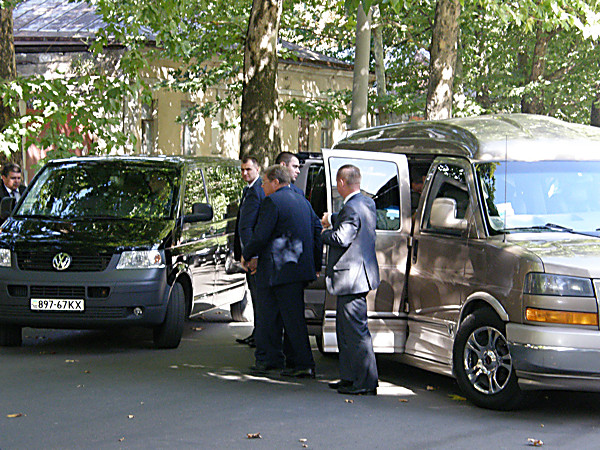 The train with guests arrived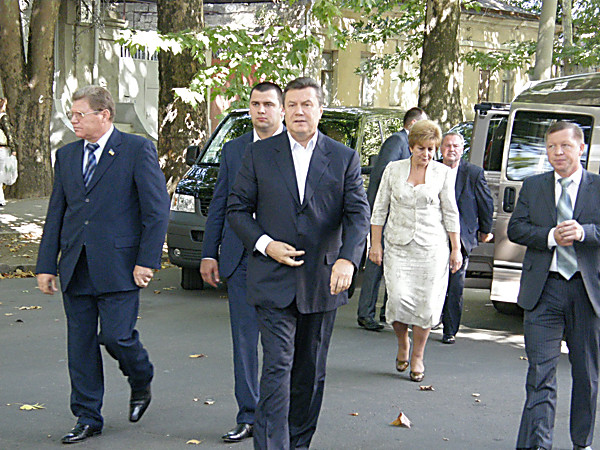 Here "long-awaited" guest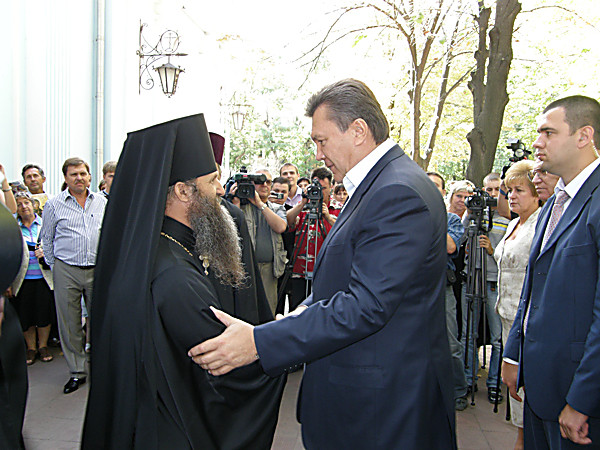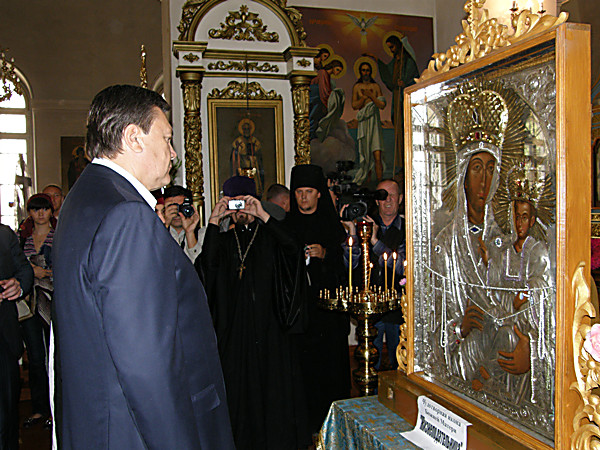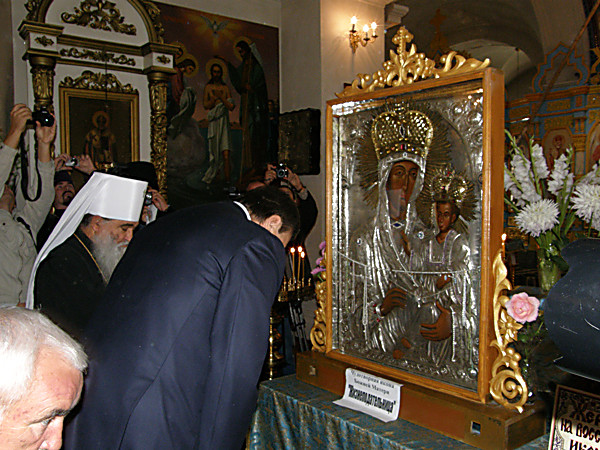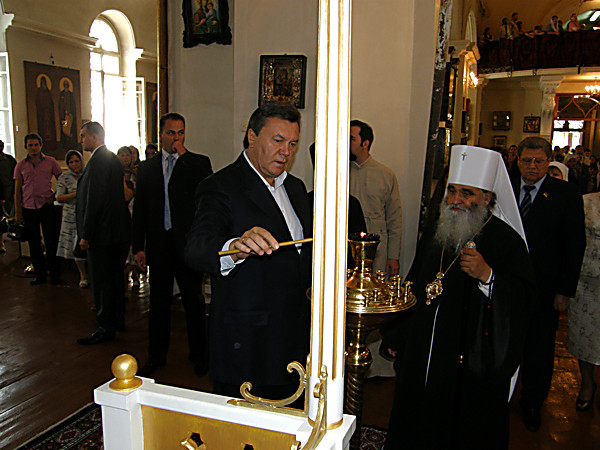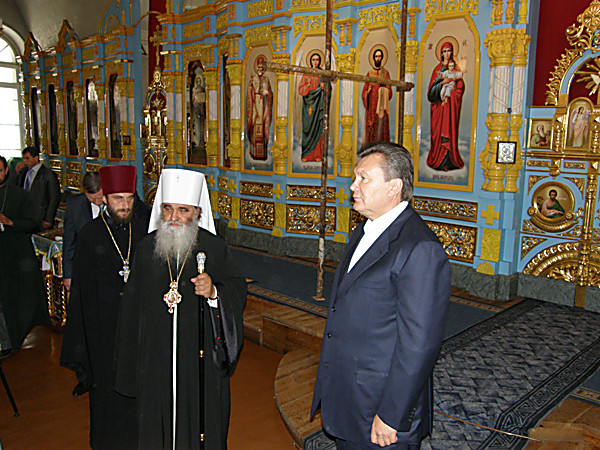 V. Yanukovych greeted parishioners of the Nikolaev cathedral on "The Kherson earth"three times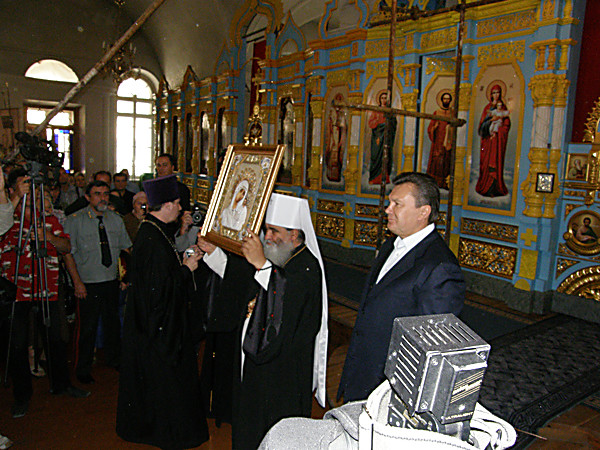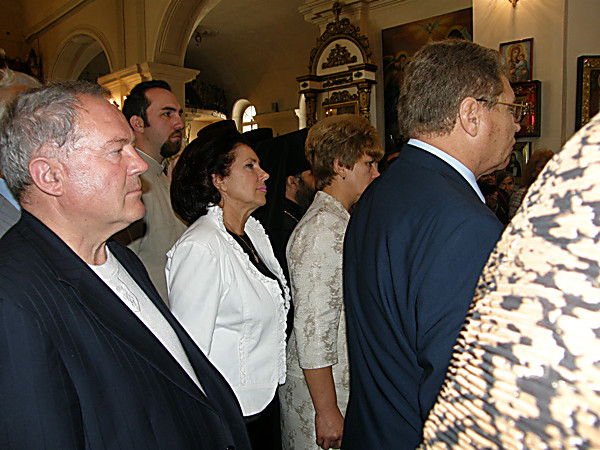 The chairman of the Nikolaev regional council T. Demchenko and T. Bugayenko's her sovetnitsa, breaking canons of orthodox church, came to a cathedral with the uncovered heads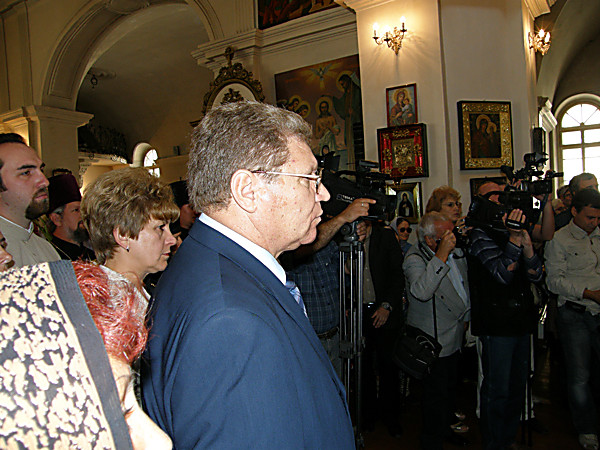 It was a shame to Nikolay Kruglov with the head of Party of Regions. Without having kept, Nikolay Petrovich reminded V. Yanukovych that it arrived to Nikolaev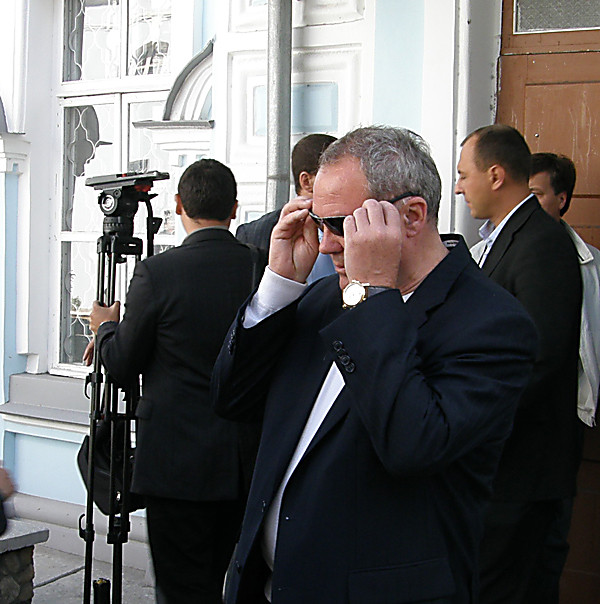 It seems that too it was a shame to the mayor of Nikolaev with the guest from the capital...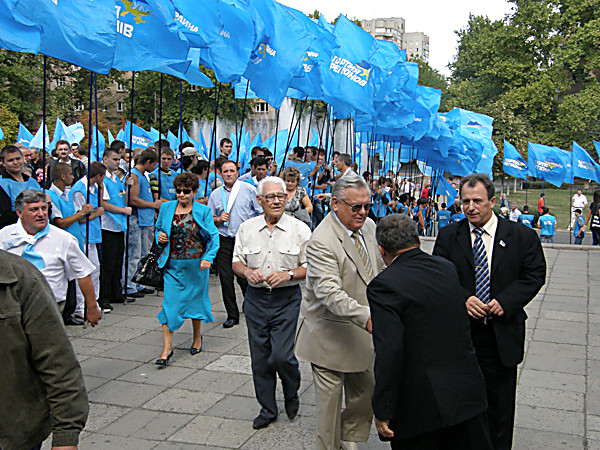 Preparation goes at full speed. Deputies - "regionals" of all levelscome to ODK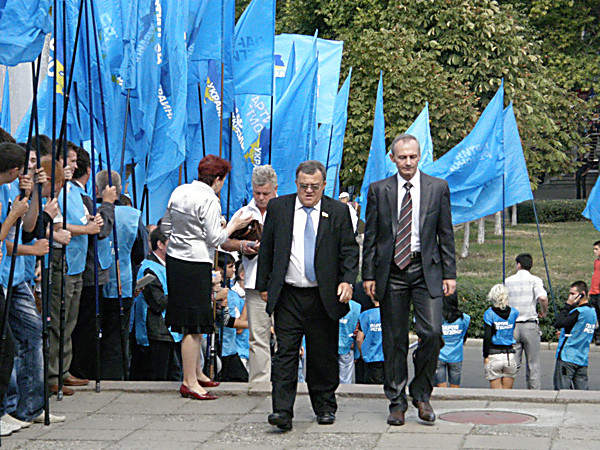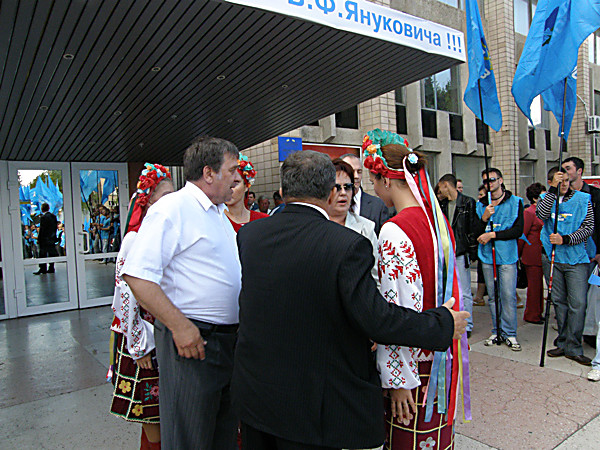 L. Dergunova, V. Korenyugin and N. Serebryakov give the last manuals about that, how exactly it is necessary to meet the leader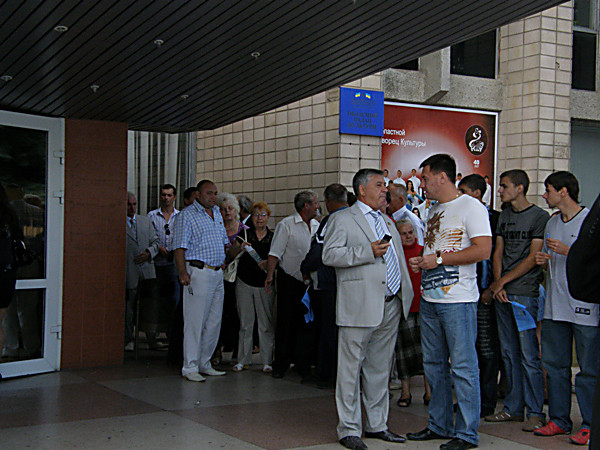 Together with the honourable citizen A. Dyumin, for Viktorya Yanukovych waited and зать scandalously - the known judge Yu. Koval E. Entin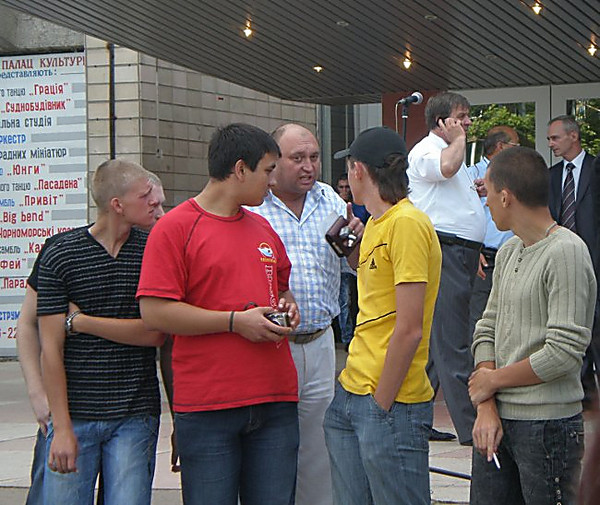 In performance of professional duties some correspondents were interfered personally by the deputy of city council Yury Babkov. He continually tried to push out him in crowd (as it was told, "for a cordon"). There is nothing to wander and photograph here supposedly on a path on which will pass its majesty Victor Fedorovich. The deputy responded to persistence of the correspondent with threats to call militia or to put nearby someone from protection. No arguments affected the deputy. Whether Babkov was afraid that we will write about their leader something "not that", whether tried "to prove to be" in anticipation of cleaning of deputy ranks promised by Nikolay Kruglov - it isn't known... However, another is known long ago - "Force the fool Bogu to pray". ( News of N )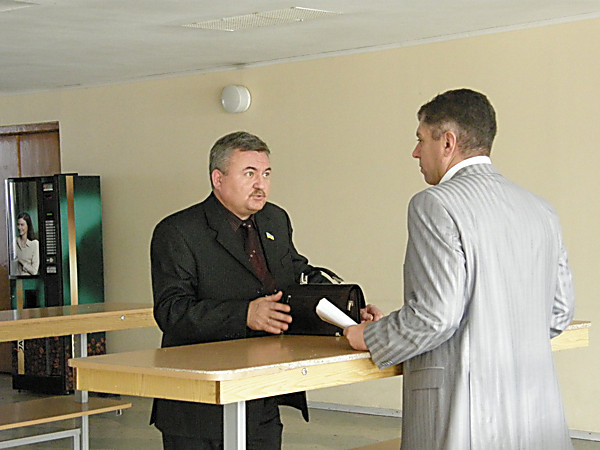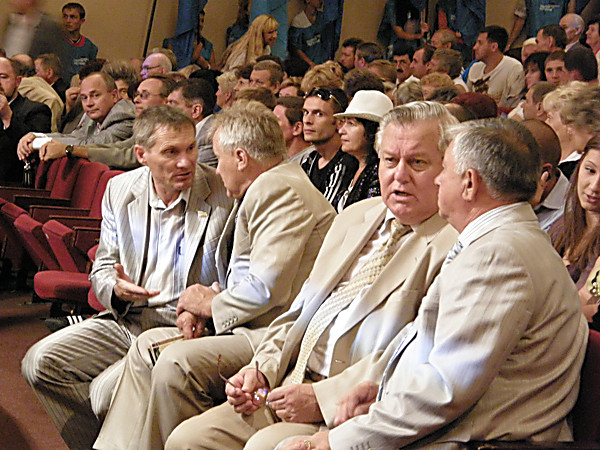 Well when it already will arrive... (deputies of city council Zhayvoronok, Romanovsky and Dyumin. Near them deputy of regional council Semenkov)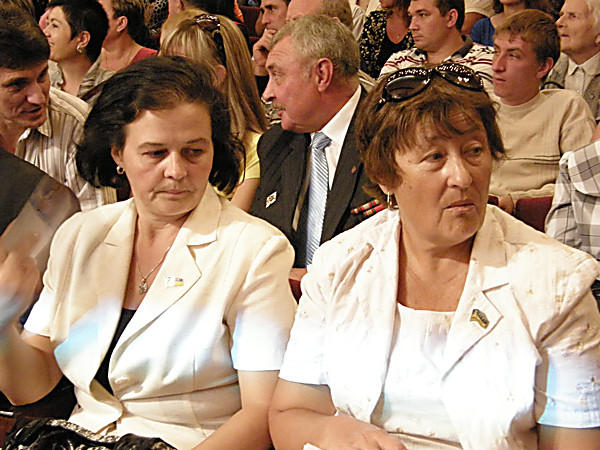 Deputies of city council N. Kolechko and I. Posnichenko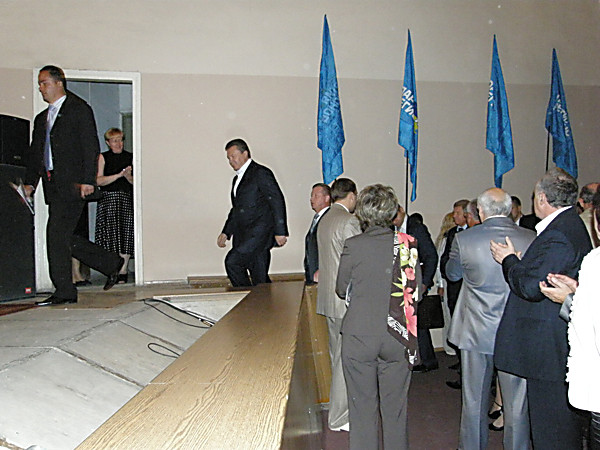 Here Yanukovych's phenomenon to the people...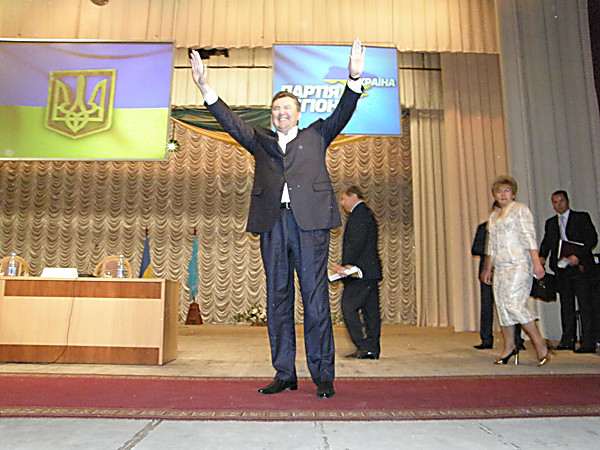 Here it I what - look at me...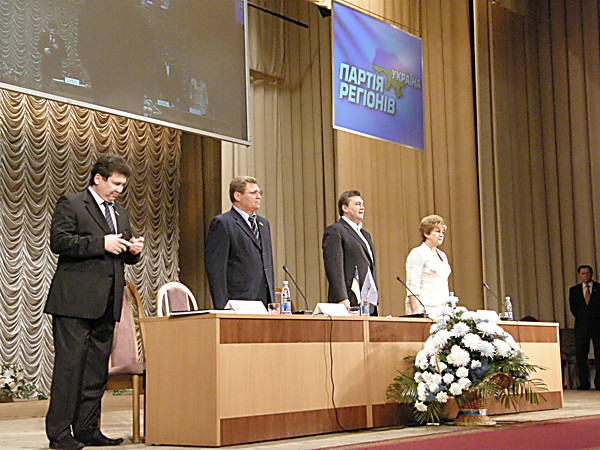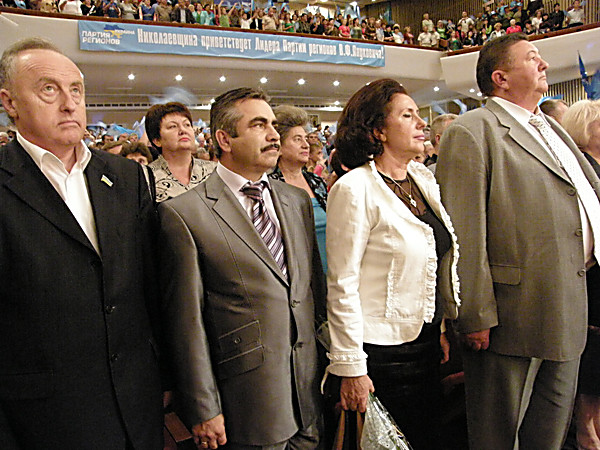 In a hall there were many civil servants, therefore complaints that PR not at the power can be rejected. On the center chief of the Nikolaev justice department Sergey Shatalyuk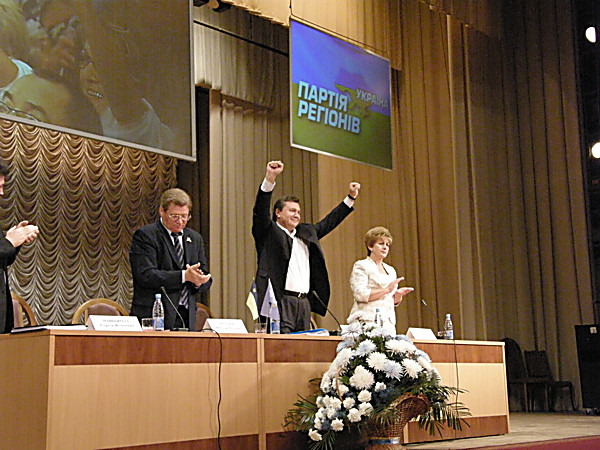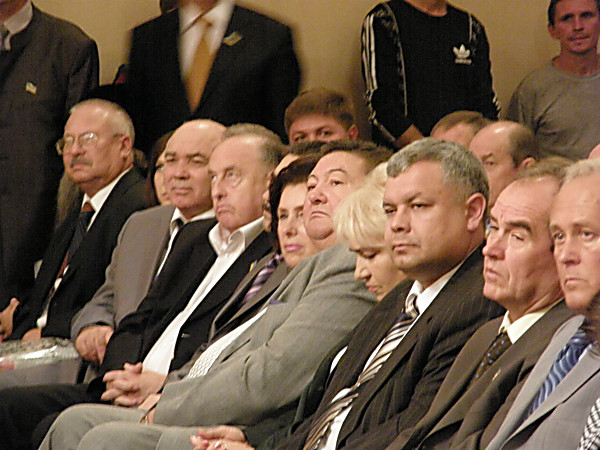 Among those who came to look at V. Yanukovych, there was also a deputy chief of a gosarkhstroyinspektion in the Nikolaev area G. Nikolenko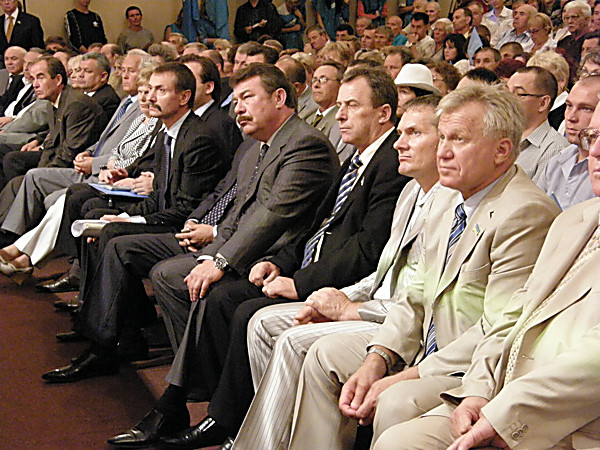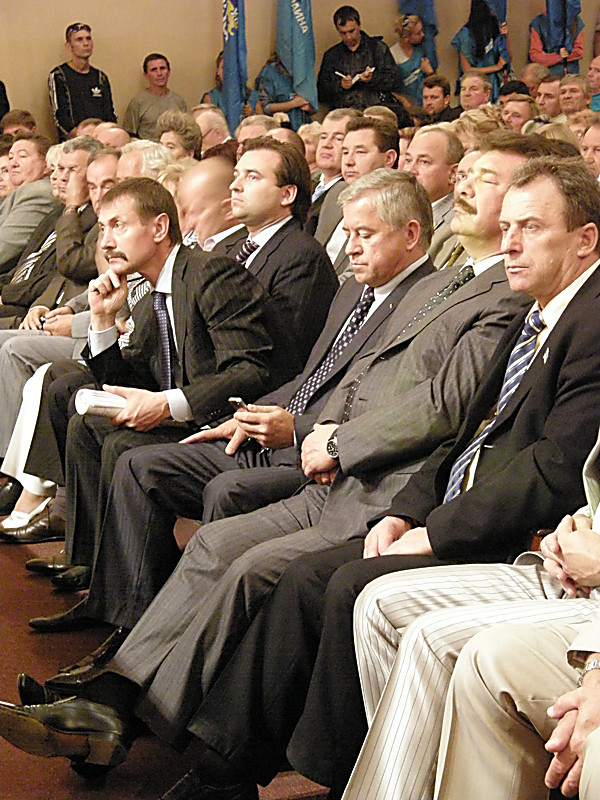 Sitting in the first row the People's Deputy Anatoly Kinakh couldn't come off the mobile phone, and the People's Deputy Alexander Kuzmuk too deeply listened to speeches of the party leader that failed in a dream.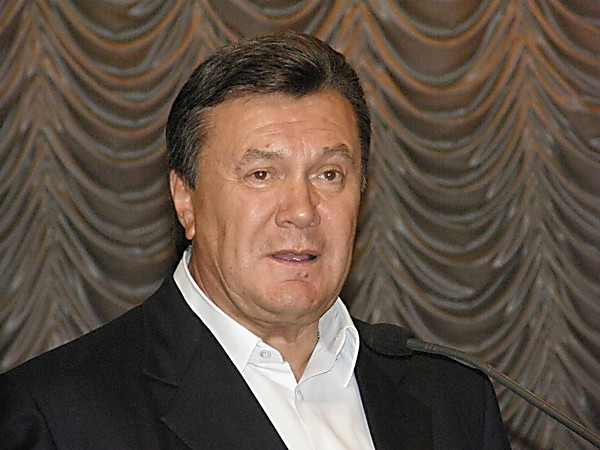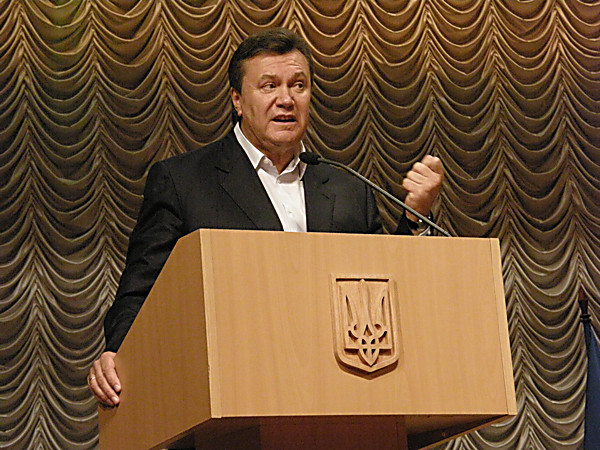 V. Yanukovych nearly didn't twist a hand in a fig...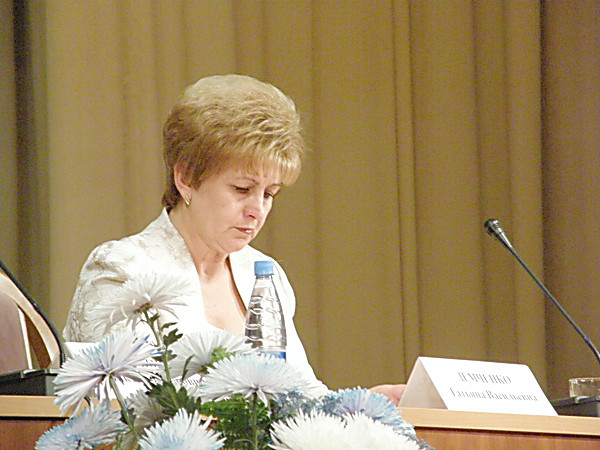 T. Demchenko for all day never smiled. Possibly it as couldn't forget V. Yanukovych's sermon in a cathedral...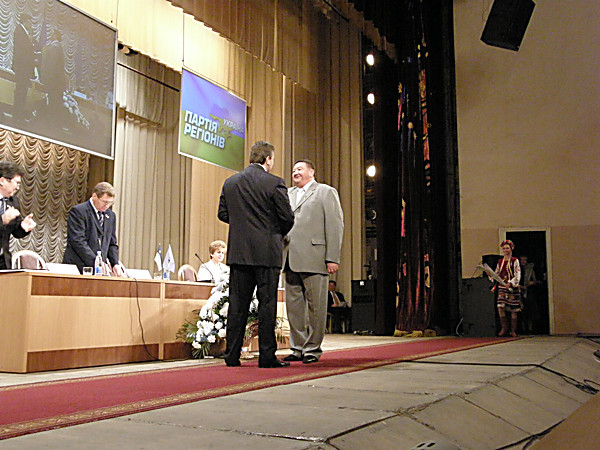 The hero of Ukraine Yu. Bondin receives the party-membership card from hands most...
"And for the third time I will present to the city the same gift. If you want, I can give it though every day"V. Yanukovych once again hands over to representatives of the city authorities keys and documents on two ambulance cars which were presented to Nikolaev in Day of its birth on behalf of Party of Regions and Victor Yanukovych. These cars gave for the third time: in the first it it was declared at solemn session of the City Council on the occasion of 220 - the anniversaries of Nikolaev, then about same declared during demonstration, and now the advertized gift found "flesh". ( Mykola. Is NOT PRESENT )