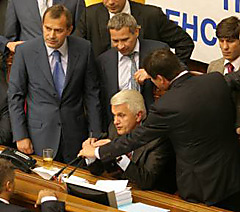 According to the estimates of technical service of the Verkhovna Rada the damage caused at breakage of a microphone of the Chairman of the Verkhovna Rada during plenary session on September 22 makes 1225 UAH
I reported a source in technical service BP about this UNIAN.
At the same time it isn't possible to repair a microphone of the Chairman of BP for this sum yet as the corresponding spare parts aren't issued some years.
Therefore, according to the source, it is necessary to buy the new equipment which sum makes 7 thousand UAH
According to the interlocutor of agency the Chairman of BP gave an assignment to subtract this sum from a salary of the People's Deputy involved in damage of a microphone.
As reported the UNIAN, yesterday, on September 22 to prevent the Chairman of BP to continue to conduct plenary session, the People's Deputy from fraction of Party of Regions Dmitry SHENTSEV broke a microphone.