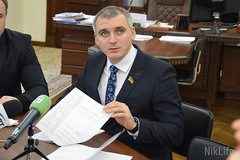 The mayor of Nikolaev Alexander Senkevich recognized that on the landfill near Nikolaev household waste from Lviv will bring. The mayor called it a temporary measure.
About it he has written on the page in «Facebook».
Earlier it was reported that Senkevich has signed the order about reception of garbage from Lviv on the Nikolaev ground for burial of MSW.
«On September 10, 2016 I have signed the order «About burial of MSW on the Nikolaev city ground» , according to which KP «Nikolayevkommuntrans» it is entrusted to accept temporarily the MSW arriving from Lviv on the Nikolaev city ground for further burial on the tariffs established by the decision of executive committee of city council of March 27, 2015 to No. 184 «About correction of tariffs for services in burial, transportation and export of MSW for consumers of Nikolaev».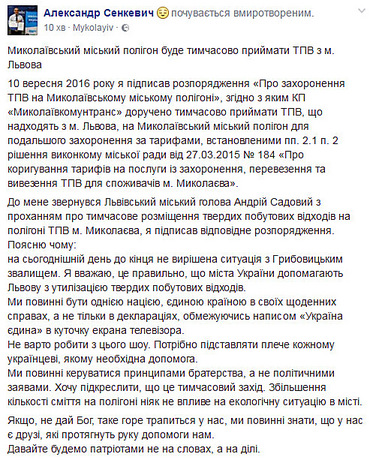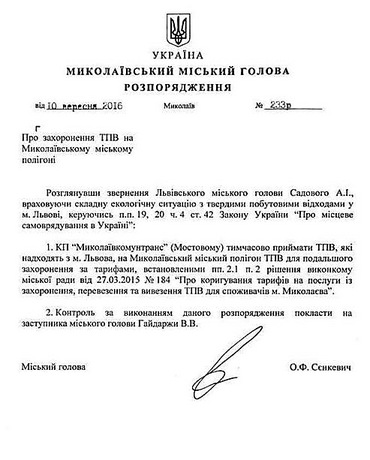 «To me the Lviv mayor Andrey Sadovyi has requested temporary placement of MSW on the ground in Nikolaev, I have signed the corresponding order. I will explain why: today up to the end the situation with the Gribovichsky dump isn't solved. I consider, it is correct that the cities of Ukraine help Lviv with utilization of municipal solid waste. We have to be the uniform nation, the uniform country in the daily affairs, and not just in declarations, being limited to an inscription «Ukraine is uniform» in a corner of the screen of the TV».
«You shouldn't do of this show. It is necessary to lend a shoulder to each Ukrainian for whom the help is necessary. We have to be guided by the principles of a brotherhood, but not political statements. I want to emphasize that it is a temporary measure. Increase in quantity of garbage on the ground doesn't influence an ecological situation in the city in any way. If, God forbid, such grief happens at us, we have to know that we have friends who will give a helping hand to us. Let's be patriots not in words, and in practice» , - it is noted in Senkevich's message.
We will remind that on May 30 on the Gribovichsky dump near Lviv there was a fire, under collapses of garbage three rescuers have died and the employee of the municipal enterprise was missing.After that Lviv was left without ground for garbage removal. Some time of MSW from Lviv was carried on the Kiev dumps, but at the beginning of August it has stopped.
In July on the Nikolaev solid waste landfill accountable to KP «Nikolayevkommuntrans» , in a week there were three fires. After that in the SSU have declared that «Nikolayevkommuntrans» I have written off fuel and materials that has led to threat of emergency situation on the landfill. The director of KP Yury Mostovoy called these charges «nonsense and full lie».