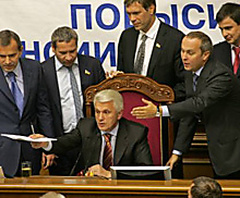 People's Deputies from fraction of Party of Regions again block work of the Verkhovna Rada of Ukraine.
As the correspondent of the UNIAN reports, in a sessional hall of parliament the tribune, presidium and a governmental box are blocked. The entrance to presidium of BP is forced by chairs.
Now in a sessional hall there are about 50 "regionals". They continue to insist on adoption of bills of increase of social standards.