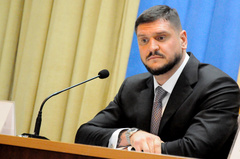 The new appointed head of the Nikolaev regional public administration Alexey Savchenko called the first three tasks which he had set for himself.
He has declared it during the performance on representation it the presidentns deputy chief of staff of Ukraine Vitaly Kovalchuk on Thursday, October 6.
The first tasks he called fight against corruption, creation of the movement of defense of the Nikolaev region and creation of Council of public organizations.
- We know with you that there are a lot of problems in the region today. Therefore I want to tell that I am ready on: the first–it is fight and overcoming corruption, it is a question most important today. I without exception of all ask to join it, it is big fight against which we together have to win. The second - I want to head nevertheless creation of the movement of defense of Nikolayevshchina, association of all patriots of Nikolayevshchina, I am very grateful to them and you. Also I want to tell that I certainly at the initiative of the President will create Council of public organizations which will help us with decision-making, - Savchenko has told.
According to him, he intends to cooperate «with all deputies, People's Deputies, deputies of all fractions without exception for replenishment of the budget and for stability first of all in the region».
- I emphasize that all power divisions of the region become on protection of interests of society and business. Today within decentralization we have very big income which to us remains therefore it is necessary to work, thank it with business and to support. And if there are problems, then to help to solve them, - the head of regional administration has noted.
He has also added that «we have no time» and that it is time to prepare the budget of area for the next year already now.
- I want to tell that there is a lot of questions, all of us know in what state there is a public administration, deputies (the head of RSA, - there is no PN), there are other questions which the administration faces. We have no time, and already tomorrow I plan to hold a meeting with deputies of all fractions:both regional, and local in order that we could introduce amendments in the budget which has been submitted, we should adopt urgently the budget that in January we could hold tenders, master money because you know too how it occurs today.
The new governor of Nikolayevshchina has assured all being present of end of the speech that he–the simple person, but, as well as all people, with special character.
- I want to tell that I am very simple person, but I, as well as at you, have a character. And my character, as well as yours, is special. Therefore, simply, I consider, won't be... We will respect each other. Nikolaev's community proved more than once that it is the nation. I believe that together with you, together with the President we will win. Glory of the nation!–Alexey Savchenko summarized.
Let's remind how it was already reported, the presidentns deputy chief of staff Vitaly Kovalchuk representing Alexey Savchenko has noted, that Savchenko–the first head of regional public administration who is appointed by results of an open competition.