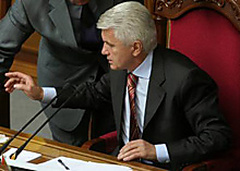 The chairman of the Verkhovna Rada Vladimir LITVIN considers low probability of that personnel questions will be considered in full.
About it as reported the UNIAN in a press - parliament service, V. Litvin told, answering a question of journalists of rather possible optimistic continuation of the solution of personnel questions after the statement of the Minister of Foreign Affairs.
V. Litvin noted that a condition of consideration of new personnel appointments is preliminary definition with fifteen drafts of resolutions on release of a number of ministers. As it joked during meeting of the Coordination board of heads of fractions, it was simpler to introduce the resolution on resignation the prime minister - the minister, then "the issue of resignation of objectionable ministers will be resolved automatically if for this purpose there are voices".
The chairman of the Verkhovna Rada of Ukraine considers negative influence of a political component on the solution of personnel questions. As an example he called the candidate of the rector of the Kiev polytechnical university Mikhail ZGUROVSKY who considers as the professional and the optimum candidate to a position vice-a premiere on humanitarian affairs. But, according to the head of parliament, such appointment will be prevented by the statement of the rector for support of Yulia TYMOSHENKO'S candidate to them to a position of the President of Ukraine, and it will give the grounds for blocking of its candidate. "Making statements of a similar manner, it is necessary to count and probable consequences. Besides as to the chairman of the Verkhovna Rada additional reasons for blocking of a parliamentary tribune" aren't necessary to me at all, - V. Litvin emphasized.