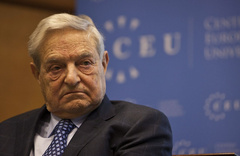 The USA will be occupied in the near future with internal fight which will be entailed by arrival of the new president Donald Trump, and it will allow some dictators to reach a compromise with Americans.
It is stated in to article the American financier and the philanthropist George Soros on «To the European truth».
«Democracy endures crisis. Even the USA, the leading democracy of the world, has elected the president the swindler and the potential dictator. Though Trump has softened the rhetoric after election, he hasn't changed either the behavior, or the advisers. As a part of his office - incompetent extremists and retired generals» , - Soros writes.
The financier is convinced that, despite it, democracy in the USA will stand, the Constitution and institutes, in particular–the fourth estate, are rather strong to resist to excesses from executive power, and it will prevent transformation potential in the real dictator.
«But the USA will be occupied in the near future with internal fight while minorities will suffer. The USA won't be able to protect and advance democracy in other countries of the world. On the contrary, Trump will be more acceptable for dictators. It will allow some of them to reach a compromise with the USA, and - to continue by another the affairs without hindrances. Trump wants to agree, but not to defend the principles» , - Soros considers.
Let's remind, earlierthe newly elected U.S. President Donald Trump has declared that the United States have to strengthen and expand the nuclear potential.