Today, on October 19, in day of official start of presidential campaign, the Nikolaev regional organization the Uniform Center gave a press - conference on questions of a position of ETs on elections. Questions of journalists were answered by the head of the Secretariat of ETs Alexander Borndar.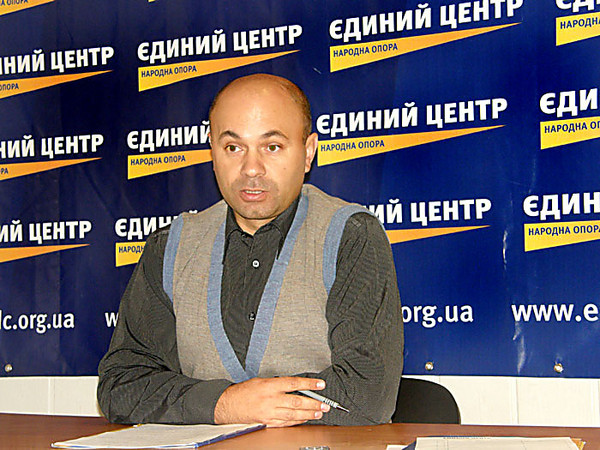 He declared that today ETs not only doesn't propose the candidate for elections, but also doesn't support none of nowadays existing. The organization assumes powers of parallel counting of votes on each polling station.
According to Alexander Bondarya, according to the solution of Congress which will take place at the end of November - the beginning of December, probably, the decision to support someone from five candidates will be made: Tymoshenko, Yushchenko, Yatsenyuk, Yanukovych or Tigipko. Such decision will be made only after consideration of all election programs and an assessment of team of the candidate. While that other political parties wouldn't declare cooperation with ETs is only from the word, the Cooper told.
- We exposed a number of questions to candidates for president, - the head of the Secretariat of ETs reported. - Let they will answer voters them. Tymoshenko made so many promises that there will be no fingers of both hands them to count. Let she will answer. Why it didn't execute them. Let Yanukovych will answer if him elect the president, whether there will be an East and the West together if its party exaggerates also questions of historical heritage, last, language. It speculates with a question of independence of our state. Litvin who on last elections declared on the bigbordakh that it is necessary to the country, let will answer, whether it is necessary still. After all he headed one of power branches, and it was one of the worst years of work of the Verkhovna Rada. Yushchenko let will answer when he will report to the people. It submitted the 10 steps towards to people program. Now we, voters, want to receive 10 answers. Yatsenyuk let will answer with whom he was going to save the country. If all candidates have worked well together team, candidates for posts, the team it why - that doesn't sound.
Contrary to spitpoisons who prophesied ETs death after resignation of Balogi, ETs continues to grow and successfully to work, Alexander Bondar claims. Also ETs declares the intention to participate in local and parliamentary elections. As for parliamentary elections, ETs plans to stand individually, without being blocked with other political parties.
As for leaving from a position of the head of the regional organization Vladimir Lusta which happened in July of this year, that, its place while remains vacant.
- I can't understand the reason of leaving of Vladimir Lusta, - Alexander Bondar notes, - but each person is free to enter and leave party voluntarily. Today to a position of head three candidacies, one of them mine are considered.
We will remind that when the Uniform Cent only began the work, it declared that actively supports policy of the President. Why today ETs decided to call the President to account and what today ETs position concerning Victor Yushchenk, explained Alexander Bondar:
- And we don't say that we don't support the President. I gave for it the vote, and as well as other voters, I want to receive answers to questions. There is a disappointment element, certainly. But my personal position such is that choosing from five candidates (Yushchenko, Yanukoviya, Tymoshenko, Yatsenyuk, Tigipko) who, in my opinion, all - not the best choice for Ukraine, but I probably will make the choice same, as well as in 2004. Who will be supported by ETs party - will solve Congress.