Markov who hasn't been on interrogation in Nikolaev, the fourth in a rating on a post of the mayor of Odessa
Research company «Monitoring» I conducted survey of inhabitants of Odessa for the purpose of studying of political preferences.
About it reports "Dumskaya.Net" with reference to «Today».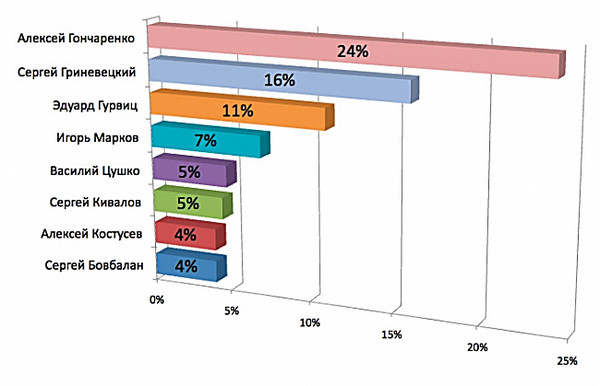 From September 18 to September 28 1510 respondents at the age of 18 and more years, that is potential voters were interrogated. The assessment of level of selective activity, definition of a rating and degree of appeal to voters of candidates for president of Ukraine, mayors and in the City Council, and also definition of degree of popularity of news and political programs of local TV channels became problems of carrying out this research. Research took place within the next wave of the project «Odessa Omnibus» , a data acquisition method - interview «face-to-face» under the structured questionnaire, the structure of selection represents electorate of Odessa, selection formation - a method «snowball».
In case elections of the Odessa mayor take place the next Sunday, the greatest poll would be received by Alexey Goncharenko - 24% of voters are ready to vote for it. 16% of inhabitants of Odessa are ready to give the votes for Sergey Grinevetsky. The present mayor Eduard Gurvits takes the third place in a rating - 11% of votes. 7% of voters are ready to vote for Igor Markov. Other Odessa politicians which rating was estimated in this research, received a smaller poll.
Against all 14% of respondents plan to vote.