At the Sevastopol city forum there were leaflets with an appeal to inhabitants of the Crimea to refuse participation in all Ukrainian elections, except local, reports New Region news agency.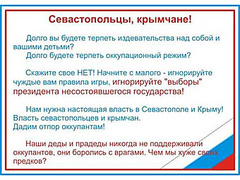 "Begin with the small - ignore rules of the game alien to you, ignore "elections" of the president of the cancelled state! The real power in Sevastopol and in the Crimea is necessary to us! Power of sevastopolets and inhabitants of the Crimea. We will reject pressure of invaders! ", - the author of leaflets which it is planned to extend before presidential election calls.
The deputy of one of regional councils of Sevastopol Konstantin Zarudnev explains need of boycott so: "In in the agony country it was linked for the power кубло spiders - billionaires and their toadies, we need it? What difference who will plunder us? "
According to him, there is no difference who will be украинизировать inhabitants of the Crimea: "It will become silently with a smile upon the face of the fan Anna Akhmetova or exemplary Dnepropetrovsk Komsomol pryntsessy, mad pchelopasy or wishing to shoot Russians and kikes Tyahnybok? ".
Earlier with an appeal to boycott an election of the president of Ukraine activists of the association "Russian Block" addressed to inhabitants of the peninsula.
In their opinion, "all applicants for a position of the head of state represent interests or nationalists, or oligarchs therefore positive for the Russian people any of them doesn't bear anything".