Last Friday and Saturday the next congresses took placeParty of Regions and Yulia Tymoshenko Bloc, on which these political forces nominated the leaders to a post of the President of Ukraine.
We will remind,"Crime. Is NOT PRESENT"wrote about that to nominate Tymoshenko in Presidents about 2,5 thousand nikolayevets went, but about it later.
Examining photos from congress of regions which published leading news agencies of the country, it is possible to notice very known persons in Nikolaev.
On one of photos it is imprinted, smiling and clapping, the first deputy of the Nikolaev mayor Yury Granaturov.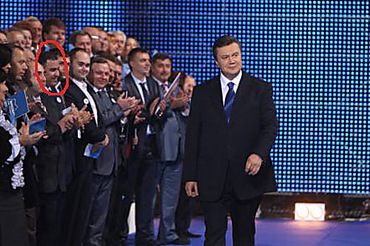 Yu. Granaturov told to the correspondent"Crime. Is NOT PRESENT"that it really was present at congress, but it turned out incidentally. According to him this day it was in the capital in business trip and after coped with the affairs, visited congress of regions.
According to the first deputy of the Nikolaev mayor at this congress there were 800 delegates.
"I the next time was convinced of what behind Party of Regions the country future, after all in a hall was many fighting officers, director generals of the largest enterprises of the country who expressed the support to Victor Yanukovych", - Yu. Granaturov told.
He as noted that doesn't wait for itself for personally any dividends from V. Yanukovych's victory at presidential election.
"It is necessary to understand that the Party of Regions is the only political force which united such number of professionals and only this political force will be able to bring an order to the country", - Yu. Granaturov declared.
As it became known"Crime. Is NOT PRESENT"from eyewitnesses of an event, at congress of regions there were also other our fellow countrymen, among which: People's Deputy of Ukraine of N.Kruglov, the chairman of the Nikolaev regional council Tatyana Demchenko, her deputy Vladimir Pashchenko, the head of fraction of Party of Regions in Nikolaevsk regional council Igor Dyatlov, the head of fraction of Party of Regions in Nikolaevsk city council Pyotr Zibrov, the secretary of the Nikolaev city council Vladimir Korenyugin, the first deputy chairman of the board of "Nikolayevoblenergo" Yury Antoshchenko, the deputy State architecturally - construction inspection of Ukraine in the Nikolaev area Gennady Nikolenko.
Who could imagine till 2004 that representatives of opposition party who are civil servants or work in local governments, on weekday will be able to gather on congress of the political force.
So maybe it is impossible to say, what the Party of Regions is not at the power? In the Nikolaev area it is so exact.
Were lit in the capital and Nikolaev Byutovtsa. Unfortunately, none of vip-persons didn't get to lenses of cameras, but here the extension with an inscription "Nikolaev" was in the center of events.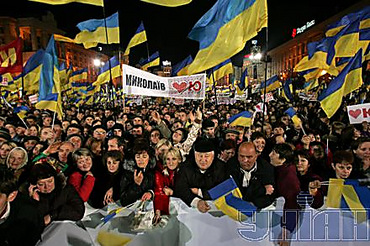 Photo: UNIAN