65 anniversary of liberation of Ukraine from German - fascist aggressors rallied on October 28 near an eternal flame many political forces. The People's Deputy who has arrived to a celebration from BYuT Roman Zabzalyuk emphasized this moment.
- It is necessary to pay tribute, all political forces irrespective of their ideological shades in such days hold events - participate in celebrations and meet veterans, whenever possible give them gifts, - he told. - It is very important. It is necessary not only to focus the symbolics attention on the participation, though it is admissible, and it is more directly to communication with our veterans.
- I want to remind that it is necessary not to forget patriotic war of 1941-1945 because it there was the most terrible, most bloody war from all which were known by mankind, - the head of the regional organization of veterans Alexander Momotenko told. - When over you every minute there was a danger of death... Veterans of the Second World War who now are alive, conduct big educational work among our younger generation. They tell about participants of war, share the impressions. It is very good, but them remained already a little.
According to the head of a regional council Tatyana Demchenko, in the Nikolaev area lives about three thousand participants of operations.
- Deputies not in words, instead of business support both the veteran organizations, and each veteran, - she told. Considerable money for reconstruction of memorial complexes, for reconstruction of a barrow of glory in Nova Odesse is allocated. Twice this year we paid one-time financial support to veterans.
Tatyana Vasilyevna and on this holiday couldn't but keep not to remember history twisting. This time it didn't go into details that already pleases, however the position against soldiers of unitary enterprise continues to defend on each mass action. In difference from the head of the regional organization of veterans Alexander Momotenko who else never concerned this subject.
The mayor Vladimir Chaika pleased with news that since January 1 participants of operations will receive surcharge to pension.
All participants of meeting stated many thankful words to people who protected the country from enemies, and assigned flowers to a memorial to Heroes - Olshantsam.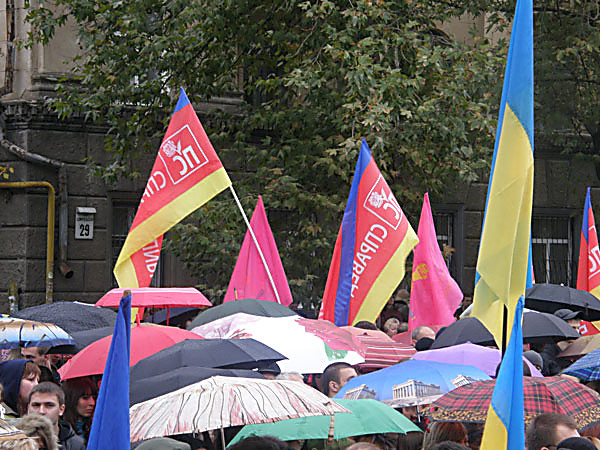 Flag with the PS logo in Nikolaev yet wasn't...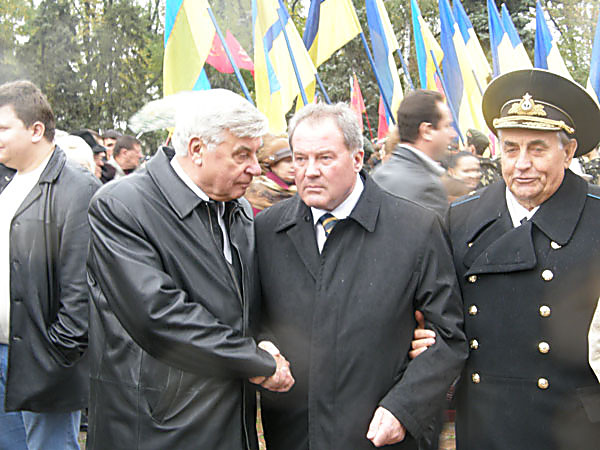 What does the People's Deputy of Ukraine V. Mamveev tell the mayor of Nikolaev V. Chaika?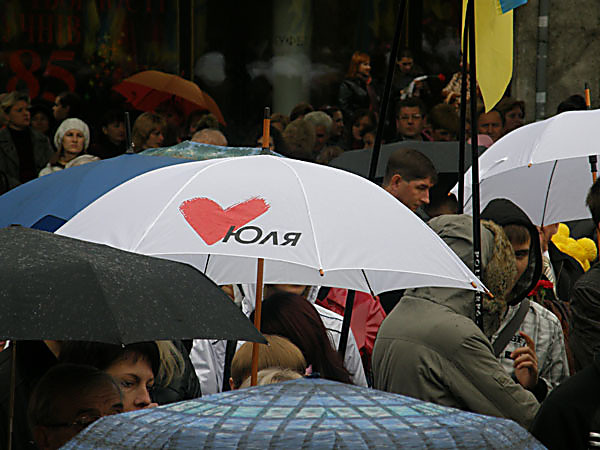 "The umbrella - YuLYa" rescues from a rain...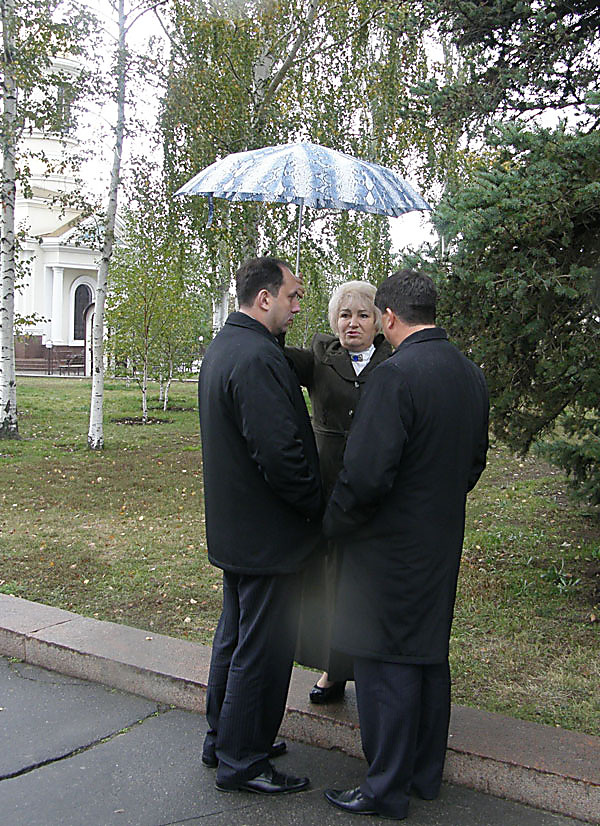 The deputy of regional council E. Omelchenko protected from a rain of representatives of regional Regional Department of the Ministry of Internal Affairs as could.