Nikolayevtsa gradually start feeling approach of elections, and, not only presidential, but also local more and more. Already some Nikolaev politicians declared the desire to run for the Nikolaev mayor, but now more a hot topic of election of the president of Ukraine.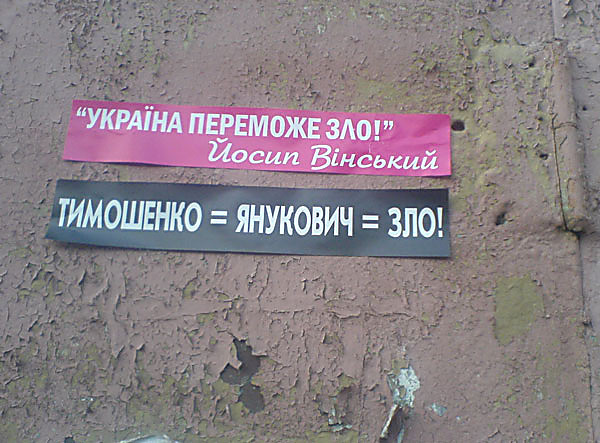 A few days ago, along all Lenin Avenue, on columns and trees there were stickers of two types - one crimson color, and the second black.
Stickers of crimson color narrate to nikolayevets that "Ukraine will overcome the evil! ", and black, right there explain that the evil is Yanukovych and Tymoshenko.
Such to itself plain influence on subconsciousness of citizens from ex-the Minister of Transport and I. Vinsky's communication.
It should be noted that those who stuck with this propaganda product the downtown, treated the put task without inspiration - stickers are stuck not accurately and in many places already almost disappeared.
Most likely, the People's Deputy of Ukraine who already declared the desire to stand in mayors of Nikolaev has a direct bearing on emergence of this creation and sets as the purpose to prevent Yanukovych and Tymoshenko to become the President of Ukraine.