Almost all candidates for president were mistaken in the declarations on the income.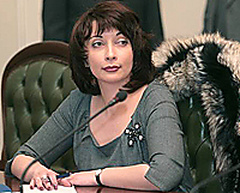 It on air of the 5th channel was declared by a regionalka Elena Lukash.
"Almost all candidates for president were mistaken in the declarations. Someone for 67 hryvnias, someone on 200 thousand hryvnias. One of candidates was mistaken on 11 million hryvnias", - she noted.
At the same time the deputy refused to tell the name of this candidate, reports the UNIAN with reference to "The Ukrainian truth".
Also, according to her, some of candidates for president changed the election programs twice. "For example, from the program of the president Victor Yushchenko as the candidate for president, point on local church" disappeared, - Lukash told.
Making comments on the declaration on the income of the party leader of regions Victor Yanukovych, the regionalka told: "It didn't become so rich as it seems to you. Analyzing this declaration, journalists tried to draw by addition conclusions from certain sums.
"The matter is that the declaration on the income is approved in 1997 and there is no section "expenses". Therefore the income from property realization to get the house, gets to the second section with the uniform name "income", - Lukash declared.
According to her, "from property realization Yanukovych paid taxes, declared the income and acquired housing".
"It realized property which was in previous years, and on proceeds it acquired new property. But journalists, without having experience of the civil servant which fills in every year the declaration on the income, understood that it and that, both that, and that", - was declared by the deputy.