The Nikolaev regional state administration managed "to cause a stir" in the organization of anti-epidemic actions for flu. According to the order the prime minister - the minister Tymoshenko, in each area has to be organized so-called "the hot line" - round the clock working information center in which anyone could receive qualified information on questions of treatment, prevention, acquisitions of drugs etc.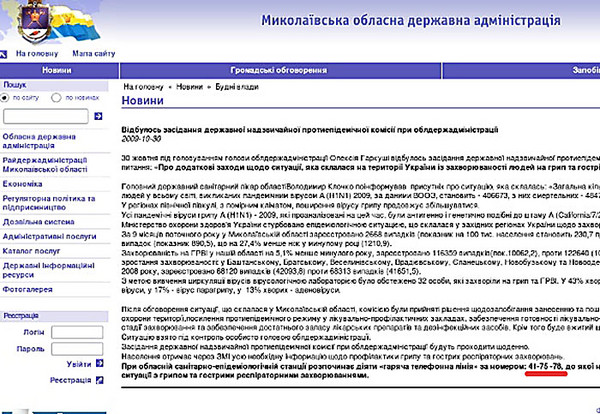 Good generally - that matter in the Nikolaev regional administration, as usual, managed испохабить to unrecognizability - as phone "more hotly than lines" on a regional state administration site and as in mailing to all mass media it was specified... room phone of nothing suspecting inhabitants of the Alluvium - on Lazurnaya St., 40.
According to the hostess of the apartment, Antonina Georgiyevna, from 10th morning squall of calls fell upon her home telephone number with questions how to be saved from a disease, whether messages on Monday of children in school where to buy drugs etc. The unfortunate woman still doesn't know that to do - whether to switch off phone in general, whether to leave the house where - нибудь to relatives or acquaintances.
As correspondents managed to find out in regional SES, the correct phone of "the hot line": 41-75-58.