The message about next "the construction conflict" is hardly capable to surprise nikolayevets. Once again the ground near the Central market, around a final tram stop became "apple of discord".
On this small ground surrounded from all directions with tram rails, about 7 years the businessmen who as the fates decree have appeared on boondocks of the market do business. Throughout all this time people tried to legalize the activity on this place, addressing in various instances, beginning from the City Council and finishing the capital but as it usually happens, the cart didn't move off dead center.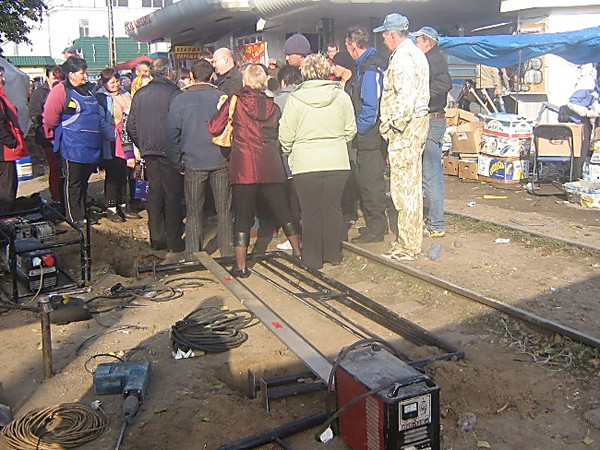 But it appeared that there are other people, more successful which know, into WHAT offices it is necessary to come and HOW to ask. In August of this year there was a solution of session of city council No. 1726 according to which the organization of trading floor, just on that place about which allocation for business activity of 7 years the people who actually are already working at this place unsuccessfully asked is allowed to two business owners.
The first round opposition took place on Thursday, October 29. Since morning to a tram ring the truck brought sections of "future" fence, builders approached. Naturally, the indignant businessmen didn't allow to work with it. The representative who has arrived into place, so to speak, "builder" started telling that the fence, allegedly, won't "outline" the territory of new trading floor, and is established only for safety along tram ways. The indignant businessmen called in public organization "Our City". Quickly arrived to a conflict place representatives of "Our city" found out at once that "builders" have no documents allowing work - except two photocopies a strong resemblance bearing well-known "useless scraps of paper". The people inspired with the correctness quickly sent "aggressors" back home - together with a fence, welding machines and other attributes.
According to available information, behind attempt of capture of this site there is one of the most odious deputies of the city council, largest "expert" on "дерибану" the earth and the city property, having informal status of "the fish king" Nikolaev.