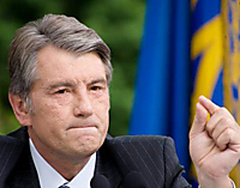 The president of Ukraine Victor YUSHCHENKO considers that at preservation of existing rates of a gain in various sectors of economy Ukraine needs many years for return to level of last year.
As the correspondent of the UNIAN reports, the President of Ukraine Victor YUSHCHENKO expressed such opinion today during meeting with industrialists in the city of Kremenchug of Poltava region.
He noted that today world crisis couldn't affect the Ukrainian industry so strongly.
According to him, from - for decrease in volumes of export the Ukrainian economy could lose only 12%, and is really lost much more.
Moreover, according to the head of state, for the last two months in world economy positive tendencies therefore the external factor, according to V. Yushchenko, couldn't affect the Ukrainian industry so strongly are observed.
Giving figures on different industries, V. Yushchenko noticed that at preservation of existing rates of a gain it will be necessary for an exit to indicators of last year from 5 to 9 years, depending on branch.
Thus the head of state told that while the situation doesn't suit him.
"The main problem of this industrial decline is the dull governmental policy on the matter. Absolutely incompetent method of management, especially in questions of the relations at level the government - the central budget - economic structures", - was noted by the President.
V. Yushchenko noted that today any governmental program for one national sector of economy wasn't open.
Moreover, the government not only didn't help, but also took steps which complicated a situation.
In particular, according to him, today level of not returned VAT already reached 18 billion UAH
He noted that in due time all "dogryzali Azarov" for 9 billion not returned VAT, and called this phenomenon "azarovshchiny".
The President and about collected beforehand the government at the enterprises taxes remembered.
"It is the program of the crisis scenario instead of helping economy, from it take away money.Here an explanation why we are in crisis the exit from which will last for years", - the head of state emphasized.