Interview to the head of the regional party organization of Party of Regions Sergey Mayboroda on combination of circumstances took place on the eve of Day of freedom. We tried to agree about it in advance, but in Sergey Fedotovich's reception answered that his schedule, "as mercury" therefore an appointment was constantly rescheduled. But when correspondent "Crime. Is NOT PRESENT" on Saturday I called Sergey Mayboroda on mobile, the head of the Nikolaev campaign headquarters of V. Yantskovich, without deliberating, I answered: "Come right now".
In the day off Sergey Fedotovich in an office had a lot of people - here and the deputy of the City Council from PR Pyotr Zibrov, approached also the deputy of regional council from PR Nikolay Zhuk later, and also members of the same party alternately came into an office, during interview the mobile phone "was often broken off" by trills … In such situation it is difficult to concentrate on deep interview. But if the party calls - it is necessary to work in any situation, Sergey Mayboroda showed on the example.
Last selective campaigns since 2000 as the head of staffs of PR, being the elected People's Deputy, in the past the civil engineer - the technologist, and today - the settled politician, Sergey Mayboroda imperceptibly reminds the leader of the party - Victor Fedorovich Yanukovych which portrait hangs over Sergey Mayboroda's table. It is concentrated, serious, but unlike the leader, is much more careful and more attentive in words.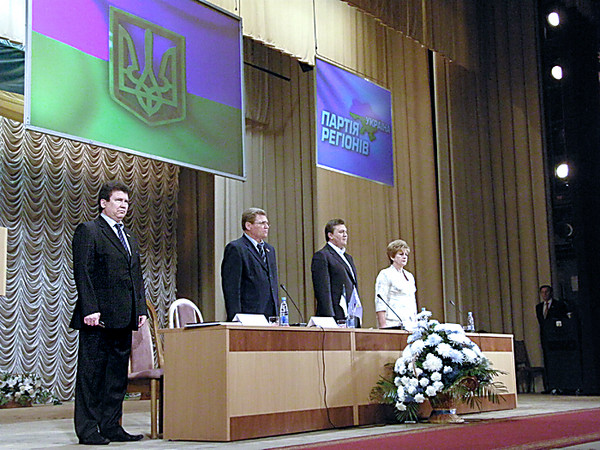 From left to right: Sergey Mayboroda, Nikolay Kruglov, Victor Yanukovych, Tatyana Demchenko - during visit of the leader of PR
- Whether you are going to celebrate Day of Freedom - the state holiday founded by the president in time of "pomaranchevy revolution"?
- The president dismissed in due time parliament, and, its most inner circle told that in principle, its decree was illegal.A number of actions of the president were, I won't make comments in other words, I will tell - wrong. For us I will tell one - we won't celebrate this holiday. I speak personally for myself.
- How election campaign will be constructed, than ended "big - claret" the stock "I Will Scent the Skin" - how many nikolayevets addressed, with what questions, what measures were taken?
- Election campaign is not only big - борды, it is the whole list of events which hold …
- According to the law, - Pyotr Zibrov watching conversation notes.
- … in strict accordance with the law those people who are on a voluntary basis attracted in electoral process. It will be also meetings of authorized representatives of the candidate for president with voters, meetings of our acting deputies, candidates - considering the made decision on local elections on May 30 the next year, a meeting with people and that asset of the party who live and work in the Nikolaev area. Certainly, we involve mass media through the corresponding election fund and other actions.
- What with the stock "I Will Scent the Skin" - how many nikolayevets addressed with what, whether there is a statistics?
- The statistics is, it simply isn't present before me. But except this action Victor Fedorovich Yanukovych's receptions are open. Despite that the big - борды left, people continue to call, the statistics goes with accumulation - except receptions, people address. In each city party organization we have party receptions where deputies accept. It got so wide response from people that today to these receptions there are people, and we in process of opportunities resolve issues of these people.
- With what questions people generally address?
- The main problems are problems of municipal character, a problem connected with not decision authority of addresses of people, it is a question, generally about regional public administrations which are subordinated directly to the president. And efforts of a depuy corps and the party organizations we try to influence actions of power structures in order that questions which are asked by people, were solved …
- And how, it is possible to affect?
- It is possible, but not always.That state of the economy and the authorities which is today, not only in the region, but also in Ukraine, we understand that in the majority to solve problems, to answer questions which are asked by people - it is impossible. We see today only one opportunity to answer the most part of questions of people - to replace the inefficient power with the effective. That, I hope, will occur on February 7, 2010(knocks on a table - an editor's note three times).
- Who directs a city campaign headquarters?
- City campaign headquarters the city party organization directs. Her head - Mayboroda Sergey Fedotovich.
- In you direct both regional, and a city staff?
- Yes, yes, yes …
- Mass media distributed information that members of your organization complain of impracticable plans which are put before them - percent which the Party of Regions in the Nikolaev area and on low salaries has to gain. Your comments.
- Plan the party organizations - regional and city. They understand that today a task, I won't be afraid such beautiful words, to save the country. Yesterday in Tigipko's performance I noted that only penalties on payments for gas in a year - 8,5 billion. Ponder upon this figure is only penalties which Russia while to us didn't apply. Mykola Azarov sounded the memorandum with the International Monetary Fund in which Yulia Vladimirovna signed that years everyone a quarter we were obliged to raise gas prices for the population and 2009 will be adequately transformed on 2010. That is every quarter, in case of its victory, the prices will rise by 50%. You can imagine that will be with this state. Therefore we set the tasks that the Nikolaev area was one of leaders of areas on Victor Fedorovich Yanukovych's support.
Tasks are set by the party organizations for themselves. We have today competent party heads, professional people who know the price to this victory. Therefore tasks any the zanebesnykh it isn't put - we set a task such - we have to win with overwhelming advantage. What it will be figure? I hope, considerable.
- Approximately?
- I hope that this figure will be considerable. In the first five of areas of Ukraine we have to be obligatory.(Again knocks three times on a table - an editor's note.)
Salaries are received only by those who through an election fund works today under contracts. If there is at us a need to employ the car - we employ the car and we pay to it if it is mass media - we pay to journalists officially through fund. All other people are Party members who work on a voluntary basis.
- Why then Party members complain, what they earn a little?
- The one who doesn't know complains, provokers who consciously create a negative background round the regional party organization and its campaign headquarters complain.
- The similar situation was in 2004 …
-(interrupts - an editor's note) …in 2004 the situation was normal, working, I worked in all staffs on voluntary, on a voluntary basis. All that was - was paid only through an election fund. Who isn't happy with something … Our people the dissatisfied can't be - they know that in case of a victory to them, their children close and native will begin to live much easier and there will be in life a normal live prospect.
- In 2004 as Sergey Tigipko declared, only the third stage of elections was financed by local budgets and in the Nikolaev area. How it was in the Nikolaev organization?
- Sergey Tigipko, probably, knows something more, than I know. If he declares it, I think, Sergey Tigipko should carry this question.
- You claim, what Nikolayevshchina didn't finance by own efforts the third round?
- I claim only that I claim - Tigipko as the head of the central staff at that moment, knows more, than I know. I know only that that money which came on selective, fund were spent for those articles which are provided regarding payments of official expenses of election campaign. Election fund I directed, and I now direct. We spent it to the last kopek for those official articles, in 2004 spent, and this year as soon as we do today any movements - all of us pay wholly.
- You simply have no other current expenses?
- We have no other expenses. Well, each party organization has the right to contain the offices - it is a question of staff work. There are party organizations, they have employees, this right of any party organization not to stop activity for the period of electoral process.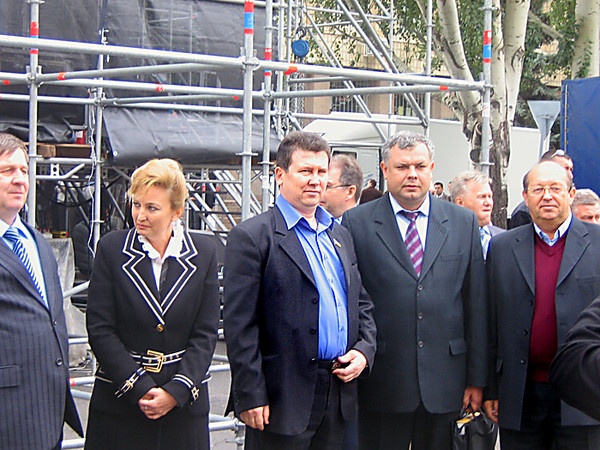 Sergey Mayboroda (in the center) with members of the same party
- Roman Emelyanovich Zabzalyuk declared that their organizations support businessmen. Who finances Party of Regions?
- I advise Roman Emelyanovich to read the law - there it is written that only the higher election fund can finance. We are financed by only Victor Fedorovich Yanukovych's election fund.
- And public organization?
- The public organization lives for contributions of members of the parties which quantity in the Nikolaev area comes nearer to 30 thousand and people continue to enter a party actively. And we lives at the expense of contributions which people pay. But it is the party organization. And I once again will emphasize - elections exclusively at the expense of an election fund. And we don't use any other means, didn't use and we won't use.
- You passed many election campaigns, headed many staffs - what campaign, in your opinion, was the most successful?
- From the point of view of success is a value judgment. This campaign will be the most successful.(Again knocks on a table - an editor's note three times).
- You are sure of a victory?
- And why we work? I think, those people who render us trust, voters, you, I am sure, too on Victor Fedorovich's party(addresses to the journalist - an editor's note - we hope, not Sergey Fedotovich's all forecasts same …).Why? Because any sane person perfectly realizes that occurs in this state. And the future, what we did, depends, first of all, on economy. That happened to our economy in the 05th year and that happened in 08 and 09, you as the citizen, and not just as the correspondent, you see. You remember how we were agitated by our "pomeranchivy" "friends"(I asked to note that so-called - an editor's note)that the most reliable currency is a hryvnia. And that from this it happened. I won't speak about all 10 precepts with which "pomeranchevy" went on elections, but call though one which took place. Therefore I hope that all journalists, as well as all normal people, will make reasonable adequate decisions which will allow them to look with quiet soul in tomorrow.From all candidates who proposed the candidates, I hope, you understand, without speaking about it, who the only people which can provide it.
- You were elected the People's Deputy in 2007 why weren't chosen in this convocation?
- The matter is that I was twice elected - once on the majority district, once according to lists. (12.1995-04.1998 - the People's Deputy of the Verkhovna Rada of Ukraine 2-го convocation (on the Ship constituency No. 284 of the Nikolaev area, will put forward KPU) the Member of KPU fraction. 05.2006-11.2007 - the People's Deputy of the Verkhovna Rada of Ukraine 5-го convocation (from Party of Regions, No. 184 in the list) - an editor's note).
If I am not in lists, the party considered that I am on an outpost here, was more necessary today in the Nikolaev area, I as the party member, agreed with this position of party, and I work in area during the period before the most serious elections - presidential and local. If the party considers necessary to recommend me in the Supreme Council - I will agree with this decision.
Sergey Mayboroda (in a cap) with members of the same party on the City Day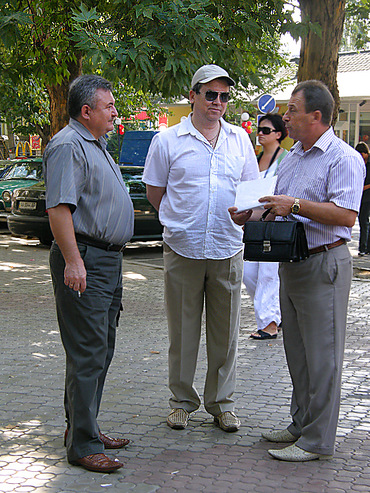 - The Party of Regions positions itself in Ukraine, as opposition party. But in the Nikolaev area the majority in councils, in the office of the power, officials represent Party of Regions …
- Let's officials clean, - Pyotr Zibrov's remark.
- Silently - it is silent - silently, - careful Mayboroda stops. - Allow to specify - officials who are in 19 regions of the Nikolaev area - the representatives of power structures represented individually by the President of Ukraine(solemn tone - a bus comment)Victor F … Oh, I didn't make a reservation nearly(smiles - to a bus comment)Victor Andreevich Yushchenko. I doubt that Yushchenko appointed someone from our immediate environment. Moreover, as a rule, for 99% are ours, I would tell, very serious opponents. Now we will walk around the city to Nikolaev which makes 45% of the population of area. Perhaps, I will confuse something, but dear Vladimir Dmitriyevich - not the party member Regionov …
- But I supported PR …
- … It seems so to you. To each person if it seems is on health. Vladimir Dmitriyevich was supported by misters from Yulia Tymoshenko Bloc. Probably, it loyally treats all parties and movements.But it, by no means, didn't belong and doesn't belong to Party of Regions. Pay attention, in 19 areas and the city of Nikolaev, where set of the population only 80%... In the cities of Pervomaisk the member of PR became the mayor, and it also didn't pass years. In all other cities today - in Ochakovo - the mayor not the member of PR, in Yuzhnoukrainsk (there the mayor wrote the application, there the mayor isn't present, but also it was at all the member of PR), in Voznesensk - yes, it in our lists. We will speak and, two cities of the small. But call to me the majority then?
- Directly in Nikolaev's city executive committee - Yury Isayevich Granaturov, Vladimir Konstantinovich Novozhilov …
- Well, if you consider that two deputy mayors are the majority … You perfectly understand that all decisions are made by the first person. These are people who professionally do the duty technically. Novozhilov who is engaged in housing, excuse, shit, and it in the city in which today networks aren't updated. He doesn't direct the city of Nikolayev, and is the deputy.
But if there is a speech about representative bodies, it not officials, it is a depuy corps. But today competence of deputy body is very limited. We will take on one example - one of the main components of work is a budget. Under the law the budget moves to regional council the head of administration, and they only can do any changes or attempts in limits of this budget.
- And in the city - the mayor, - prompts Zibrov.
- And in the city - the mayor. So believe, today 90% of powers lie on representative authorities. We set the task that, both executive, and representative, the Party of Regions had these authorities. Then we will be ready to be responsible for those processes which happen in area. Look, a nonsense, 50% of council city - representatives of Party of Regions …
- 49,9%... - Zibrov.
- Well, Pyotr Vasilyevich loves this процентик … But nevertheless, executive power in other hands. In regional council at us 46% - 53 persons from 120. Nevertheless, executive power - in other hands. Therefore we set a task taking into account upcoming elections to take all completeness of local authorities and to answer before people for those obligations which the party put forward on elections of these or those levels.
- Deputies help you with election campaign?
The depuy corps takes part in elections as the VIP - propagandists - Yury Isayevich and Yury Konstantinovich work in the positions and part don't take, they take part only on that site of work which are put by it a position. If they take the law the provided vacations, then this question will be considered. Well, and Chaika if allows them to make it. And after work to state the point of view if to them ask a question - they have the right, this their private matter.
If deputies went on party affairs not within the competence, believe, from our opponents there would be tens claims, both in Rada, and in court. It couldn't be, believe, in fact. The most important, our most main quality - we party law-abiding, we act only within the current legislation.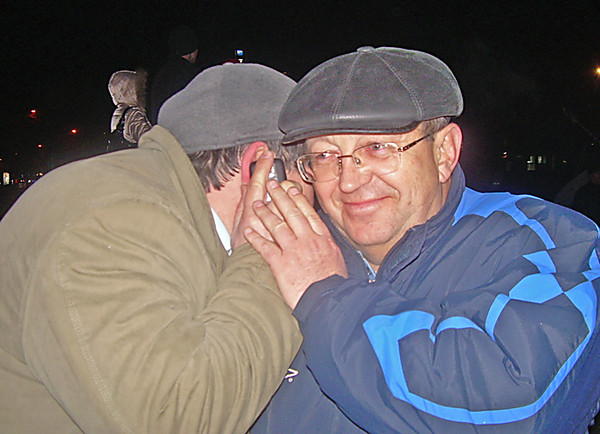 Sergey Mayboroda (at the left) and Pyotr Zibrov (спава) - in touch Nikolay Kruglov
- You began the way in Communist party which protected interests of the working people. At present you represent party which protects interests of the capital. Tell about your Komsomol youth and as well as why you got to Party of Regions.
- Vladimir Konstantinovich Novzhilov and those people to whom in 40-45 years, and those people who are today in power - the most part of roots is in their Komsomol and party past. Because in it, excuse, the state there was an one-party system, it was the standard of the constitution. And the party at that time was responsible for personnel policy. Then it would be necessary to move all people from Ukraine, then they wouldn't have any relation to the power. Tell, please, Vladimir Dmitriyevich Chaika not from Komsomol roots? Secretary of committee of Komsomol of Dormashina. I will call to you the vast majority of people … I and in Komsomol structures worked, and in the party.
- Only because the alternative wasn't?
- No, why? I sincerely believed then now that there is a rule of law. In any state there are distortions. But we don't set a task in this interview to explain that was then, and that was now. Everything depends on people. If to speak about Communist party, it is possible to pay attention to economy of China dynamically developing at an one-party system. And we have the most democratic country, and the economy goes wrong way.I was in two parties. In communistic I entered in 80-е years, in Party of Regions I entered in 2000, and here 10 years parties.
- From Communist party you passed into PR as the spirit of party there was gone, and here it was?
- There are things which are a subject of separate conversation. It is half-hour, philosophical conversation.
- You the professional politician, in PR 10 years, you don't carry on business, anything, except party affairs - on what you live?
- Exclusively party affairs. We have an official salary in party which is paid from party contributions, we safely receive it. You don't forget that I all - worked two years in Parliament, there I a little bit received, a little bit, than in party more. Where - that too it there was a financial component in my life. If to ask a question, suffices to me or not? Yes, to me suffices. But I hope that in case of positive result of election campaign this situation will change to the best (I don't mean a party situation, I mean a situation in the country). And here the party component - consists of contributions of party members. Here a little bit field for party construction there is more. You show me though one person who will be content with that he receives. I receive enough to live.
- By what car you go?
- I go by the car which the party gives me, it is white "Ford" of 1983 of release. The car is 25 years old, but it still moves. Rent car of party.
- And what privately owned vehicle?
- There is no personal. But I hope …
- … that in the future at you everything will change for the better.
- Yes.
- Comment, please, on a situation when some deputies of BP, and you including, asked for financial help from the country budget after abdication.
- It everything that designates the law. This money is put under the law, it not financial support. It is compensation for employment. The state, according to the law, is obliged to employ according to a rank and category of people who leave after a deputy cadence. Considering that it it wasn't made, we within a year received these payments.
- So you addressed for these payments?
- We didn't address anywhere, neither with any requests, nor with any statements if the law provides, it automatically everything becomes.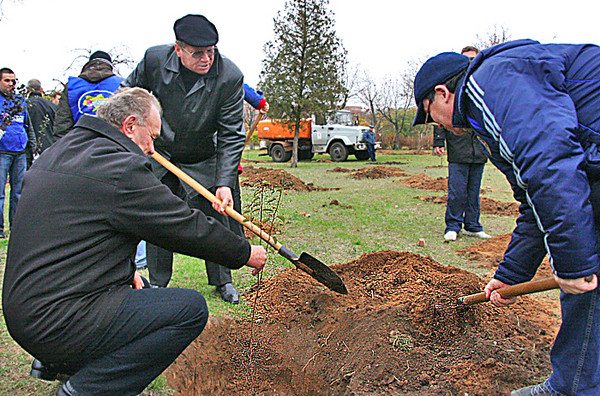 From left to right: Novozhilov, Kruglov, Mayboroda plant trees and shrubs in Nikolaev
- You are sure of Victor Fedorovich's victory in the first round of elections or you consider race continuation?
- We are sure that we will make everything that the victory was convincing in the Nikolaev area. I can't possess information in a section on each separate area.
- Whether there will be falsifications on elections, in your opinion?
- I am sure that from our party of falsifications won't be. I hope that in our area and our opponents of it won't do.
- You don't prepare for fight against falsification?
- We address to our opponents with caution about possibility of use of such actions by them. We are ready to that if they use it, we use the potential of our party members - lawyers who according to the law will fight against these phenomena.
- How many people you will involve in campaign?
- There are regional and city party organizations. At least, all party members.
- All 30 thousand?
- Not 30, we have slightly less. But it will be the huge mass of people, Party members and not Party members who will work on a voluntary basis to provide Victor Fedorovich Yanukovych's victory.
- Nikolay Kruglov warned that there will be "a cleaning of ranks". Whether it passed?
- What does "cleaning of ranks" mean? If in the Party charter it is written "to support, work", and the person consciously went and wrote the application in party. If it doesn't do it, we leave behind it the right to remain the inactive party member. But if it the actions roughly breaks the party charter, the party organization in the right to exclude it. And it will work not Nikolay Petrovich, not Mayboroda, and the regional and city party organizations within which remit it is.
We have such examples. Their two, there isn't a lot of them. On regional council - Kovtunov. And on the South Ukrainian city council - Mayboroda! Namesake. In related communications doesn't consist.
In total. On such huge number of people it is a little.But if the person lost touch with party …
- That is they were excluded for what lost touch with party?
- They were excluded for numerous violations: moral, legislative which they allowed. I wouldn't like to speak about it. I simply to you called examples. And we speak about it openly. At us it is written on a party site, we speak about it viva voce.
- What events you intend to hold soon?
- Considering flu which was declared by Yulia Vladimirovna, flu which was declared by regional administration … All plans which we draw up, they in one way or another break. Considering that this flu as suddenly I began, so suddenly and ended, we planning conduct the weekly. And we will carry out the following planning proceeding from inventions of the existing power.
- Thank you for interview, progress in work!