Today the VIII congress our Ukraine which supported the candidate for president Victor Yushchenko in his intention to run for president took place.
ON PARKINGS NEAR KPI ALMOST THERE WERE NO "MERCEDES"
It, likely, the only party from which congresses I can come back to the subway accompanied by People's Deputies of Ukraine. No, I don't complain, from other respectable actions I am given a lift by decent cars by people who consider itself decent. All thanks. Simply I very much like to go down in the subway together with members of parliament. And such luxury to me is granted only by "our Ukraine". And still I like to see how bankers and governors come into buses with members of the delegations. You think, what it is pre-election sketches? I don't exclude, but many times at these congresses I saw how these rather well-to-do people with enthusiasm talked to the simple delegates. In this communication it was never felt partiyno - social stratification. In total - the democratic tradition is not an empty phrase. It is shown not only in program documents of party, it - in everything: in thoughts, in a manner of communication of Party members, and including - in a way of carrying out and a tonality of congresses. How many time in former years I after congresses of our Ukraine заполночь the angry came back to edition, thinking that from - for these vast party discussions action is tightened, and I waste time which I can spend with a family. Really it is impossible: time - two, the agenda, closed, opened, counted, it is accepted unanimously. Later I visited and such congresses where everything was accurate, without nonsenses, all on time. Almost as at Lukashenko - Putin. Now I understand that I didn't waste this time. I lived the democratic period of democratic party of Ukraine. When today I saw empty parkings from "Mercedes" at KPI Recreation center, I thought that in such time "party gold" is just emitted. On this congress there arrived people, which with Yushchenko with the end 90-x which always supported him which a lot of things forgave it which to it didn't change and which are ready to fight for it and now irrespective of the fact which there will be a result.When I gave cards, delegates from regions twice for something took the autograph (likely, me with someone mixed, but it was inconvenient to refuse) from me, and invited to regions: in sanatorium in Poltavshchina and any village, apparently, to Zakarpatye - to have a rest. When I explained that I am not party member and anywhere and I am not going to enter even if in "WELL", members of the regional organizations frankly answered: well and that, you came to our congress. Likely, delegates decided that in such difficult time for the President at this congress only all the.
AS THE PRESIDENT YUSHCHENKO WON AGAINST HIMSELF
Expecting in the KPI hall of the President with which performance congress had to begin, examining a scene, I remembered those who on it acted. In the head as in the movie there were faces of the people directing party. The last that was remembered how early parliamentary elections in 2007 here were addressed by the first number of the party list of the block our Ukraine - National Self-defense Yury Lutsenko. I molded texts how one "madam thin heels walked on backs of own sworn brothers". And now anything: not simply goes, dances the Lezgian on the same backs with the same madam and being "we love the friend". Dances and doesn't think that only at Yushchenko members of a government team could become the former revolutionary - the humanist or the former modest chairman of the analytical center. Well anything, we won't spoil the first day of the Christmas post. We will return to Yushchenko.
The UNIAN "Mr. twenty five minutes" in due time called our President, in every possible way reproaching him with plentiful threading of the subordinated offers in the performances and in answers to a press - conferences. We reminded it that he isn't Lev Tolstoy, demanding to be shorter. Also you know, we won. (Or He won against it? ) Anyway THEY (services of the President) work because Victor Andreevich in the answers now keeps within one minute when it is very necessary, asks more - to four. And from it his speeches became more exact, more symbolical. Everything that he speaks, it is interesting to listen, even when he simply repeats the already told. The person who jokes during the speeches, isn't afraid to lose a chair. It doesn't radiate confidence of a victory, though says that will win. It radiates self-confidence. It was felt and in a yesterday's air in current - the show "Big-time politics", and at today's congress.And self-confidence is a privilege which only gets to those who is capable to repeat always contrary to a rating that thinks.
We give introduced by it at congress the ideas on the most painful for society to questions.
Yushchenko about NATO, eurointegration, the Ukrainian local church, the Black Sea Fleet and Russians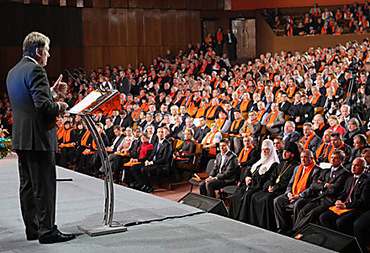 "Neither Tymoshenko, nor Yanukovych won't give to society the answer to this question. Ask someone from them to write NATO word - I am convinced, they won't make it correctly. The definite answer is given only by "our Ukraine".
It is interesting that I rummaged Yushchenko's speech jokes. Sometimes between the key messages it inserted any interesting memoirs. For example, as in 2004 it arrived to Donetsk. "I come: everywhere Yanukovych's one portraits, and only it. And today and Litvin, Tymoshenko, Yatsenyuk's portraits. I come recently to Lviv... And there Yanukovych's portraits. You could such imagine in 2004? Unless we didn't become more tolerant, softer? " - the President asked again.
"I set the purpose to bring Ukraine into the European Union. It is that purpose which has to consolidate all political forces and the nation. It is important that this subject became dominating for any political force, for each citizen irrespective of where he lives - in the east of or in the west of Ukraine. When someone says that for us don't wait that we there aren't necessary that it is the purpose which you shouldn't put that doors there are closed, I speak - there we those have to demolish doors, and achieve the membership in Europe. Ball on our party, we need to make only a little - to have the Ukrainian prime minister, to have the Ukrainian power".
When at this moment on any time microphones were suddenly switched off, Yushchenko joked that it likely, work of hands of BYuT and Party of Regions.
"As the nation diconnected in belief can unite. I ask all to become shoulder to shoulder near our confessors. In Ukraine there will be a uniform local orthodox church".

"I don't know other political force which accurately and clearly gave the answer to how to arrive with the Black Sea Fleet of Russia, and I hope that our answer will be correctly apprehended by the Russian side. At Ukraine there shouldn't be a foreign soldier".
YUHNOVSKIY, ARZHEVITIN, BESSMERTNYY:WE TOGETHER, DESPITE OF ALL RATINGS

This time support of the President Yushchenko on elections was the only question of congress, and congress expressed it. And after congress in a KPI Recreation center corridor, I talked to certain politicians.
Igor Yukhnovsky heading Institute of national memory, smiled to me (interestingly, remembers me or it is simple as all delegates, understands that today here only "").
- Tell something, Igor Rafailovich, - I asked him.
- You watched yesterday TV program with Yushchenko? Journalists accused him of indecision. Yushchenko explained that he was sick. (Yesterday the President reminded that for the first two years underwent twenty six operations. - UNIAN) All of us come on Monday to work, and it came and felt that it needed time to depart from that pain. This is the only President who is excited by Ukraine, the Ukrainian values. That there was, we have to support him. At least in order that our President took worthy result, - here Yukhnovsky absolutely illegally put to me a palm on a forehead as priests sometimes do. so that's that.
- Igor Rafailovich, you not the father that to bless me, - I noticed. - Or you so return national memory?
- I adjust on the correct mood, - the chairman of Institute of National memory laughed.
Nardep of Stanislav Arzhevitin wasn't so simple to be pulled out from a circle of Party members, it in any way didn't release. At last he ordered all to go to the bus, and itself became with me before Recreation center.
- I read Yushchenko's all performances, but this last me struck. He told very deep things. I in our political force am responsible for the economic block. Today few figures and purely economic slogans sounded. But the President was right if we come to Europe, we will be compelled to live by the European rules, our legislation will be adapted for those rules, our business will live on those norms. I was struck with that part of speech where Yushchenko spoke both about history, and about church. I know about it much, but it seemed to me that which - that I hear for the first time. In my village, a half of people - orthodox, a half - Greco - Catholics. Earlier, when children of different faiths married, families quarreled, children had to leave, live sometimes separately.And now sometimes I see, the family will reach the temple, someone goes to Greco's church - Catholic, and someone from the same family passes fifteen meters and goes to the orthodox temple. It also is the first step of understanding of spiritual unity. And this understanding began at Yushchenko. And with this speech I realized level of threats which can appear with its leaving. At us it isn't really good with a rating, it is the truth. I am a pragmatist, I understand everything. But Victor Yushchenko outlined to us footpaths with which there has to be Ukraine. And I am proud that I stand on these footpaths. And, probably, other people will come, from - for which Ukraine should come back which won't be able to conduct it, but it will be temporary. Because we already stand on these footpaths... And advance all the same will be...
At last, I saw as gives interview the chairman of executive committee Roman Bezsmertny. Carefully, without irritation I answered questions of journalists on cameras on money, on a rating. Still I said that it enters campaign with good mood that election campaign will be honest, and that party more many election campaigns wait. Still I promised that "our Ukraine" it will be obligatory to win.
Masha Mishchenko