After one-and-a-half-year-old calm at last session of the City Council the question of construction of a supermarket before the central entrance to Zhovtnevuyu the central regional hospital emerged again. Lobbies this question the same business concern "Pikimon".
By hook or by crook
We will remind, even in the spring of last year physicians of Zhovtnevy regional hospital learned that a certain business concern JSC Pikimon intends to build a mall in exactly on a place of the green square located before the central entrance to hospital. Under an axe tens long-term magnificent poplars, evergreen tuyka and fragrant acacias which once landed own hands of medics and which cover today from the scorching sun of visitors of hospital apartments had to go. To indignation of physicians there was no limit: their rough meeting then threatened to develop into open protest action by movement overlapping on the main prospectus of the Ship area. Though at that time businessmen also had on hands the solution of session of the City Council on drawing up the project on assignment of the land plot with a total area of 1200 sq.m coordination, nevertheless, available for them got under doubts. To take at least the protocol of hearing of public opinion which, allegedly, was carried out on August 15, 2007. That is characteristic, signatures of the people who are present there and it seems as agreed to construction of a supermarket, it is almost impossible to check as the home address isn't specified. Whether there are they in general in the nature, it isn't known. In the protocol it is also reflected that on a certain Svetlana Zablodskaya's question, instead of whether will stir the new built trade building to normal functioning of hospital, the head of JSC Pikimon madam N. Soldatenko answered the following: "According to the presented general plan approved by head department of town planning and a city architecture of Nikolaev, and the provided drawings of the project of shop, it was shown that all technical solutions proposed by the project, are optimum, meet the requirements and norms, without breaking normal functioning of hospital". That is, leaves, everything becomes on construction norms and rules.Or, maybe, not in those rules the builder looked? After all anybody yet didn't cancel existence of a so-called sanitary zone, and for hospital it makes more than 30 m, and the red line of building - 27 m from the route. These two obligatory components in this case in the sum give about 60 m, and it and is width of the existing well-planned green square. Generally, the planned object didn't fit in neither on technical, nor to moral measures. The position of city services which coordinated to the builder this object surprises and guards. After all they couldn't but know about it.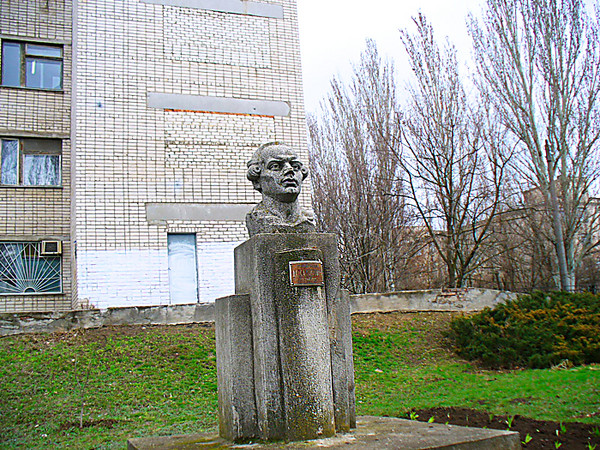 To businessmen stirs a monument
It is necessary to pay tribute to prosecutor's office of the Ship area in the person of the prosecutor S. Pogorelov who quickly reacted: after the publication of critical materials in the NB newspaper he carried out a public prosecutor's inspection of legality of delivery of coordination about the location of planned construction object with service of public administration of environmental protection in the Nikolaev area. By results of consideration of a public prosecutor's protest this service cancelled earlier given out coordination.
As for a monument to the known domestic doctor Danila Samoylovichu (built still in 80-е years) which name is born by the street crossing the prospectus and which got to a zone of planned construction: it simply didn't take in attention. Isn't present at the builder of coordination with security service of a cultural heritage and couldn't be: monuments aren't destroyed.
Medical workers then through the newspaper directed the appeal to the city city hall and the regional state administration with a request to keep this island of a green zone near hospital and to give it the status of the city square. The veteran organizations of two areas joined them - Zhovtnevy also and Ship - they demanded to stop arbitrariness and to leave alone this territory. And when at regular session of the City Council there was a question of extension of term of reservation of the disputable land plot behind Pikimon firm, deputies of the City Council refused to businessmen.
Why today, more than a year later, at City Council session again there was a question of transfer of this "scandalous" land plot of 1200 sq.m to firm "Pikimon" … for construction of shop of nonfoods. That is characteristic, on the deputy commissions this question wasn't considered at all. Most likely, certain deputies hoped "to stretch" it, counting on temporary calm round this object. However it wasn't possible.Deputies Sergey Palivoda and Alexander Trifonov asked the head of department of land resources Alexander Moroz to specify the address of a planned construction object. It was felt, the main zemelshchik of the city didn't want to hand over "" supposedly I don't remember precisely the address, assured deputies that the applicant has all necessary permissions and coordination, urged to make the decision. Palivoda and Trifonov were unshakable, having asked Moroz to show available technical documentation. Then Sergey Palivoda announced its essence.
- I and knew, - he commented, thumbing through pages, is that was and then …
The deputy reminded colleagues that the green zone adjoining in hospital gets to a zone of construction, and that there is a monument to the known doctor Samoylovich in honor of which the adjacent street is called.
Question decided to transfer to the following session.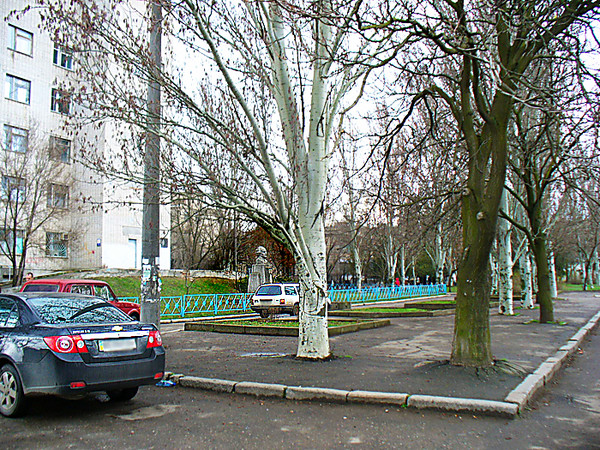 Instead of an epilog
On everything leaves: neither in technical parameters, nor to moral measures before a main entrance of the regional hospital serving two areas, it is impossible to build a planned supermarket. For certain the city officials, trying to drag a doubtful question at City Council session are perfectly informed on it. Especially, during the electoral company. Simply you wonder, looking at their ingenuity and hypocrisy.
And the last. There is a wish to believe that deputies of the City Council as people's deputies, at the forthcoming session where, most likely, this question will be considered, nevertheless will make the objective decision and won't allow businessmen to mock at people and our cultural heritage, and physicians shouldn't arrange protest actions, blocking off traffic to transport. Therefore edition of "NB" doesn't put an end in discussion of this subject …
Tatyana FABRIKOVA