The outdoor advertizing is today one of elements of shape of the modern city. This not only one of the most powerful tools of impact on the person, forcing it to do certain purchases or to make any acts, advertizing has to also to serve as a peculiar decoration of the city as is its integral attribute.
Than only didn't try "to decorate" a roadside of the Nikolaev roads creative advertisers: beginning from the big - boards with the image of a frog and a slogan "Be warmed with us! " (advertizing of heaters) and finishing images of the nice girl with a rag developing skirt (advertizing underwear ). Became familiar in the city and big - борды with images of candidates for president and them lusciously - sweet election pledges.
However one of local salons - the shops which are engaged in sale of carpets, surpassed all. On the big - a board which is near the Central stadium "Evis", the shop placed the advertizing - the huge poster on which two dogs in very unambiguous pose and a slogan are represented: "We mean competitors".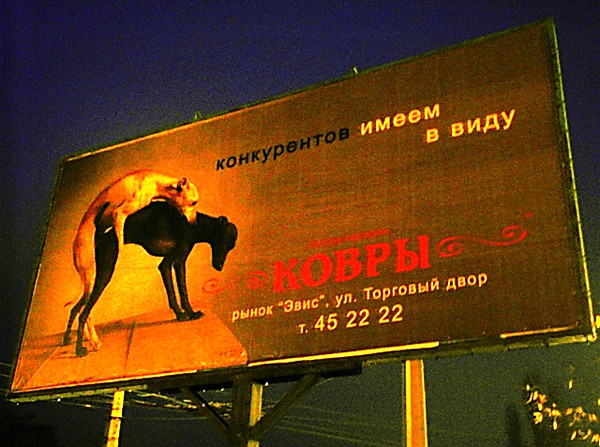 Undoubtedly, such advertizing in Nikolaev doesn't remain unnoticed. In the conditions of an economic crisis it is an excellent advertizing course, the task - to attract attention - this advertizing carries out. But on the other hand there is quite reasonable question, such advertizing is how moral?
It is remembered, the National commission of experts concerning protection of public morals carried out semi-annual high-moral monitoring of mass media and external advertizing. Among the other cities, in the field of her sight Nikolaev - got alsoin the city rejected boards of beer and cigarettes. Pier, don't answer concepts of morality.
But, seemingly, that doesn't answer them and advertizing of shop of carpets. After all this advertizing can see not only adults, but also children.Where the city power looks? Where watches ours "Esthetics bureau" which has to deal with this issue first of all? With such success, on city big - boards in obscene poses soon, probably, will place not only animals, but also people.