Correspondents "Crime. Is NOT PRESENT", within the joint project with "Nikolaev messages", continue to communicate with heads of the Nikolaev campaign headquarters of candidates for president of Ukraine. Our next interlocutor - Alexander Boltyansky, the head of a campaign headquarters of the candidate for president Sergey Tigipko.
Alexander Boltyansky - radical nikolayevets. I graduated from the Nikolaev shipbuilding institute. I worked in central scientifically - research institute of technology of shipbuilding, then on ChSZ - I served machines with numerical program control.
According to A. Boltyansky, the science at that time didn't feed, and on ChSZ young specialists who could serve import machines were required.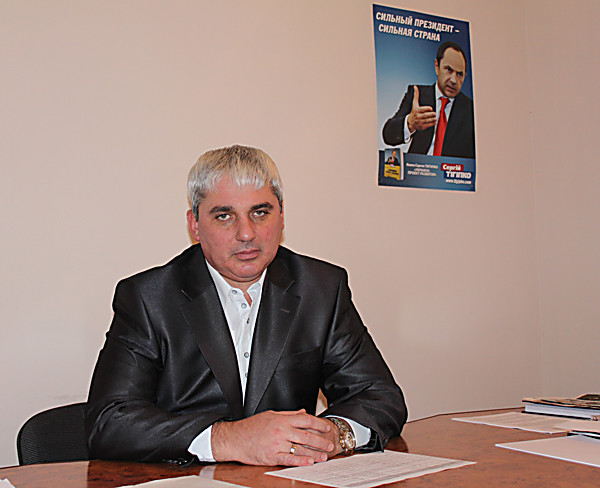 At ChSZ worked in shop No. 30, then in shop No. 13. In 1990 I was engaged in business (JSC Shpil).
- Alexander Mikhaylovich, good afternoon. And the first question when you came to policy?
By and large, I didn't enter policy yet. I only try to be engaged in it. If Sergey Tigipko gives me opportunity to direct the Nikolaev cell of Strong Ukraine party, here then I will be able to tell that I entered policy.
- And how NDP? As far as I know, you were the head of this party structure in the Nikolaev area. Or I am mistaken?
Four years ago I graduated from state administration Academy at the President of Ukraine - right faculty. Then I wanted to get acquainted with people from government institutions - to communicate to them. I had free time. I didn't politicize but when I studied in academy, me suggested "to participate" in formation Sotsial - Christian party … But I don't consider it as policy. I supported, but in pre-election race part didn't take. My fellow students suggested to enter my surname in academies, and I gave a green light. On it all my political activity ended.
I then simply wanted to understand that such elections from a position of the person who is in party structure. But I wasn't engaged in party work.
- And now?
Present my position doesn't leave last elections if you, of course, mean it. It isn't connected with any experience because I have no experience.
If to take these elections, it is necessary to pay tribute to Sergey Tigipko. He looked for people who are professional managers and will be able to construct political structure. After all, if to take elections today, the party structure is necessary. At BYuT, Party of Regions, Blok of Litvin, KPU of structure were constructed, and structure which I created in a month, it was necessary to create still.
- How you managed to make it in such short terms?
As I am engaged the last 20 years in distribution in the Nikolaev area, and respectively people work for me in each area how quickly to construct structure - I know. And in what product to bear to people - food or political views, the special difference isn't present.
- How you got to Sergey Tigipko's team, after all, as far as I know, wishing to take your present place was much?
I simply wrote the summary. I in life didn't meet Sergey Tigipko and wasn't crossed … I know that he wanted that those people whom it attracts in the team, were out of policy.
When Sergey Tigipko arrived in August to Nikolaev - I didn't meet it. I didn't think at all that will offer me a position of the chief of a staff.
That day to me called by phone and told that Sergey Tigipko wants to talk to me and it allocated for it five minutes. I arrived to business - the Aleksandrovsky center and five minutes outgrew at an o'clock of communication.
- Sergey Tigipko Vam suggested to head at once a staff?
At first we got acquainted. I told about myself and after that received concrete answers to all asked questions. After our conversation, S. Tigipko called the assistant and told that from this day I will present its interests to areas.
I already visited 26 enterprises where told about the candidate for president, and there was yet no question which I couldn't answer from S. Tigipko's position.
- Just recently the Labour Ukraine party was renamed into Strong Ukraine party.And how former regional management of this party structure? As far as I remember, "Labour Ukraine" in the Nikolaev area V. Rukomanov directed.
Yes, it is valid, the party was renamed. On congress from the Nikolaev area there went six people. Business all that "Labour Ukraine" and "Labor party of Ukraine" are two different things. Rukomanov has nothing the general with that party which reformatted and which is called now "Strong Ukraine".
It is pravaya party. The program and the party charter are written adjusted for the strong leader. Many duties which in other parties the leader doesn't carry out, in this pariah the leader assumes …
- You said that the main task which was set for you - to form team. And than today this team is engaged?
Our people go on the enterprises. Schedules of visits of this or that object are painted. We convince nobody, we simply tell about our leader as we consider that is the only candidate who can rally the state. With arrival of any other President on a post there can be problems.
Also we go on villages, we participate in round tables … We do everything that is authorized the law to win round people and that our candidate became a president.
- You already got acquainted with colleagues - heads of other campaign headquarters? How into the account of to sit down at a negotiating table?
Today I didn't make contact with representatives of other political forces though to me addressed. If to me allow to direct party in area, then there will be a conversation subject. Today I am the professional manager attracted to carry out certain functions.
- So you don't direct the regional organization of Strong Ukraine party?
After congress to me suggested to head the Nikolaev regional organization and when I will be officially approved, I am ready to communicate with all.
- Whether set for you tasks to form lists in local councils? And what have to be lists - opened or closed?
Today nobody speaks about it. There is no regional cell, there is no head … How that can set tasks whom isn't present? In unofficial conversations, about it speak, but specific objectives aren't present.
As for open lists, I consider not correct that people don't see for whom they vote.People have to know for whom vote.
- And how you estimate work of local councils? Or you don't trace it?
I trace their activity and I can tell that most negative it that the solution of questions, for example in the City Council, - turned into business. Such shouldn't be.
Perhaps, I have no full information what there occurs? Very much it would be desirable that those newspapers which receive from the grant budget, took up in more detail the pressing questions exciting nikolayevets. After all people interests, what political force as voted for this or that question.
I am sure that deputies have to bring up a question of openness of local authorities. People's deputies differ from simple people that they have to be visible from all directions - as on a plate. And those issues which they resolve, too have to be shined.
- It is the only problem?
Certainly not. Badly that there are no mechanisms of a response of deputies. We voted for the list and all. We don't know these people, and they direct us at the level of the city, area … They distribute the budget …
Access to information that we could estimate is necessary - whether creates the power, or not. In many cases it, unfortunately, destroys.
I can tell with confidence that many deputies who are in local councils, got there incidentally. Some, probably, paid money for it.
This my vision, and I on this subject spoke with S. Tigipko. Our opinions in this question completely coincide.
- If lists remain closed how you at yourselves will "sift" candidates?
There are some moments. I lived all life in Nikolaev therefore I know many significant people of this city personally. I know, why the person will go to the power. I know, whether it will go there to earn on the solution of any questions or to improve our life. Selection it will be obligatory to be conducted, after all people who want to get to the City Council or to a regional council, will stand in a queue. And this turn is built already now.
- And how affairs with worthy people in this turn are?
We look, than they are engaged, we study their biography. My security service completely studies them, and the security service at me consists of professionals - the former police officers.
- Security service of your enterprise?
Yes. Not a problem to define it for what the person there goes. If open lists, the number of casual people will decrease five times.
Nikolayevtsa all understand and if in the list there are not worthy people what wouldn't be the good party leader, they won't vote for this party. Therefore in the party organizations there will be more rigid selection on drawing up these lists.
- All know who today "does weather" in the City Council but why - that citizens don't change the opinion. How you can explain it?
Once again I speak is it is connected with the closed information field round authorities. The people have no sufficient information and receive small splinters from all range of information.
As soon as people will feel that can influence the power, they will begin to move. There will be groups of people which will speak against the personality who behaves inadequately, and this personality will be afraid already so to behave.
- How you estimate work of the mayor of Nikolaev?
I saw many cities. I don't know, in how many it manages, but I can tell that roads in Nikolaev become, parks become, heat is, water is. In many cities there are problems with water and heat ….
Other question, for what money it becomes. I can't unambiguously tell the bad mayor or good. I have no information. It would be desirable to see estimates, only having this information, we will be able to draw any conclusions.
I know that there is a fight in the City Council. And this fight is conducted not improving life of citizens, and for the one who will snip off more big chunk.
- Alexander Mikhaylovich, you said that you go on the enterprises. Whether there were difficulties with the admission on any enterprise?
All of us are inhabitants of one city and area. At one enterprise I wasn't told "no". No obstacles existed.
- You will recommend to people who work for you at the enterprise for whom it is necessary to vote?
No, it is absurdity. How I can influence workers if they make the decision in the closed booths? Everything depends on that, what do they think of the head as far as they trust him. As for propaganda, at the enterprise I carry out it. It after all isn't forbidden.
- How you plan to fight against falsifications during elections?
Legality will be watched by observers. Presence of our people on polling stations is an only way to prevent falsifications. If we there aren't present, we won't be able to control a situation.
I can tell that our staff one of the best in Ukraine - at us on all sites is both observers, and members of the commission.
- Representatives of local government tried to come into with you contact?
I am not familiar with the power. I am the self-sufficient person and I carry out the tasks set for me. And the power can't affect me.
- And the last question how you estimate "orange revolution"?
I am deeply disappointed. Yes, then I supported Yushchenko. And today I think that it was the mistake.
Alexander Mikhaylovich, many thanks that agreed to answer our questions. Edition "Crime. Is NOT PRESENT" wishes you and Sergey Leonidovich good luck during the forthcoming election campaign.