Today during the visit to Nikolaev the presidential candidate Arseniy Yatsenyuk carried out a press - conference during which answered and a question of the correspondent"Crime. Is NOT PRESENT"in the sphere of the goal designated by Arseny Petrovich - army modernization. He told about, whether it is useful to Ukraine in case of its presidency the Ukraine guided missile cruiser which costs more than 20 years dead freight in Nikolaev: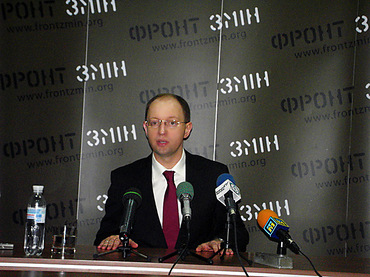 - I will tell you my vision - I certainly would complete the Ukraine guided missile cruiser, but there is a number of military aspects into which I don't want to go deep. I have a military adviser the general - the majorBashkirs, which directly bears responsibility for formation of the military doctrine(one of the first Ukrainian generals who in 1992 ceased to execute orders from Moscow and swore the independent Ukrainian state, the retired pensioner, ordered the Ukrainian strategic aircraft -comment ред. ).
We will spread out specifically on army: with what I need to begin, as to future president. It is aircraft - time, rocket armies - two - them aren't present, these are the remains, and voyenno - naval forces of Ukraine - three. In this plan for me as for the politician - interesting, now I should understand - military it support the guided missile cruiser or not, and how many it will cost.
Arseny Petrovich noted that most likely, replacements will demand both rearmament and ship re-equipment as for that time which it stands idle, a lot of things became useless.
- The military doctrine at me very accurate: we are protected from all - we don't attack anybody.
As for contract service - the leader"Front of changes"I described the vision of competent militarization of the country, and the promiseTymoshenkoandYanukovychI called into question:
- Earlier onlyTymoshenkoI promised the contract, now and Yanukovych, they together promise - means, won't be exact it. I see formation of contract army exclusively, as forces of fast reaction. These are small special crews in which there will be only professional soldiers whom we will provide with office housing who will receive not on 700 UAH., as contract employees, and on some thousands and which will be quickly and to react to any military threat effectively receive today. And further there are active armed forces, appeals.
Active armed forcesArseny Petrovichsees on a sample voyenno - training camp and considers that parents will want to send the child to such sets. The main pluses of such camp - physical training, complex food, training in military and civil specialties and patriotic education.
Such tasks setsArseniy Yatsenyukbefore country Armed forces.
- Neither NATO, nor Russia never will protect us. They deal with the issues, - declaredArseniy Yatsenyuk.