Yesterday, on December 24, meeting of board of the Nikolaev regional state administration at which the state socially - an economic development of the region was considered following the results of work in a year took place.
According to the governor Alexey Garkusha, results not bad, and in general this year for the Nikolaev area was positive. "And it not exaggeration", - was noted by the head of the regional state administration.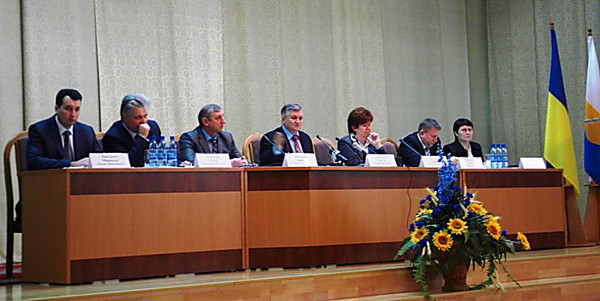 As the biggest achievement in the regional state administration consider that it was succeeded not only to execute the planned sum of receipts of the budget, but even to exceed this figure - the state for February 23 for 111% executed state budget indicators. According to A. Garkusha, the main source of receipt of funds in the state budget the budget is tax and customs.
This year it was succeeded to achieve increase in production of gross output of agriculture in comparison with last year for 0,5%. It was 3,1% more made grains (on 2,5 million tons).
Production of gross output of animal husbandry this year increased by 3,7%. In area work on renewal of a number of livestock complexes is continued and is taken a course on development of multicommodity production of animal husbandry.
Actively cooperative movement develops. For today in area are created and nine agricultural serving cooperatives function.
"But problems are, especially with financing. The state budget now goes to pieces therefore financing is carried out in a manual mode, we should beat out each kopek", - the governor declared. He noted that the beginning of the next year will be very heavy and difficult for area as to wait for any financial resources it isn't necessary. Financing will be carried out by the principle 1/12 that doesn't provide the accounting of inflation, a hryvnia and dollar ratio, and also many other moments. "It everything will lay down freight on our shoulders", - A. Garkusha told.