On August 20 in 2-й female consultation of city maternity hospital No. 1 the office of a mammografiya equipped with the modern mammographer of the American production which allows to define a cancer of a mammary gland at early stages opened.
According to the chief physician of maternity hospital No. 1 Evgeny Volokhov, female consultation on the eve of the Independence Day received such gift worth 500 thousand UAH for the account of the state budget, and here for repair in an office where the mammographer and the car for development of pictures took place, the maternity hospital No. 1 found 186 thousand UAH
Opening of this office will allow "to unload" a similar office of oncology dispensary and to increase number of women who needs to pass research on the mammographer.
Now, from - for a lack of the necessary equipment, doctors very often face already the started forms of a cancer of a mammary gland. The mammographer allows to define a cancer at early stages when new growths even still aren't probed by hands, and in time the undertaken treatment yields positive result. We will add that aged from 40 till 50 years every two years the woman has to pass similar research, and after 50 years - once a year.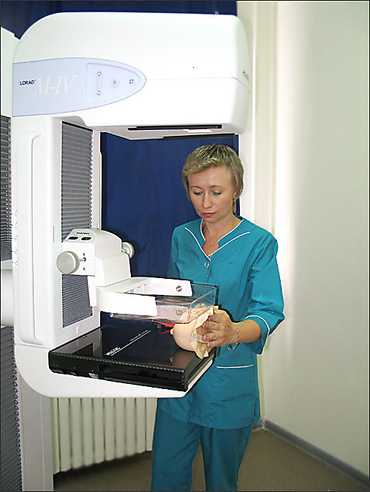 The laboratory assistant Oksana Zozulya showed possibilities of the device, and the radiologist Tatyana Vyglidav told about a screening method of research.
Research on the mammographer doesn't deliver to women of painful feelings (can be, unpleasant that is connected with a necessary compression of mammary glands when carrying out a picture). Though when being present at office opening the governor Nikolay Kruglov saw how passes research, he told that it - "not absolutely tender method".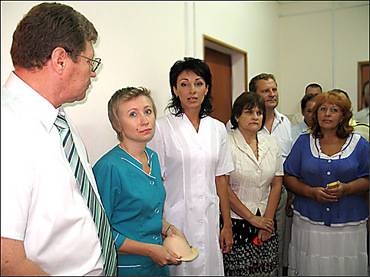 According to the chief of a municipal government of health protection Larisa Dergunova, demand for screening research of mammary glands in Nikolaev is very high. And though the device adapted for these researches (not the mammographer which is now in 2-й female consultation, and a flyuorograf) is in 4-й to city hospital, it is good to equip with the necessary equipment and 2-ю city hospital which covers the service all Lenin and part of the Ship district of the city